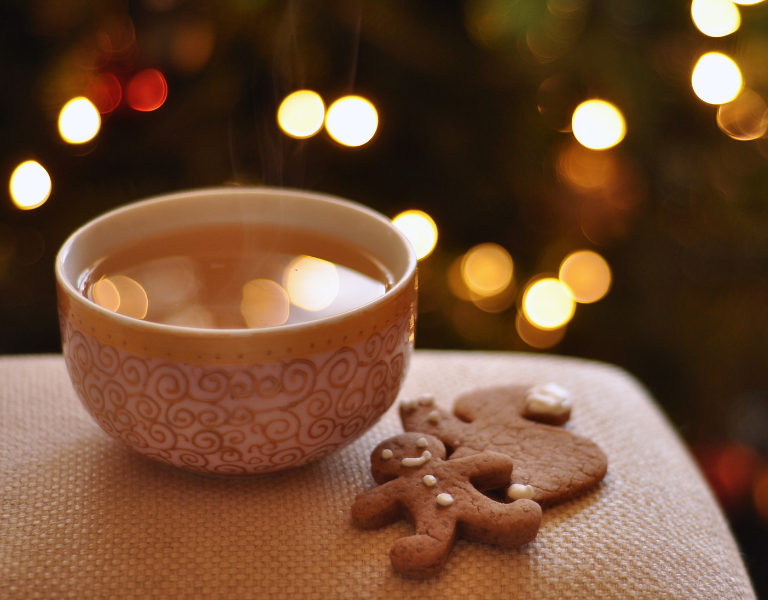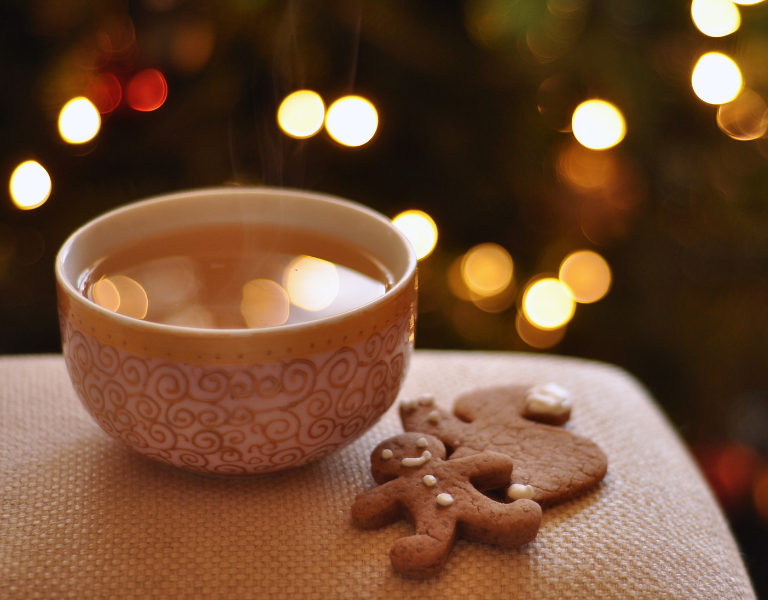 Welp, with Christmas only one week away, we have officially reached the end of our Twelve Recipes of Christmas blog series—and we have saved the best for last!
Over the past few weeks, we have looked at a few of our favorite snack foods, side dishes, and main courses. This week, we are satisfying your sweet tooth we three of our favorite Christmas Desserts!
So, without further ado, let's get started!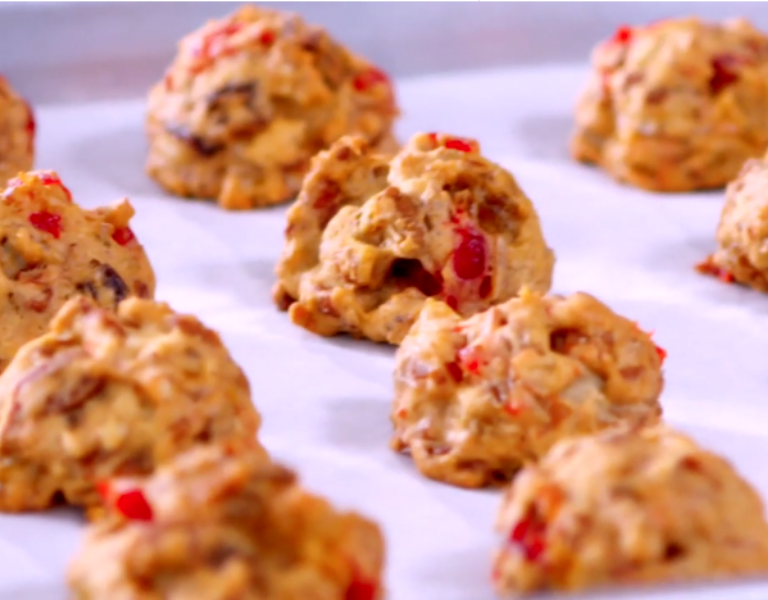 Fruit Cake Cookies
Ingredients
1 1/2 cups all-purpose flour
1/2 teaspoon baking soda
1/2 teaspoon ground cinnamon
1/2 cup (1 stick) butter, room temperature
1/2 cup packed light brown sugar
2 large eggs, lightly beaten
1/4 cup whole milk
3 1/2 cups coarsely chopped pecans
1 cup candied cherries, chopped
3 slices candied pineapple, chopped
Half of 15-ounce box golden raisins, chopped
Directions
First, preheat your oven to 300 degrees F.
Next, sift your flour, baking soda, and cinnamon together in a medium-sized mixing bowl. In a separate bowl, cream your butter and sugar before gradually adding your eggs. Once your wet ingredients have been thoroughly mixed, add your dry ingredients alternately with the milk, making sure to blend well. In a third mixing bowl, combine your pecans, cherries, pineapple, and raisins. Pour the batter over your fruit. Fold the fruit and nuts into the batter by hand until well mixed.
Once your dough has been formed, line two cookie sheets with parchment paper. Drop the batter by tablespoonfuls onto the prepared cookie sheets. Bake your cookies for 20 to 25 minutes, or until golden.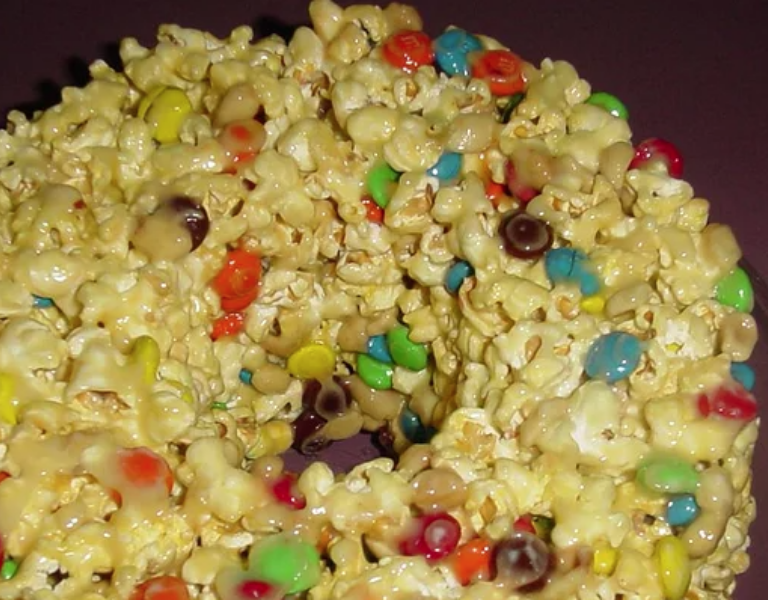 No-Bake Popcorn Cake
Ingredients
4 quarts popped popcorn
1-pound candy-coated chocolate pieces
1 cup peanuts
⅓ cup vegetable oil
½ cup butter
1-pound marshmallows
Directions
First, mix your popcorn, M&Ms, and peanuts together in a large mixing bowl.
Next, heat your oil, butter, and marshmallows in a pan until melted. Pour the marshmallow mixture over the popcorn, blending with a heavy spoon or hands. Once combined, grease a Bundt cake pan with cooking spray. Press your popcorn mixture lightly into your Bundt pan and refrigerate until cool.
To remove your cake from the pan, place the pan in warm water, then turn upside down until cake comes out.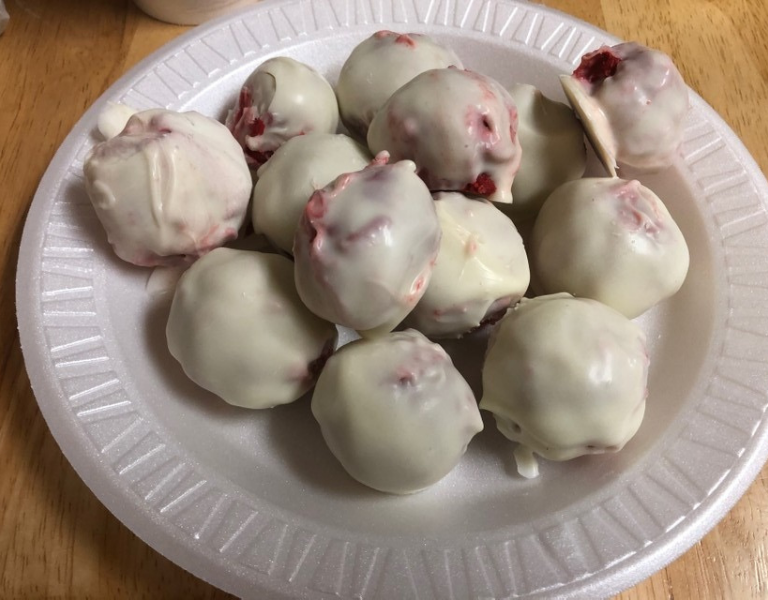 Red Velvet Cookie Dough Truffles
Ingredients
½ cup salted butter softened
¼ cup granulated sugar
½ cup brown sugar
2 tablespoons milk
½ teaspoon vanilla extract
1 ¼ cup all-purpose flour
½ tablespoon cocoa powder
½ teaspoon salt
2 teaspoons red food coloring
¾ cup white chocolate chips
24 ounces white chocolate bark
Directions
First, line a medium-sized baking sheet that will fit in your freezer with parchment paper.
Next, cream together your butter, granulated sugar, and brown sugar in a medium-sized mixing bowl. Once combined, add your vanilla extract and milk. Mix until well incorporated, then add your flour, cocoa powder, and salt. Mix again until well incorporated. Add two teaspoons of red food coloring—or more as needed–to your mixture and mix until the dough takes on your desired coloring. Stir in your which chocolate chips and mix until incorporated throughout.
Using a small ice cream scoop, scoop your dough into even portions. Once scooped, use your hand to round the dough until your truffles take on your desired size and shape. Place your dough on your prepared baking sheet and place in the freezer. Let cool for one hour.
Just before removing your dough from the freezer, melt your white chocolate bark in a microwave-safe bowl. Stir until smooth. Next, lay a large piece of parchment paper out on your counter or table. Place one red velvet truffle on the end of a fork, then use a spoon to pour on your melted white chocolate coating. Allow excess white chocolate to drip off before laying your truffle aside on your parchment paper. Repeat this process until are truffles are coated.
START COOKING IN AN ELLIOTT REALTY PROPERTY TODAY
Are you interested in trying any of these delightful holiday recipes for yourself? Then you are going to need a full-size kitchen, complete with appliances, and ample pantry space. Find the perfect rental to meet all your culinary needs with Elliott Realty!
For more than 60 years, Elliott Realty has been proudly providing impeccable accommodations for countless visitors to the Grand Strand. With over 1300 rental properties across the Grand Strand–each boasting an endless array of comfortable accommodations and amenities to meet all needs—we feel confident that we have the perfect unit for you. Give us a call or visit our website today!
For other great recipes, visit our beach-worthy recipes Pinterest board or check out a few of our other recipe blogs.
From our family to yours, have a Merry Christmas, Bon Appétit, and We'll Sea you Soon!