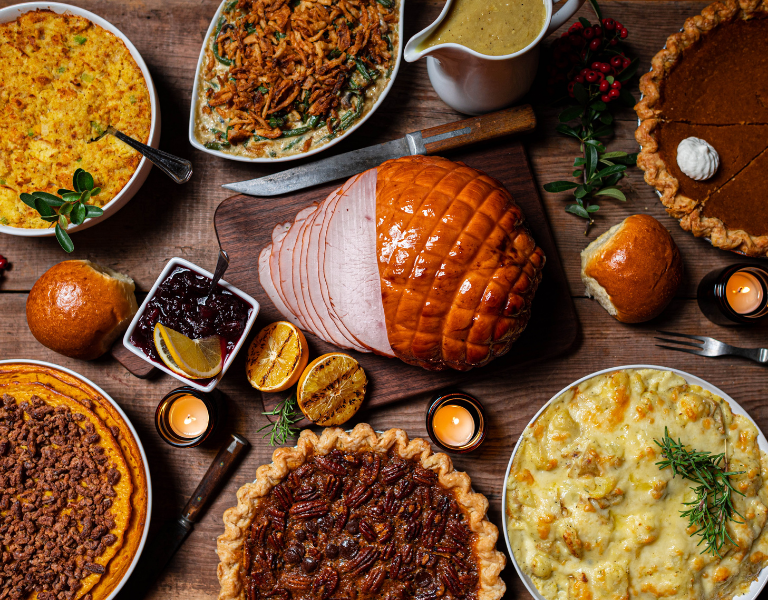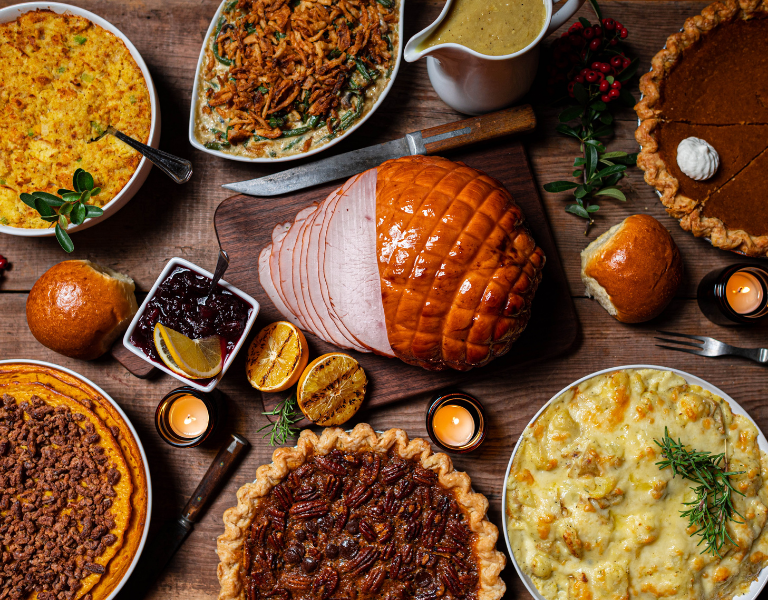 No need to shout, no need to cry, no need to pout, we're telling you why: we're back with another edition of Elliott Realty's Twelve Recipes of Christmas!
With Christmas only two weeks away, we know that many of you out there may be starting to feel the holiday stress bearing down on you. To help make keeping your family fed this holiday season a little easier, we're breaking out the Elliott Family cookbook and sharing a few of our favorite holiday recipes.
This week, we're moving into the main course as we look at three of our Christmas Dinner favorites!
So, without further ado, let's get started!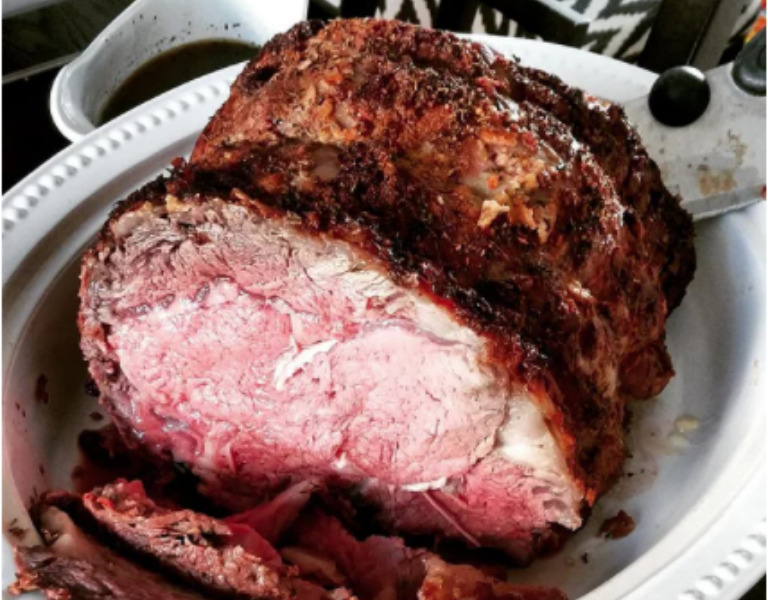 Christmas Prime Rib
Ingredients
1 6 lb. boneless prime rib roast
2 tablespoons prepared horseradish
1 tablespoon Dijon mustard
Kosher salt and ground black pepper
2 teaspoons dried thyme
1 teaspoon turmeric
2 teaspoons garlic powder
1 carrot, cut into 2-inch pieces
2 stalks celery, cut into 2-inch pieces
1 small, unpeeled onion, quartered and separated
1 ½ cups water
2 teaspoons concentrated beef base (paste)
1 teaspoon cornstarch
1 teaspoon water
Directions
First, remove your prime rib from the refrigerator and allow the meat to reach room temperature. As the prime rib sits, mix kosher salt, black pepper, thyme, and garlic powder in a small mixing bowl. Rub the prime rib all over with your horseradish, Dijon mustard, and dry spice mixture.
Next, preheat your oven to 450 degrees F. Place the celery, carrot, and onion pieces into the bottom of a roasting pan. Place the prime rib on top of your vegetables.
Roast in the preheated oven for 30 minutes, and then reduce your oven's temperature to 350 degrees F. Roast until the meat is browned and an instant-read meat thermometer inserted into the thickest part of the roast reads 130 to 135 degrees F. Remove the meat from your oven and transfer to a platter. Cover the prime rib with aluminum foil and let rest for 30 minutes.
While your prime rib rests, transfer the excess fat, pan drippings, and roasted vegetables in your roasting pan to a medium-size pot. Place the pot over a burner set to medium heat. Stir in your beef base and 1 1/2 cup of water. Bring the mixture to a boil, scraping and dissolving any brown flavor bits from the bottom of the pot. Strain out and discard the vegetables. Combine the cornstarch and 1 teaspoon of water in a small bowl and whisk the mixture into the sauce. Allow the sauce to thicken slightly, then serve with your prime rib.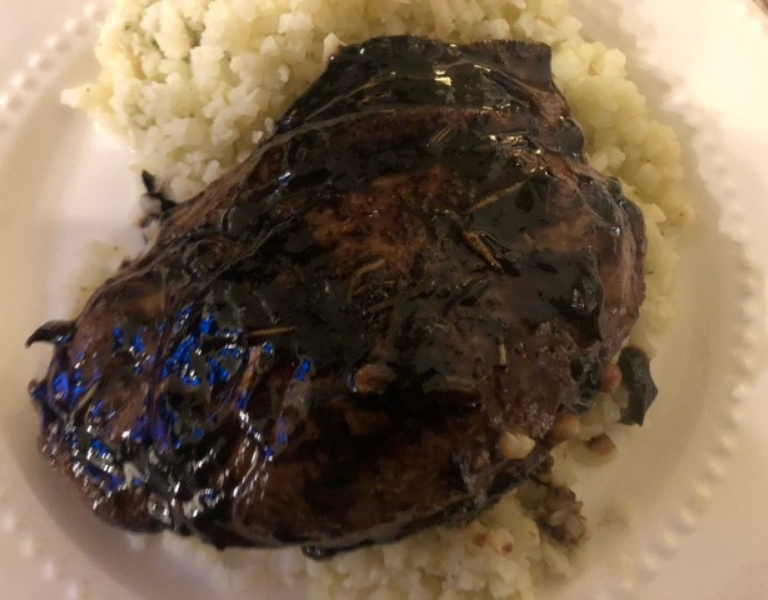 Honey and Balsamic Glazed Lamb Chops
Ingredients
½ cup balsamic vinegar
2 tablespoon minced garlic
¼ cup clover honey
¾ cup vegetable oil
2 teaspoon dried rosemary
2 teaspoon garlic powder
1 teaspoon turmeric
sea salt and ground black pepper
8 small lamb chops
Directions
First, combine the balsamic vinegar, garlic, and honey in a food processor or blender. Pulse until blended. With the machine running, slowly pour in the vegetable oil until the mixture is smooth and forms a thick sauce.
Once your sauce is made, season both sides of your lamb chops with dried rosemary, garlic powder, turmeric, salt, and pepper. Heat a large, heavy-bottom skillet over medium-high heat. Once your skillet is hot, sear your lamb chops until blood begins to pool on the surface—then flip the chops to sear the other side.
Lower your burner to medium heat and pour your sauce over your seared lamb chops. Let your lamb chops simmer for around 5-10 minutes, then flip and let simmer for an additional 5-10 minutes. Serve lamb chops hot with a drizzle of your balsamic vinegar sauce.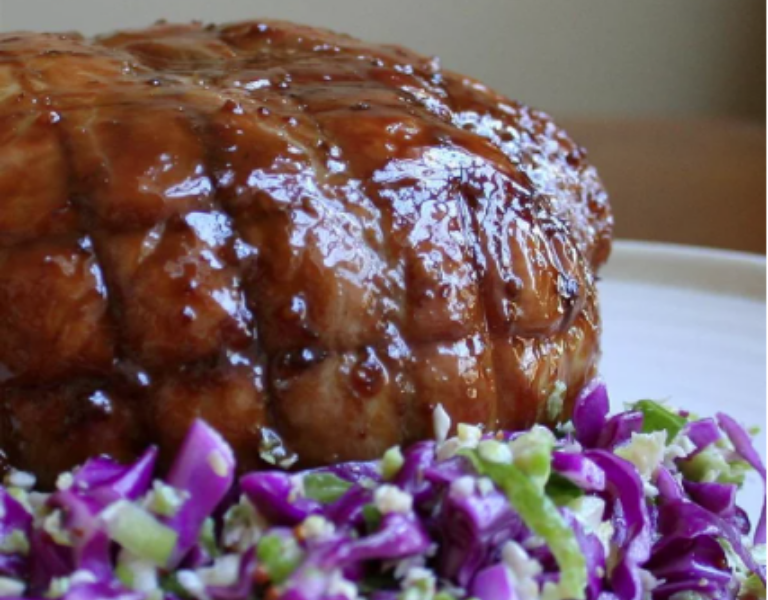 Roast Pork with Maple and Mustard Glaze
Ingredients
2 ½ pounds boneless pork loin roast
1 cup real maple syrup
4 tablespoons prepared Dijon-style mustard
2 ½ tablespoons cider vinegar
2 ½ tablespoons soy sauce
salt to taste
ground black pepper to taste
Directions
First, preheat your oven to 350 degrees F.
Next, mix maple syrup, mustard, vinegar, soy sauce, salt, and pepper in a small bowl. Place pork roast in a shallow roasting pan, then spread your glaze evenly over pork roast.
Roast your pork in the preheated oven uncovered for about 1 hour or until the internal temperature measured with a meat thermometer reaches 145 degrees F. Remove from oven and let rest about 10 minutes before slicing to serve.
START COOKING IN AN ELLIOTT REALTY PROPERTY TODAY
Are you interested in trying any of these delightful holiday recipes for yourself? Then you are going to need a full-size kitchen, complete with appliances and ample pantry space. Find the perfect rental to meet all your culinary needs with Elliott Realty!
For more than 60 years, Elliott Realty has been proudly providing impeccable accommodations for countless visitors to the Grand Strand. With over 1300 rental properties across the Grand Strand–each boasting an endless array of comfortable accommodations and amenities to meet all needs—we feel confident that we have the perfect unit for you. Give us a call or visit our website today!
For other great recipes, visit our beach-worthy recipes Pinterest board or check out a few of our other recipe blogs.
Bon Appétit and We'll Sea you Soon!