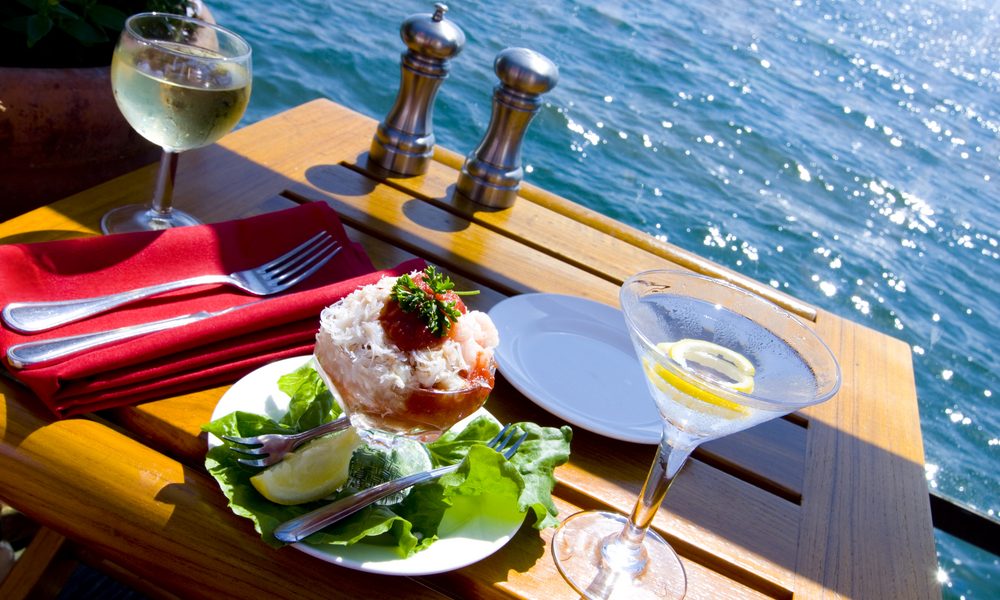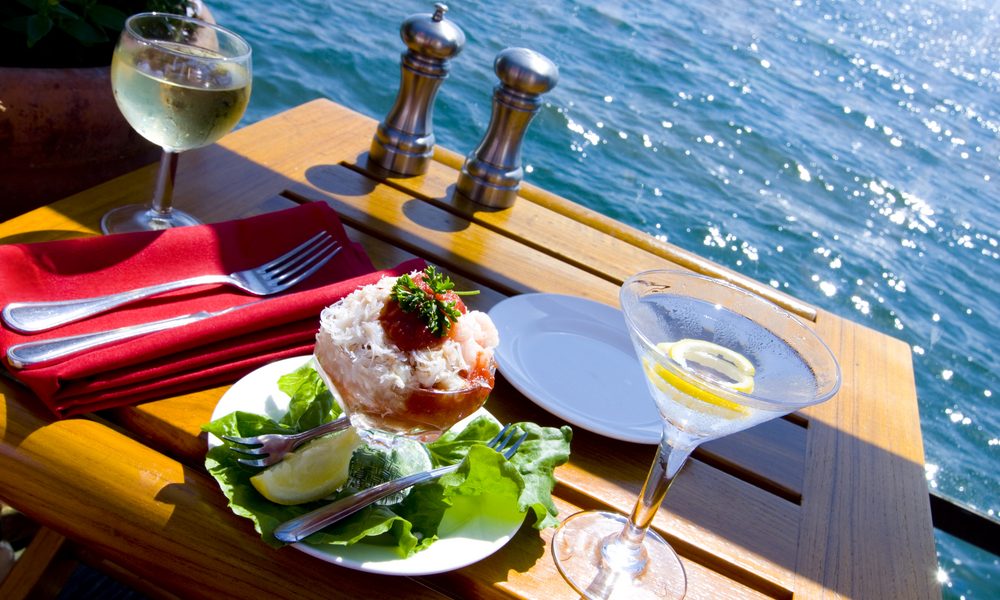 One of the best parts of going on vacation is going out to eat, enjoying your favorite treats, and not having to cook. Myrtle Beach has over 1,500 restaurants in the area and there are quite a few oceanfront restaurants that will delight the senses. Feast on scrumptious food while enjoying an unbeatable view of the majestic Atlantic Ocean. Check out one of the eateries below on your next Myrtle Beach getaway!
Enjoy delicious fresh seafood all while taking in the Atlantic Ocean views. Snooky's Oceanfront menu offers a variety of options such as a raw bar, brunch, soups, salads, sandwiches entrees and dessert. Don't forget to try one of the fan-favorite tropical cocktails such as the Rum Rummer or the Salted Dog. You can also enjoy live music on select days, and feel free to bring the pooch as there is plenty of dog-friendly outdoor seating. Also, happy our is served from 4:00PM-6:00PM. Be sure to check out this delicious eatery!
Boardwalk Billy's is located right on the Doc Marina which overlooks the gorgeous Intracoastal waterway. Guests have the option to sit outside on their spacious deck or inside in their quaint dining room; either way, you will get to see a gorgeous view. You can expect to find a family-friendly relaxed vibe. The menu items include a raw bar, sushi, burgers, salads, entrees, seafood, and much more. There is also a happy hour and kid's menu as well. You can also find the live music and events on their website calendar. Come relax at Boardwalk Billy's
If you are looking for more of a fancier night out with a beautiful view of the Intracoastal waterway, then Filet's is the perfect spot! Filet's is known for its delicious seafood, sushi, and steaks. There are also soup and salad options as well. Their happy hour menu had a wide selection of appetizers that are sure to satisfy your taste buds. Enjoy live music while eating dinner and take in the views. Make your evening with awesome views and even better food!
RipTydz Oceanfront Grille & Rooftop Bar
RipTydz takes pride in creating a one-of-a-kind oceanfront dining experience. One of Myrtle Beach's newest eateries, RipTydz serves up fresh seafood, and prime steaks. There are sweeping views of the ocean and the Myrtle Beach Boardwalk. There are over 500 seats and three separate bars with the main dining area, an oceanfront dining area and deck, an ocean boulevard dining area, and a rooftop bar. Guests can hear live music nightly. The hours are Monday-Friday 12 pm-11 pm and Saturday-Sunday 11 am- 11 pm. Come sit back and relax at one of the trendiest spots on the beach!
Sharkey's Beach Club is another Myrtle Beach Boardwalk favorite. This casual eatery has affordable prices and breathtaking views of the beach. The menu features scrumptious favorites for landlubbers and seafood eaters alike, from fried pickles to hot crab dip to sandwiches and seafood platters and more. They also serve up delicious drinks, including daiquiris, beer, cocktails, and wine. Sharkey's will soon have a special late-night menu. Come for live entertainment and drinks and stay for a meal with a view.  Restaurant hours are Monday-Friday 12 pm- 6pm and Wednesday-Sunday 12 pm- 9 pm.
Pier 14 Seafood Restaurant & Fishing Pier
Pier 14 has been a popular eatery since 1984. Not even Hurricane Hugo in 1989 could tear it down. The restaurant and lounge serve up lunch and dinner daily. Being directly over the ocean is also a special feature that you can't find at other oceanfront restaurants in Myrtle Beach. The menu includes appetizers, soups, salads, handheld dishes, seafood, chicken, pasta, and steak. There is truly something for everyone. The gift and tackle shop is where you can find all of your fishing needs from rod and reel rentals to bait. You can even find souvenirs for loved ones back home. You may choose to spend the day fishing and Pier 14 is a great place to do so. A fishing pass is $7 and pole rentals are $8. Hours vary and you can call them at (843) 448-4314 for updated information. 
The Sea Captain's House has been serving locals and visitors to Myrtle Beach for 60 years. The restaurant was originally built in 1930. It was a manor starting in 1954 and then became the restaurant as it is known today in the 1960s. Before visiting the restaurant, check out the news and events. You can read about fan favorites, the newest dish, the latest events, and more. The Sea Captain's House also offers a loyalty program where you can get preferred seating, attend new menu launch parties, and enjoy custom paired wine dinners. Sign up for the loyalty program here. There is a breakfast, lunch, dinner, drinks, and children's menu. Breakfast is every day from 7 am to 10:30 am, lunch from 11:30 am to 4 pm, and dinner from 4 pm- to 9 pm.
Wicked Tuna has two waterfront locations, one at 2nd Avenue Pier in Myrtle Beach and a second location in Murrels Inlet at the MarshWalk. Wicked Tuna is proud of its "hook to plate" philosophy and has its own fishing fleet. Wicked Tuna also has its own fish house at the Murrels Inlet location and all the fish is distributed to the restaurants within 24 hours of coming off the boat. You are guaranteed to dine on fresh seafood, top-grade beef, and sushi every time you visit. The environment is described as enchanting, the views as exceptional, and the hospitality as impeccable. Try fresh grouper, mahi-mahi, sea bass, and snapper caught right off the Carolina coast. You can make reservations and make an order online. Both locations are open seven days a week, from 11 am until. Come enjoy a fresh seafood drink, ice-cold beverage, and a fantastic view at one of the Wicked Tuna locations.
Damon's Grill is an oceanfront restaurant on the south end of Myrtle Beach known for its award-winning ribs. The grill offers a lunch and dinner menu, both offering multiple starters, salads, burgers, entrees, and desserts. There is a full-service bar. Nothing is quite as satisfying as sipping on a drink while waiting on your dinner and drinking in an incredible view of the Grand Strand. Damon's Grill also offers catering. You can also dine al fresco on the open-air deck and at night, there is usually live entertainment. Even if you prefer to eat in the dining room, you will still have an incredible ocean view. Damon's serves lunch daily from 11 am- 4 pm and dinner is served until 10 pm. Visit Damon's Grill next time you're in Myrtle Beach and have a meal that you'll never forget!
Bummz Beach Café is a casual oceanfront eatery located in the heart of Myrtle Beach. Not only does this restaurant offer great food but also live music and astounding views of the Atlantic. The back deck has giant umbrellas and tiki torches that will put you in a vacation state of mind in no time! Bummz hosts different events including karaoke throughout the summer season. Check out the schedule here. The menu has something for everyone, from mozzarella sticks and groupa fingers to salads, soups, tacos, burgers, and entrees. Bummz offers a lot of drink options including signature drinks such as Bummz Beach Relief, Red Bull Tropical Tequila, and frozen drinks. Lunch is served from 11:30 am to 4 pm and dinner from 4 pm to 10 pm. Embrace the beach life at Beach Bummz!
Now that you have a list of delicious oceanfront restaurants to try, we can help you with the accommodations part! Check out Elliott Beach Rentals to view the variety of beach houses and condos offered across the Grand Strand area. You will surely find something the whole family will love!