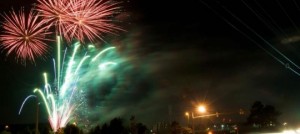 Myrtle Beach is known for its attractions and live events and the 4th of July ranks high for family fun and excitement. Hands down we have some of the best fireworks displays on the east coast.
If you know of any fun and free 4th of July events not listed here, please leave a comment with the info and we'll update the post.  Also, don't forget to follow us on Facebook, you'll find exclusive offers, contests, and specials just for our Facebook fans.
4th of July Fireworks:
In Myrtle Beach:
Broadway at the Beach—Fireworks start at 10 p.m.
Myrtle Beach Oceanfront Boardwalk-Fireworks start just after dark.
Murrells Inlet:
Murrells Inlet 4th of July Boat Parade and Fireworks display.  Head down to the Marsh Walk for the boat parade beginning at 9 a.m. and come back that night for fireworks at 10 p.m.
North Myrtle Beach:
Cherry Grove Pier-One of our personal favorites, fireworks begins at 9 p.m.
Barefoot Landing-Fireworks over the lake starting at 10:15 p.m.
It's not to late for your family to come to Myrtle Beach and join in on all the 4th of July fun and activities.  Visit www. northmyrtlebeachtravel.com for rates and availability