Here are some great reasons to plan your next family vacation in Myrtle Beach, SC.  Visit Elliott Beach Rentals today for a great Myrtle Beach vacation rental home or condo.  From smaller properties to large amenity filled Myrtle Beach resorts, we've got the perfect getaway location for your family.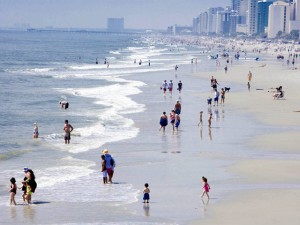 Activities- There's just so much to do in the Myrtle Beach area.  From deep sea fishing to outlet shopping, amusements, aquariums, world class dining options, golf and water sport activities.  The list is endless and offers something for everyone; the only problem may be fitting everything you want to do into one vacation!
Price- Myrtle Beach offers one of the most affordable destinations for a family vacation. We literally have something for every budget and need.  Be sure to bookmark our Bargains and Specials page and sign up for our exclusive email specials.
Location-Myrtle Beach has long been recognized at one of the top drive to destinations on the East Coast. Unlike beaches located in Florida, Myrtle Beach is less than a day's drive for most of the 12 million+ tourists that visit us each year.  For those who prefer to travel by air the Myrtle Beach International Airport offers flights to and from most major cities and carriers.
Our Beaches-Extending from Little River to Georgetown, we offer over 60 miles of gorgeous sandy beaches which are collectively known as The Grand Strand.  The beautiful Atlantic Ocean is the star of the show for locals and tourists alike who visit here at least once a year.  Many of our visitors having been coming since they were kids and now bring their kids and grandchildren for fun family vacations.
Give us a call at 800-525-0225 or visit www.northmyrtlebeachtravel.com and start building your family memories with a trip to the Myrtle Beach area this summer.