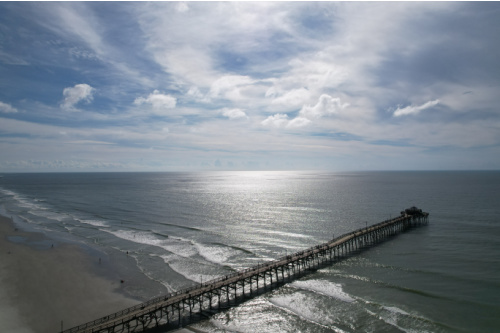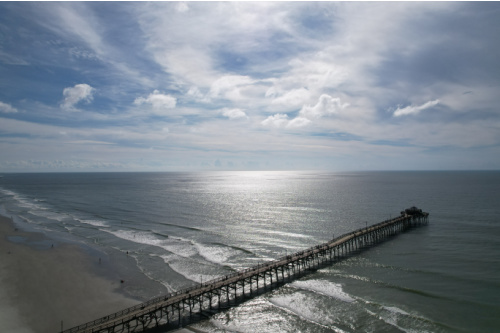 Cherry Grove Pier is a long-time attraction to North Myrtle Beach. Many people visit not just to fish but to take in the view. Countless stunning sunsets and glorious sunrises have been seen at Cherry Grove Pier. The pier was first built in the 1950s. Back then it was the reason many people visited Cherry Grove, SC. The structure stretched 985 feet into the Atlantic Ocean. Walter Maxwell set a world record in 1964 when he caught a 1,780-pound tiger shark right on the pier. Today, the catch remains the only all-tackle world record caught in South Carolina. The pier was bought in 1965 by the Prince family and in 1968 Cherry Grove, SC became a part of North Myrtle Beach alongside Windy Hill Beach, Crescent Beach, and Ocean Drive Beach. The pier remains a main attraction for North Myrtle Beach.
The pier has changed over the years due to hurricane damage. Hurricane Hugo destroyed the pier in 1989. The pier was rebuilt, and a two-story observation deck was added. This deck made the pier even more popular for sightseeing. The two-story observation deck is unique to Cherry Grove Pier. There is no other privately owned pier with an observation deck in South Carolina. Just 10 years later, Hurricane Floyd hit and caused its own damage. The observation deck snapped off and drifted 1,000 yards down the beach. The pier was again renovated and opened by the summer of 2000. In 2001, the tackle shop was renovated, and a restaurant was built. The restaurant, called Boardwalk Beach Café, is open every day from 11 AM-10 PM. It seems that no matter what happens to Cherry Grove Pier it is restored and built better than before.
Today the Cherry Grove Pier is still thriving. The Bait and Tackle shop offers a full line of rods and reels as well as everything else a fisherman needs. Not only does the shop provide fisherman needs but they also carry souvenirs, t-shirts, sunglasses, beach accessories, and cold drinks. You can also find sea life and nature-themed books and toys for children of all ages. Everyone can enjoy a visit to the Cherry Grove Pier. Go fishing for a day or bring the family along to take in the sights. You can even see porpoises swimming around the pier and other sea life. Visit the pier next time you're in North Myrtle Beach. A lifetime of memories is waiting to be made at Cherry Grove Pier. If you're looking to stay near the Cherry Grove Pier, visit Elliott Beach Rentals.
Hours of Operation:
Sunday-Thursday: 6:00AM-Midnight
Friday-Saturday: 6:00AM-2:00AM
Hours may change during the off-season. Call (843) 249-1625 for more information.