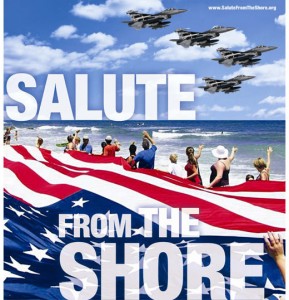 2022 Event Information
WHO: Salute from the Shore, LLC a nonprofit, grassroots group has created a special opportunity to Salute America's Armed Forces from the beaches this July 4th. This year we celebrated the 13th anniversary of Salute from the Shore!
WHAT: Air Force F-16 "Vipers" flown by 77th Fighter Squadron "The Gamblers" of the 20th Fighter Wing from Shaw Air Force Base in Sumter, SC have committed to execute a low altitude Flyover of the SC coast as participants Salute from the Shore  from the shore wearing and waving the red, white and blue. Our goal is to have 1 million people on the beaches and to capture the event on video from land and from the air. A key factor in our success for participants submit their own Patriotic videos, pictures and comments to [email protected] or to our Facebook Fan Page at  "Salute from the Shore."
We are asking people to get as creative as they can so that their Salute can be seen from the air, and we encourage participants to take pictures and video of the Flyover with people or places in them so that our armed forces will see not merely planes in the air, but the crowds of people supporting them!
A helicopter will video the crowd in certain areas, so be sure to wear and wave your red, white and blue and think of ways to supersize your salute for the camera so the troops will be able to see you!
WHEN: Monday, July 4, 2022
TIME: The Flyover will start at the North Carolina border at 1:00 PM, sharp! It will fly south, covering every beach in South Carolina.
WHERE: At the Beach!  The F-16s will be visible from every South Carolina beach, so be sure to show up and Salute!
WHY: Salute from the Shore is a group dedicated to Saluting America's Armed Forces in a memorable and exciting way on Independence Day. We simply want to honor America and those who protect it.
DRESS:   WEAR AND WAVE YOUR RED, WHITE & BLUE!