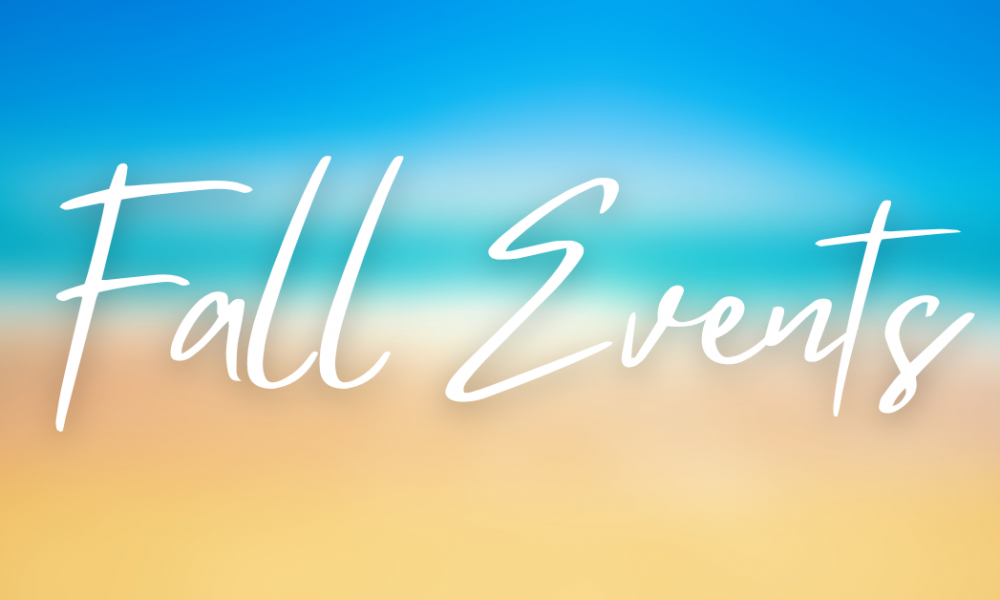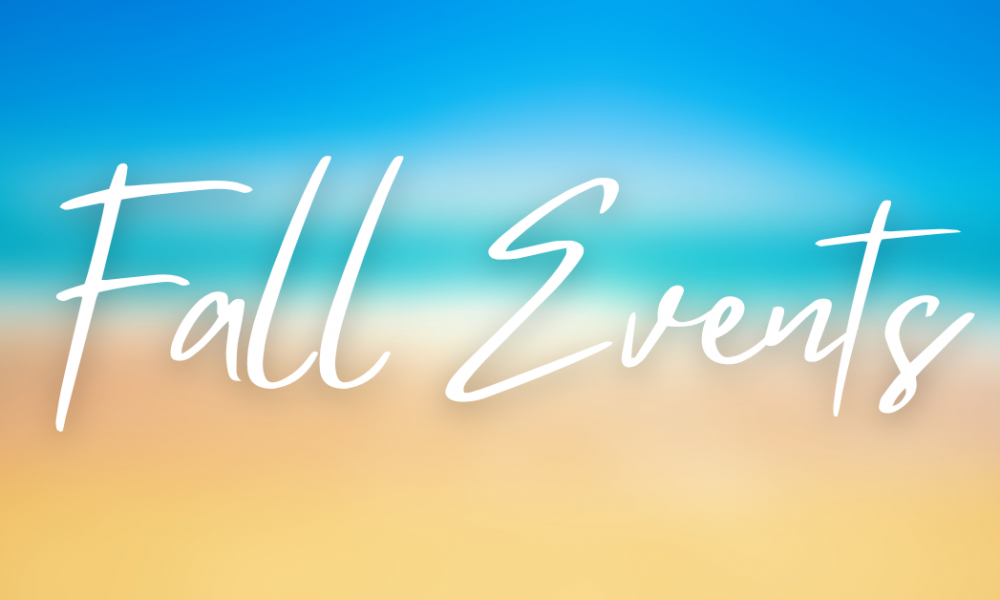 September, October , and November is a beautiful time for a family vacation to the Myrtle Beach and North Myrtle Beach area! The average temperature is between 68º and 84º, perfect for enjoying one of the many Myrtle Beach area fall events. We've created one list so you can plan accordingly.
Brookgreen Gardens Labor Day 5 K – Sunday, 9/4/2022
Run in one of the best and most scenic races in the area. For the second year in a row, Brookgreen Gardens is hosting their Labor Day 5k Race throughout this beautifully renowned site's many gardens and trails.
I Love Seafood Fest – Saturday, 9/10/22 & Sunday, 9/11/22
This festival is the spot for the freshest seafood around! From the ocean to your plate, this festival offers lobster, crab, crawfish, shrimp, and much more, along with live entertainment and cooking demonstrations.
SeptemberFest! – Saturday, 9/17/22
SeptemberFest! Returns to Barefoot Landing! Saturday, September 17, 2022. Join them for this exciting event in Dockside Village.
Duplin Winery's Grape Stomp – Saturday, 9/17/22
Duplin Winery is excited to join in on the fun at Barefoot Landing's SeptemberFest!, an event in Dockside Village in North Myrtle Beach, SC. On Saturday, September 17th, Duplin Winery will have Grape Stomping Stations set up on the Pepsi Stage from 12 pm to 6 pm to celebrate its 46th grape harvest.
42nd Annual Aynor Harvest Hoe-Down Festival – Saturday, 9/17/22
We invite you to visit us for the 42nd annual Aynor Harvest Hoe-Down Festival in Aynor, South Carolina. This festival has been happening for the past 42 years, and Aynor is filled with festivities and fun on Saturday, Sept. 17, 2022. There will be children's entertainment, arts and crafts, food vendors, musical entertainment, and a parade that starts at 10 am.
SOS Fall Migration – Thursday, 9/15 – Sunday, 9/25/22
The end of summer means one thing to shaggers – the fall migration is finally here! Shaggers from all over the country diverge on the Grand Strand to dance their favorite dance at various clubs on Ocean Drive or the Boulevard, including Fat Harold's, Ducks, Duck's II the OD Arcade and more.

55th Annual World Beach 'N Chili Fest – Friday, 9/23 – Sunday, 9/25/22
The 55th Annual World Championship Chili Cook-off is heading back to the Beach in 2022 from September 23rd through 25th. This BEACH 'N CHILI FEST will feature over 500 flavors of award-winning chili for your sampling pleasure! There's fun in the sun for all ages, including live music, car shows, celebrity appearances, and more! Gate admission is FREE.

Atalaya Arts & Crafts Festival – Friday, 9/23 – Sunday, 9/25/22
Featuring nearly 100 of the finest artisans, the Atalaya Arts & Crafts Festival provides aesthetic beauty against a background of natural beauty. Enjoy fine art, quality crafts, local food, and the musical offerings of several of the area's finest musicians.
Irish Italian International Festival – Saturday, 9/24/22
The City of North Myrtle Beach will host the 18th Annual Irish Italian International Festival. This one-day rain or shine event brings approximately 15,000 to celebrate different cultures. This festival will feature Art and Craft Vendors, Festival Food Favorites, Street Performers, Two Stages of Live Entertainment, and a Children's Area.
Myrtle Beach Bike Week Fall Rally – Monday, 9/26 – Sunday, 10/2/22
Harley Davidson enthusiasts converge on the Grand Strand during this annual fall rally each fall. Live music, vendors and motorcycle-friendly breakfasts, and events are held throughout the area.
Vintage Market Days – Friday, 9/30 – Sunday, 10/2/22
Vintage Market Days is an upscale vintage-inspired indoor/outdoor market featuring original art, home décor, outdoor furnishings, specialty plants, food, and more! This three-day event will take place in the Myrtle Beach Sports Center from 10:00 am to 4:00 pm on Friday and Saturday, and 10:00 am – 3:00 pm on Sunday. 
Myrtle Beach Fall Jerk Fest – Sunday, 10/2/22
This festival celebrates the history and revitalization of the historical Broadway Street, located in the heart of Myrtle Beach. Broadway Street is home to many of the beach's first businesses and Myrtle Beach's very first road, which still exists today. This year's Jerk theme also pays homage to one of the enduring legacies of Jamaica's fusion of African and Taíno cultures. 
Cruisin' the Beach Car Show – Thursday, 10/6 – Friday, 10/7 – Sunday, 10/8/22
The Cruisin' the Beach Car Show will take over Broadway at the Beach this October. Take a look at all kinds of modern, classic, muscle, and vintage cars throughout the weekend. Vendors will set up on-site selling parts, clothing, memorabilia, food, drinks, and more.

17th Annual Little River Shrimp Fest – Saturday, 10/8 – Sunday, 10/9/22
Another popular festival that happens annually along the Little River waterfront, the annual October ShrimpFest, takes place every Columbus Day weekend. The fall festival draws thousands of visitors and locals outside into fall weather with excellent live jazz music and a mouth-watering shrimp cook-off. 
Myrtle Beach Jazz Festival – Friday, 10/14 – Sunday, 10/16/22
Celebrate jazz, culture, community, and individuals from all walks of life with a line-up of smooth, soulful, and edgy regional and local jazz artists. This event will be held at an historic jazz location, Charlie's Place on Carver St between 18th Ave. N. and 21st Ave. N., Myrtle Beach.
Loris Bog-Off Festival – Saturday, 10/15/22
​​In downtown Loris, SC.  Enjoy entertainment, vendors, food, and fun for all ages. The festival began in 1980 as a chicken bog cooking contest and has evolved into the huge event it is today. Chicken bog generally consists of chicken, rice, sausage and spices of your choice; though over the years there have been many variations of this basic recipe.
St. John's Greek Festival – Thursday, 10/13 – Sunday, 10/16/2022
The annual St. John's Greek Festival, a celebration of Greek culture, cuisine and family fun, is one of the most beloved Myrtle Beach events of the fall.
Myrtle Beach Mini-Marathon – Saturday, 10/15 – Sunday, 10/16/22
There's no better place to run than along the Myrtle Beach coastline. Join in on this 13.1 Mile, 5K and Doggie Dash mini-marathon this October.
Georgetown Wooden Boat Show – Saturday, 10/15 – Sunday, 10/16/22
The Georgetown Wooden Boat Show – always held on the third weekend in October – features one of the Southeast's best wooden boat exhibits with more than 140 classic wooden boats displayed on land and water, children's model boatbuilding, knot tying, maritime art and crafts, food and music.

11th Annual Fun in the Sun Classic Car Cruise – Thursday, 10/27 – Sunday, 10/30/22
Please join us in October 2022 for our 11th annual Fun in the sun Classic Car Cruise hosted by Carol and Benny Huff. This event will feature Classic cars, Custom Cars, Antique Cars,Trucks, and bike owners who will all come together to share in our 3 day car extravaganza weekend and join other car enthusiasts help raise funds to support the Shriners Children's Hospital.

Myrtle Beach Jeep Jam – Friday, 10/28 – Sunday, 10/30/22
Join thousands of Jeep owners in Myrtle Beach for the 3rd Annual Jeep Jam complete with an epic Off-Road Obstacle Course, Live Entertainment, Show-N-Grime Car Show, Kids' Zone, Scavenger Hunt/Poker Run, Beach Crawl, Nightly Parties, Food Trucks, Beer, Raffles & more!
BooFest! At Barefoot Landing – Saturday, 10/29/2022
BooFest! at Barefoot Landing will take place Saturday, October 29 from 12pm until 4pm. For more information, please visit www.bflanding.com.
Trick or Treating at Barefoot Landing – Monday, 10/31/2022
Families are invited to trick-or-treating around Barefoot Landing this Halloween. Shops and restaurants will be open, too! 
41st Annual Dickens Christmas Show & Festivals – Thursday, 11/10 – Sunday, 11/13/22
Dickens Christmas Show & Festivals is a unique National Award-Winning event comprised of a multitude of shopping and entertainment options, for individuals and groups alike! The cornerstone of the event is a Victorian Holiday Marketplace. Here against a Victorian Holiday background, one will find 300 plus period clad vendors hawking everything from jewelry, crafts, gifts, toys, art, gourmet foods, holiday décor, and much, much more. 
Myrtle Beach Invitational – Thursday, 11/17- Sunday, 11/20/22
ESPN brings college basketball to the HTG Center at Coastal Carolina University in the Myrtle Beach area. Don't miss all the action this November!
We currently have amazing fall rates! Visit our website or call 800-525-0225 to book your getaway.