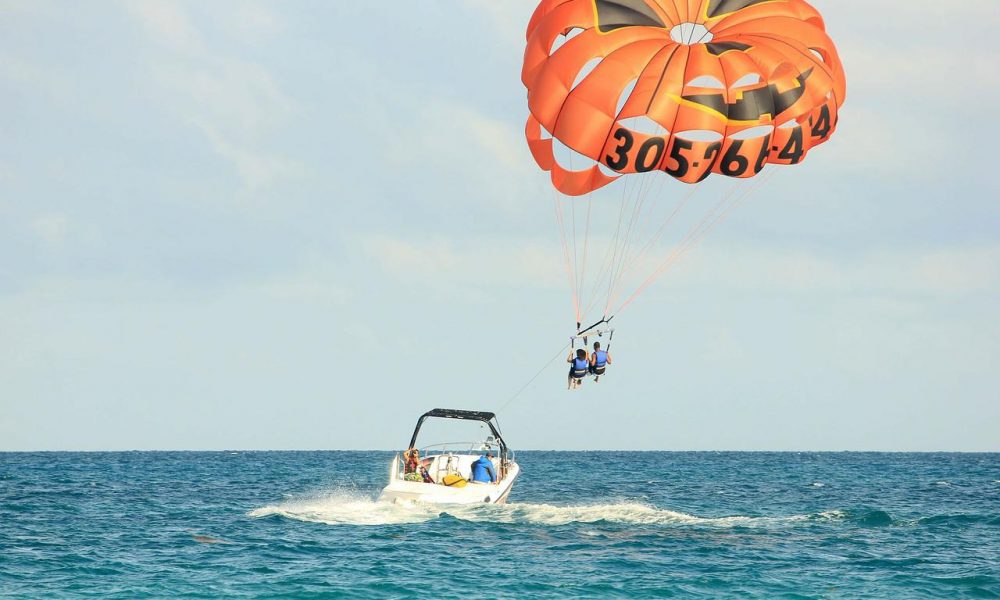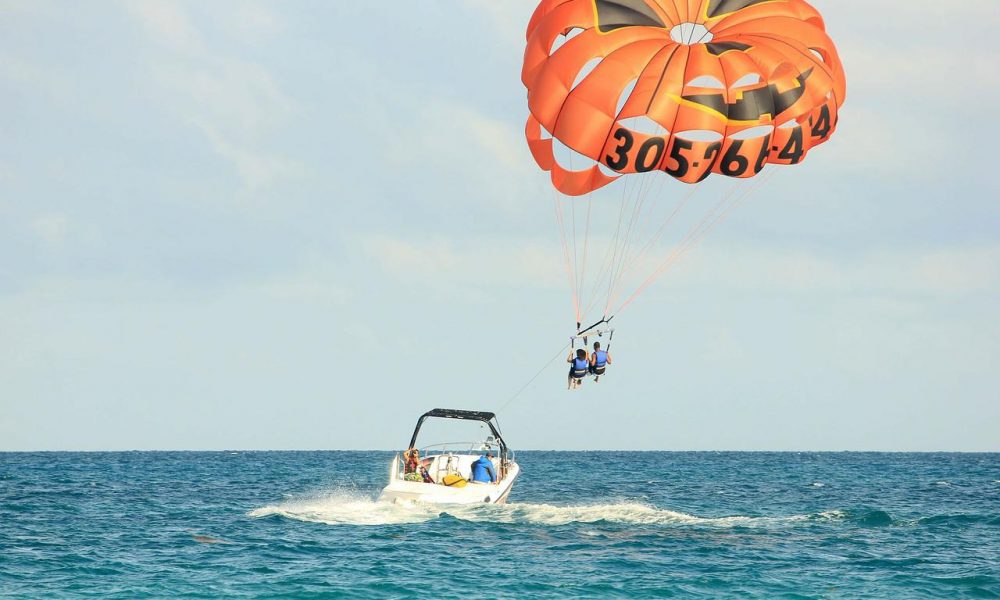 There are several ways to have fun at the beach; one of the best ways to do so is to go parasailing. Parasailing is not only a great way to get an adrenaline rush but is also a wonderful way to take in the beauty of the Atlantic Ocean and the golden shores of the Grand Strand. Go parasailing and get a unique perspective of the beach. Put parasailing on your bucket list, and then cross it off the list when you visit sunny Myrtle Beach, South Carolina!

Downwind Sails
Downwind Sails Watersports has two locations, 29th Avenue South and 3rd Avenue South. When you parasail with Downwind Sails, you will soar 400 feet above the water. There are single, double, and triple flights available and a 450-pound maximum per flight. You will take a banana boat ride to meet the parasail boat and then take flight for 10 minutes. You will take the banana boat back to the shore when you're finished. Don't miss out on this memorable experience!
Express Watersports
Express Watersports boasts that they have the longest and highest flight on the Grand Strand! They also have 25 years of experience under their belt. Guests will fly up to 500 feet over the majestic Atlantic Ocean. Safety is guaranteed, and each boat is USCG certified. You may see dolphins and sea turtles as well as other ocean life. Flights are 10-12 minutes long, and there is also the option to be dipped in the water. Fly with professionals at Express Watersports!
Ocean Watersports
Ocean Watersports has been around since 1981 and is the most experienced parasailing outfit in Myrtle Beach. An experienced captain and crew ensure a safe experience for everyone. Experience acceleration and altitude while getting in breathtaking views of the Atlantic Ocean. Each flight begins with a thrilling banana boat ride to the parasail boat. Bring a whole group because two and three people can ride at one time. Ocean Watersports also provides digital images that you can purchase after the excursion. You can call 843-445-7777 to make reservations.
New Wave Watersports
New Wave Watersports is in North Myrtle Beach and is family-friendly, claiming to have had passengers aged 5 to 90. Your experience begins with a banana boat ride to the parasail boat. Take-off and landing happen right on the boat. Guests have the option to be dipped in the ocean. New Waves Watersports encourages guests to opt into the ocean dip, saying it will be your favorite part of the excursion. Call 843-361-3322 to book your parasailing adventure.
Aloha Waterports
Aloha Watersports has two locations, one at 2208 North Ocean Boulevard in North Myrtle Beach and another at 2201 Little River Neck Road, also in North Myrtle Beach. Aloha invites the whole family to participate, including grandma! You can share your adventure with loved ones because there are two and three-person flights available. Professional photo packages are also available. The parasailing boats have "world-class" recognition and Aloha Watersports takes pride in their equipment. They consistently maintain and inspect everything from sail repair to a full engine overhaul as well as collecting cigarette butts found on the beach. Aloha Watersports is also an active member of the WSIA-Watersports Industry Association and is also inspected by the U.S. Coast Guard. Bring the whole family and take part in a safe and thrilling experience you'll never forget! Visit or call 843-249-9908 to find out more information and make reservations.


Now that you have a full list of epic water adventures, time to figure out where you will stay! Elliott Beach Rentals has got you covered with a variety of houses and condos located all around the Grand Strand. Call us at 800-525-0225 today!