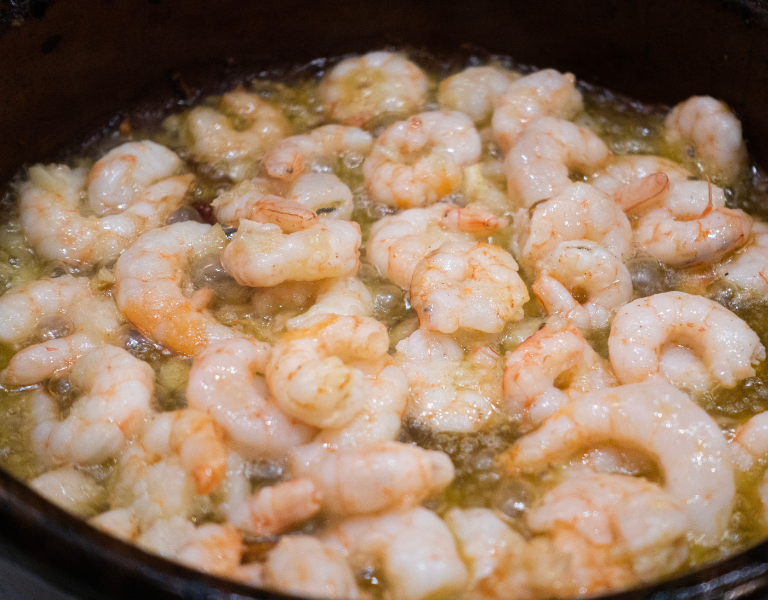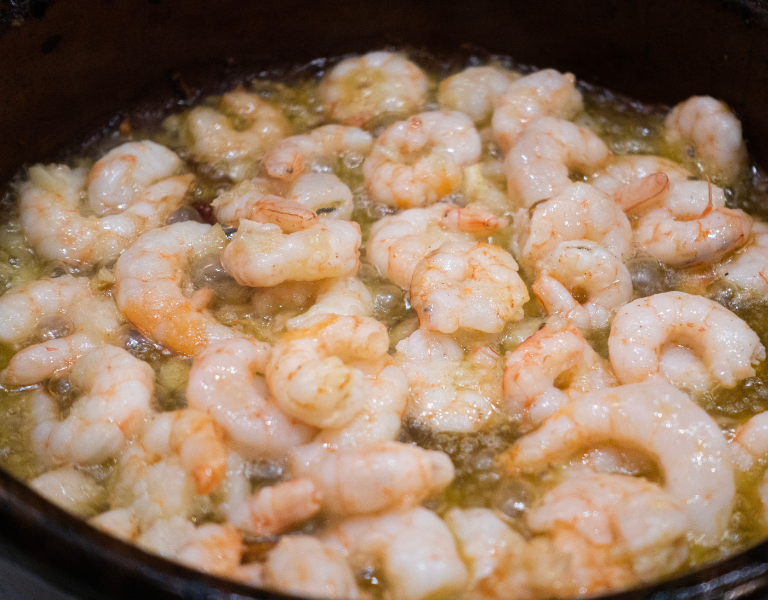 Everyone comes to the beach expecting a few things: a little bit of sun, a little bit of surf, and a whole lot of fresh seafood. And, on the Grand Strand, one seafood towers over the rest.
That's right; we're talking about shrimp!
Few people know that South Carolina actually has two shrimp seasons. The first runs from May through August when the smaller, brown shrimp are harvested. The second season runs from September through December when the larger and more popular white shrimp are harvested.

Now, you can enjoy these plump little delicacies at any of the Grand Strand's endless litany of phenomenal seafood restaurants. However, if you want to enjoy second shrimp season like a true Grand Strand native, then stop by a local farmers market or fruit stand, pick up some fresh shrimp, and prepare any of the five fantastic shrimp recipes today!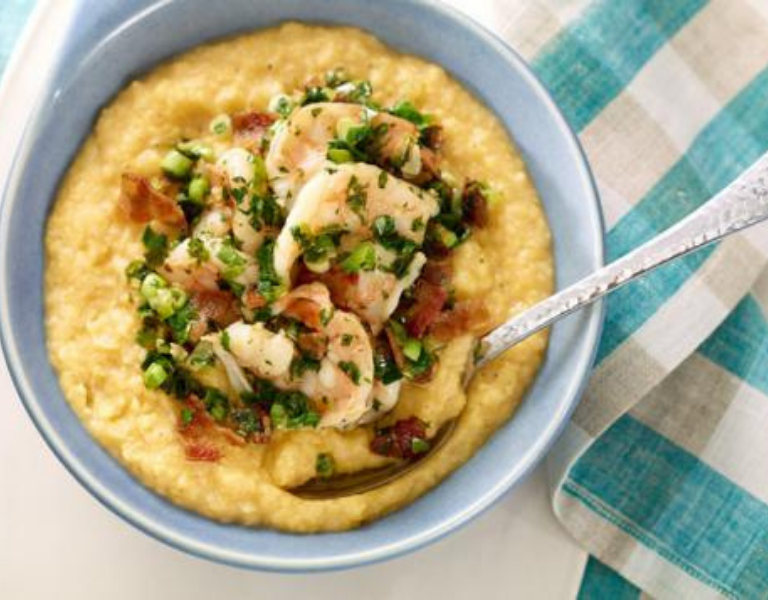 SC Style Shrimp and Grits
Ingredients:
4 cups of water
Salt and pepper
1 cup stone-ground grits
3 tablespoons butter
2 cups shredded sharp cheddar cheese
1-pound shrimp, peeled and deveined
6 slices bacon, chopped
4 teaspoons lemon juice
2 tablespoons chopped parsley
1 cup thinly sliced scallions
1 large clove garlic, minced
First, bring your water to a boil then season with salt and pepper. Add grits and cook until water is absorbed about 20 to 25 minutes. Remove from heat and stir in butter and cheese.
Rinse your shrimp and pat dry. Fry your bacon in a large skillet until browned; drain well. Add shrimp to your bacon skillet. Cook until shrimp turn pink and then add lemon juice, chopped bacon, parsley, scallions, and garlic. Sauté for 3 minutes.
Spoon grits into a serving bowl. Add shrimp mixture and mix well, then serve hot.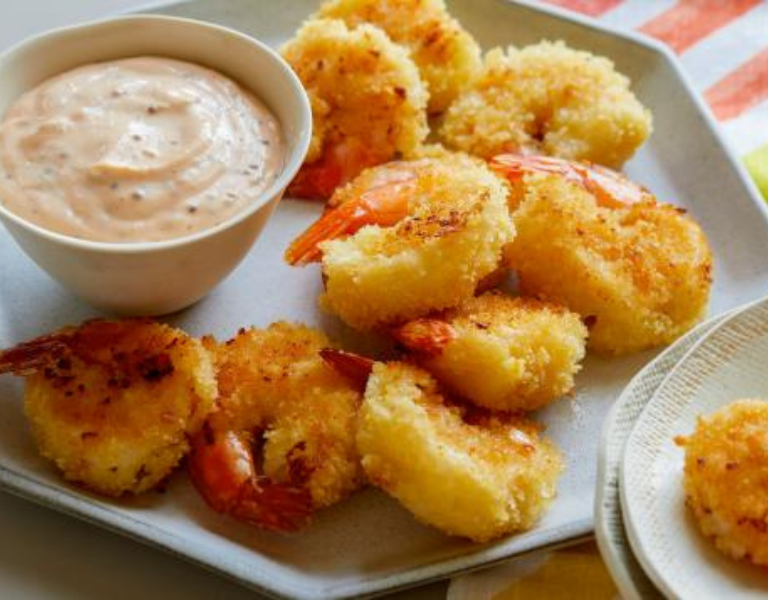 Southern Style Fried Shrimp
Ingredients:
1 egg
⅔ cup beer
1 ½ teaspoons baking powder
¼ cup all-purpose flour
Optional-Cayenne Pepper to Taste
24 shrimp—peeled and deveined
3 cups canola oil for frying
First, combine your egg, 1/2 cup of flour, beer, cayenne pepper, and baking powder in a medium bowl. Place 1/4 cup flour and coconut in two separate bowls.
Next, dredge your shrimp in the flour. After shaking off any excess flour, dip your shrimp in the egg/beer batter. Allow excess to drip off. Refrigerate for 30 minutes. As the shrimp cools, heat your oil to 350 °F in a deep fryer or a deep cast-iron frying pan.
Fry your shrimp in batches: cook, turning once, for 2 to 3 minutes, or until golden brown. Carefully remove the shrimp from the hot oil and move to paper towels to drain—be sure to salt the shrimp while still hot.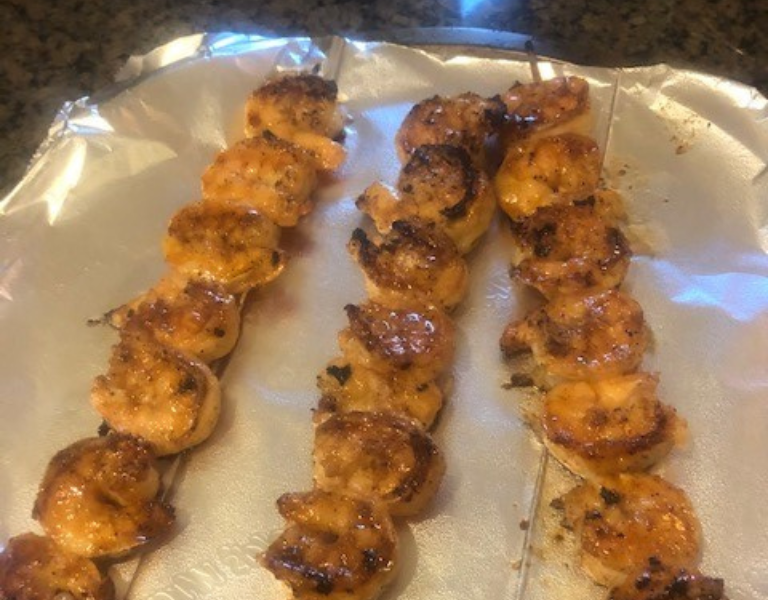 Kyle's Glazed Shrimp on the Barbie
Ingredients
1-pound fresh shrimp—peeled and deveined
Grill Safe Skewers
Sesame Seed Oil
Salt and Pepper
½ cup of soy sauce
1 tablespoon pineapple preserve
1 teaspoon garlic powder
Pinch of Cayenne to Taste
First, thread your peeled and deveined shrimp on your grill safe skewers—piercing once near the tail and once near the head. Brush shrimp with sesame seed oil and dust with salt and pepper then set aside. Preheat grill to medium-high heat. As the grill heats up, whisk together your soy sauce, pineapple preserve, garlic powder, and cayenne pepper in a small mixing bowl. Lightly oil your grill grate. Cook your shrimp skewers until slightly opaque— around 2-3 mins. Flip your skewers, then brush on your glaze. Cook for an additional 2-3 minutes before flipping skewers and applying a second coat of glaze. Remove shrimp once opaque and bright pink. Remove shrimp from skewers and enjoy hot.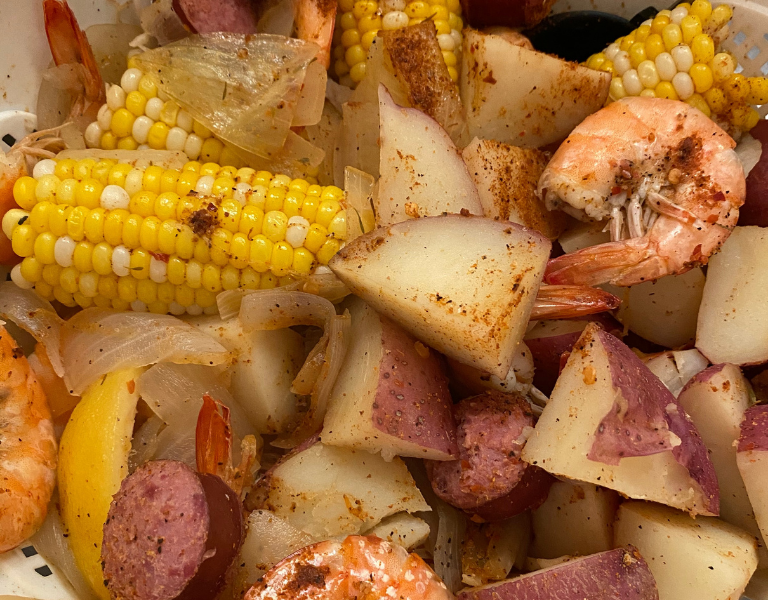 Amanda's Old Bay Shrimp Boil
Ingredients
1⁄2 cup Old Bay Seasoning
2 tablespoons salt
4 quarts water
1 (12 ounce) can beer
8 medium red potatoes, cut in quarters
2 large Vidalia onions, cut in wedges
2 lbs. smoked sausage, cut in 2-inch lengths
8 ears frozen corn on the cob, thawed (I use Birdseye Little Ears)
4 lbs. large shrimp, in shells
First, in a large, eight-quart, stockpot, bring Old Bay, salt, water, and beer to a boil. Add potatoes and onions; cook over high heat for eight minutes. Add smoked sausage; continue to cook on high for five minutes. Add corn to pot; continue to boil for seven minutes. Add shrimp in shells, cook for four minutes. Drain cooking liquid; pour contents of the pot into several large bowl or shallow pails. Sprinkle with additional Old Bay and serve hot.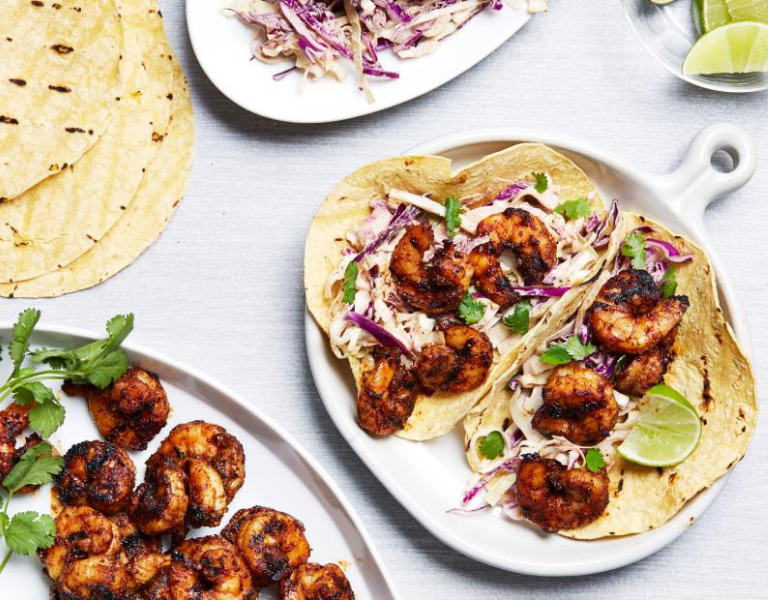 Shrimp Tacos
Ingredients
2 tablespoons light brown sugar
1 tablespoon chili powder
1 teaspoon ground cumin
1 teaspoon smoked paprika
Finely grated zest from 2 limes
1/4 cup sour cream
1 1/2 pounds medium shrimp peeled and deveined, tails removed
1/4 cup extra-virgin olive oil, plus more, for the grill grates
4 cups coleslaw mix
Kosher salt and freshly ground black pepper
12 corn tortillas
Whole cilantro leaves and lime wedges, for serving
First, preheat an outdoor grill to high heat. Then mix together your brown sugar, chili, cumin, paprika, and lime zest together in a medium bowl. Stir 2 teaspoons of the sugar-spice mixture into the sour cream and set aside. Toss your shrimp in olive oil and your remaining spice mixture until evenly coated. Set aside to marinate for 15 minutes.
Toss the coleslaw mix with the spiced sour cream until well coated and season with salt and pepper. Toast the tortillas on the grill, about 1 minute per side. Transfer to a plate and wrap with foil to keep warm.
Remove the shrimp from the marinade and sprinkle with salt. Lightly oil the grill grates. Grill the shrimp, flipping once until just cooked through, 2 to 3 minutes per side. Serve the shrimp in the warm tortillas with the slaw, whole cilantro leaves, and lime wedges on the side.
START COOKING IN AN ELLIOTT REALTY PROPERTY TODAY
Are you interested in trying any of these scrumptious shrimp recipes for yourself? Then you are going to need a full-size kitchen, complete with appliances, and ample pantry space. Find the perfect rental to meet all your culinary needs with Elliott Realty!
For over 50 years, Elliott Realty has been proudly providing impeccable accommodations for countless visitors to the Grand Strand. With hundreds of rental properties–each boasting an endless array of comfortable accommodations and amenities to meet all needs—we feel confident that we have the perfect unit for you. Give us a call or visit our website today!
For other great recipes, visit our beach-worthy recipes Pinterest board or check out a few of our other recipe blogs.
Bon Appétit and We'll Sea you Soon!