Finally, your Myrtle Beach vacation has arrived. The family is all together and everyone is having a great time. After a day of  strolling along the beach looking for shells and shark's teeth we can think of no better way to end the day than with a traditional coastal meal. Whether you have rented a Myrtle Beach condo or house, the evening is the perfect time to get everyone off the beach and in for a home cooked meal. Here is a great recipe to enjoy with the family.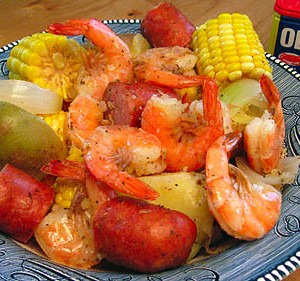 Carolina Shrimp Boil
Ingredients
Old Bay Seasoning to taste
5 pounds new potatoes
3 (16 ounce) packages cooked kielbasa sausage, cut into 1 inch pieces
8 ears fresh corn, husks and silks removed
5 pounds whole crab, broken into pieces
4 pounds fresh shrimp, peeled and deveined
Heat a large pot of water over medium-high heat.  Add Old Bay Seasoning to taste, and bring to a boil.  Add potatoes and sausage and cook for about 10 minutes.  Add the corn and crab and cook for another 5 minutes.  When everything is almost done add the shrimp and cook for another 3 or 4 minutes.
Serve in a big bowl or simply mound on a paper-covered table. This is finger food, designed for casual eating and lots of camaraderie.
Serves a lot of hungry people.