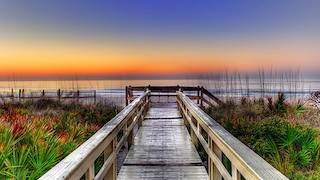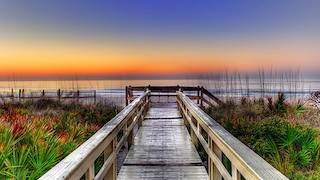 Experience the beach like you never have before. Myrtle Beach offers some of the best places to take in the sun and sand along the East Coast! Year after year, no matter what attractions or new resorts are built, it is the beauty of the Atlantic Ocean that draws visitors from across the globe to the Grand Strand. Be sure that while you are here enjoying our shopping, dining, and entertainment that you take time to experience the ocean.
The Grand Strand's Top Beach Access Spots:
Cherry Grove Pier

: Take in a view like no other! With the only

two story observation deck

at any privately owned pier in the Myrtle Beach area and record catches, the Cherry Grove Pier is 985 feet of fishing fun for the entire family.
Myrtle Beach Boardwalk:  In the heart of Myrtle Beach, the Boardwalk offers a stretch of sand with access to many of the best attractions in the area!

Huntington Beach State Park:  Located north of Brookgreen Gardens in Murrells Inlet, you can enjoy the beach in its natural state.  Nature trails, bird watching, shell gathering along an unspoiled oceanfront!

Cabana District: This unique stretch of beach can be found along north Ocean Boulevard, here there are no hotels or business on the ocean-side of the boulevard.  The only structures are small cabanas between the road and the beach, with a mysterious past!

Beach Drive:  Surrounded by mostly residential homes, this area never seems to be busy even in the height of summer.  Enjoy some of the most beautiful homes in Myrtle Beach and the uncrowded sand.

Pawley's Island:  On the far south end of the Grand Strand is one of the few non-commercial oceanfront communities remaining on the East Coast.  Visit the shops, enjoy the delicious dining, and explore some of the nearby 18th century plantations.
Enjoy all of these from you own oceanfront condo or home!  Give us a call at 1-800-525-0225 or visit elliottrealty.com for rates and availability.