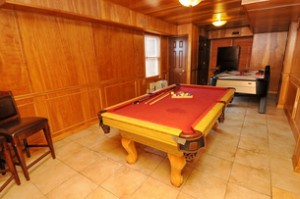 Game rooms that is. While it's true that you'll find plenty of activities in Myrtle Beach to keep the kids busy, sometimes you just want to kick back and relax, or heaven forbid, you get a rainy day. Many of our homes and condos have game rooms which allows for more room to spread out and more fun on your vacation. Even the grownups will have a blast playing games with the kids. What a great way to wind down after spending the day at the beach or pool. Most of the game rooms in our vacation rental homes and condos usually have pool tables; some may have video games, air hockey, foosball, cards and board games. Many game rooms have TVs, DVD players, VCRs and a few even have stereos. Each vacation rental will have different amenities so check the full description carefully or call one of our Vacation Specialists for details.
We take pride in our extensive inventory of homes and condos at affordable prices and have the experience to help make your vacation with Elliott Beach Rentals your best vacation ever!
For more information on our rental properties with game rooms please visit www.northmyrtlebeachtravel.com or give us a call at 1-800-525-0225.