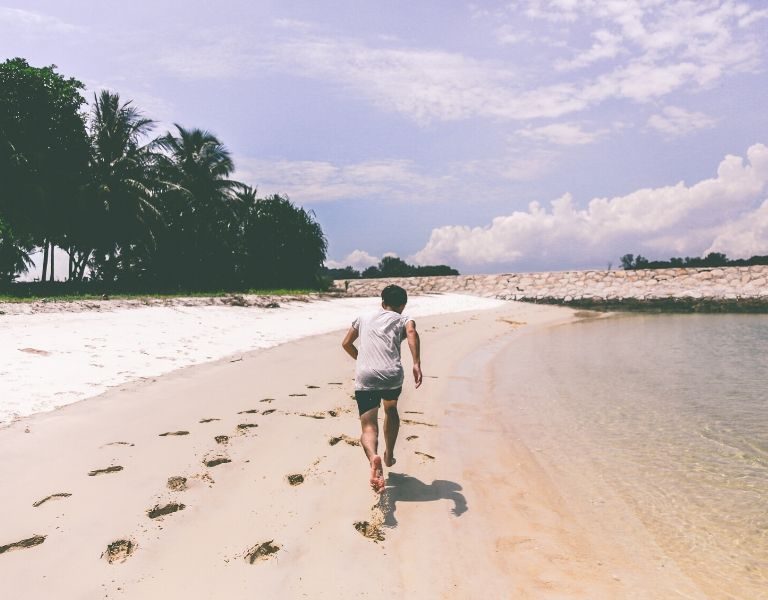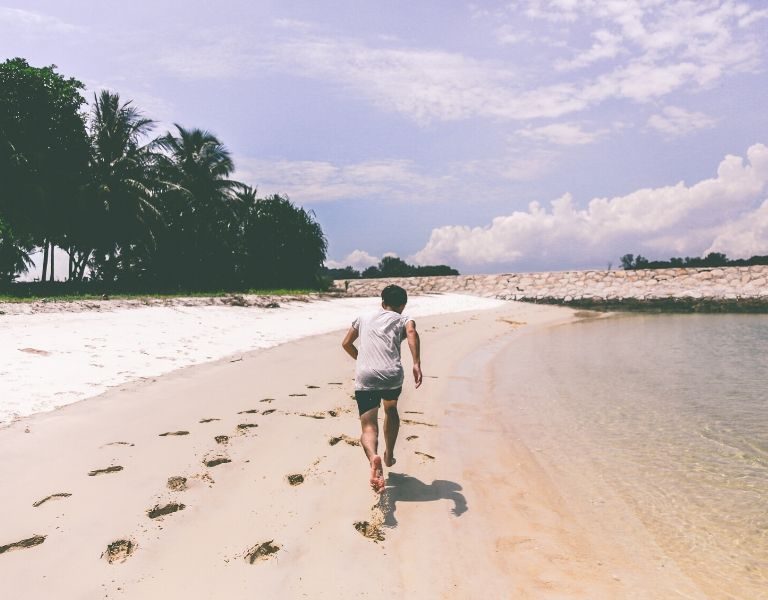 The holiday season has come and gone, and at long last, we stand at the dawn of a new decade. With the beginning of a new year comes the beginning of many new year's resolutions. Studies have shown that as many as 80% of all New Year's Resolutions fail by the time February rolls around.
If you want to make sure that your resolutions are a part of the rare 20%, then pack your bags and head to the beach. Whether you're looking to get to fit in 2020, save money, or take up a new hobby, you will find that keeping your resolutions is much easier at the beach.
This week, we will be looking at all the ways you can stay fit during your Grand Strand getaway.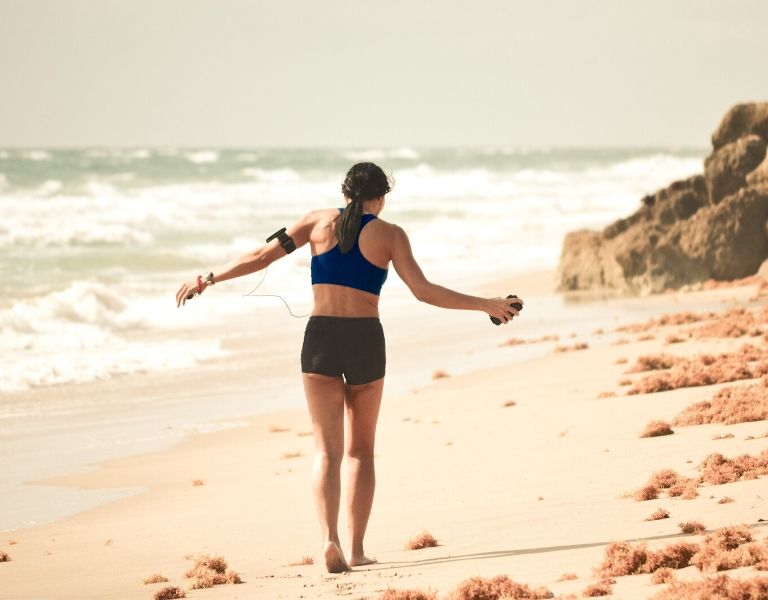 Jogging on the Beach
It may sound obvious, but one of the easiest ways to stay fit during your vacation is to simply lace up an old pair of running shoes and hit the beach. With sixty continuous miles of pristine, wide-open beach, the Grand Strand is a runner's paradise.
Beyond the benefit of having stunning views to look at and a steady ocean breeze to keep you cool, jogging on the beach burns approximately 60% more calories than jogging on a flat surface.
Of course, if you don't feel like dealing with the sand, the Grand Strand is home to many parks, living communities, and shopping centers that are perfect for keeping your steps up.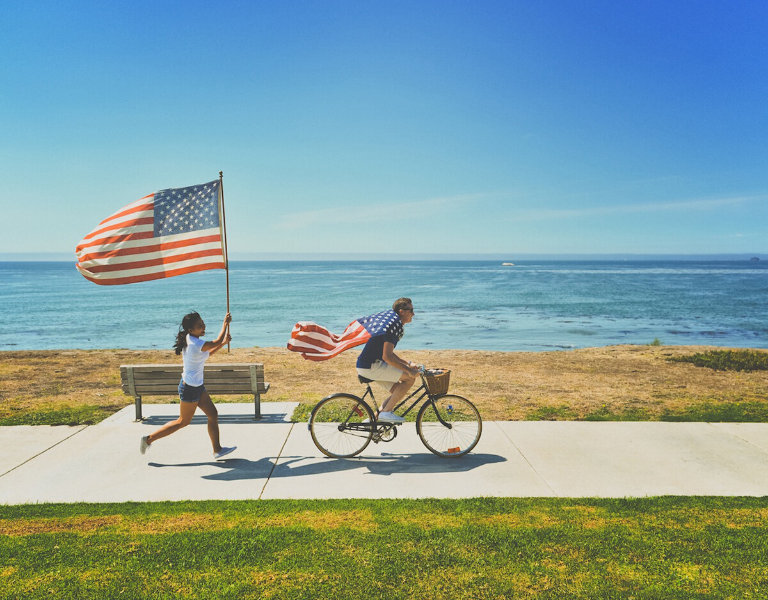 Biking
Another great way to burn off a few extra calories is with a jaunty afternoon bike ride. Bike rental companies abound in the Grand Strand, as well as many scenic bike paths. Many of these bike rental companies even offer sturdy beach cruiser rentals for those riders looking to go for a spin on the beach.
Beach cruisers are easy to ride and burns around 50 calories per mile. Whether your riding by yourself or with your group, there's no better way to see the coast and burn some calories than with a scenic bike ride on the beach.
Dancing
Looking to have some fun and burn some calories in the process? One of the fastest and most enjoyable ways to burn fat during your Grand Strand getaway is with an evening of dancing. The Grand Strand is home to an endless array of thrilling dance clubs; each specializing in a variety of different dance styles. In addition to being a great couple's activity during your vacation, dancing can burn as much as 500 calories an hour.
For those of you looking for a uniquely Grand Strand dance experience, be sure to visit one of the area's many Shag clubs. A direct descendant of the Jitterbug, the Carolina Shag is a swing style dance that originated in North Myrtle Beach during the 30s and 40s.
While there are many clubs that specialize in this iconic dance, one of the best places Fat Harold's Beach Club on Main Street, North Myrtle Beach. With nightly live music, great drink specials, and free shag classes, Fat Harold's Beach Club is the perfect place for newcomers and professional shaggers alike.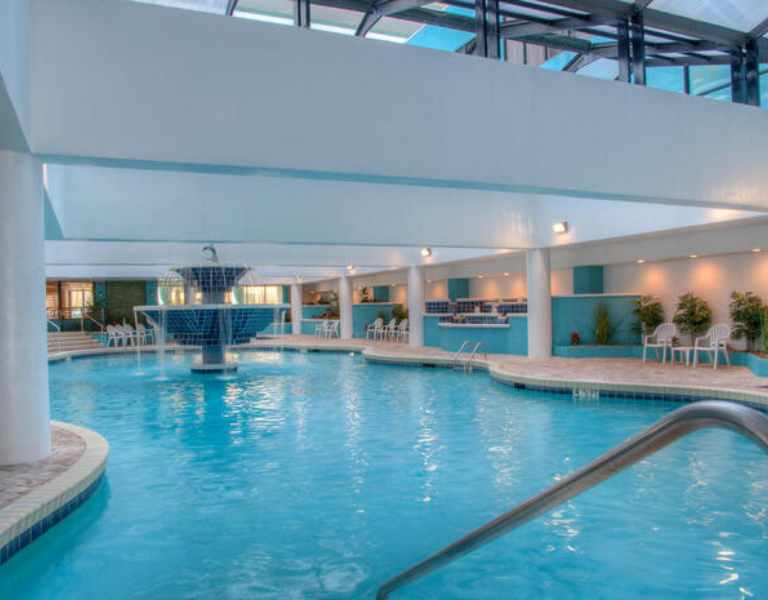 Swimming
Summer may still be a few months away, but there are still plenty of opportunities for you to swim during your Grand Strand vacation. Many of the condos on the Elliott Realty program offer access to both indoor and outdoor swimming pools. Many beach homes also feature heated swimming pools for wet and wild fun during the winter.
The above photograph shows the indoor swimming pool at the lovely Landmark Resort in the heart of Myrtle Beach.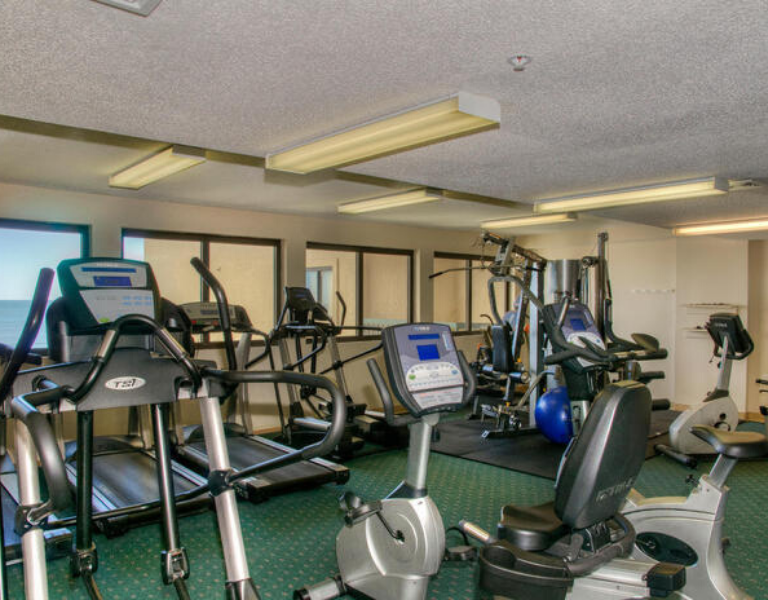 Resort Gym
Looking to stay a little closer to home for your workout? Never fear, many of Elliott Realty's condo rentals boast access to fully-equipped fitness centers at some of the Grand Strand's most luxurious resorts. Some even boast gorgeous views of the Atlantic, like the state-of-the-art fitness center at the opulent Ocean Bay Club—photographed above.
Book Your Trip Today
So, are you ready to get a head start on your 2020 fitness goals? Then book your stay at a beautiful beach home or opulent oceanfront condo from Elliott Realty today! For over 50 years, Elliott Realty has been proudly providing impeccable accommodations for countless visitors to the Grand Strand. With hundreds of rental properties–each boasting an endless array of comfortable accommodations and amenities to meet all needs—we feel confident that we have the perfect unit for you. Give us a call or visit our website today!
We'll Sea You Soon!