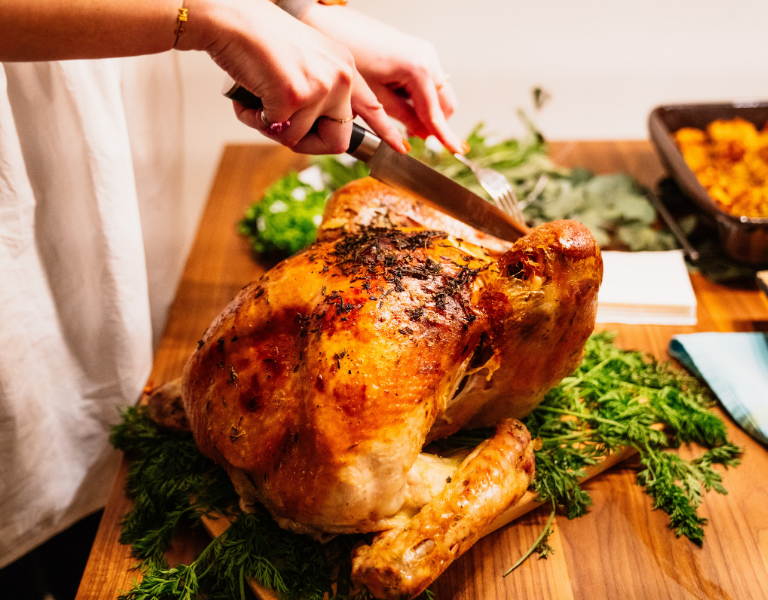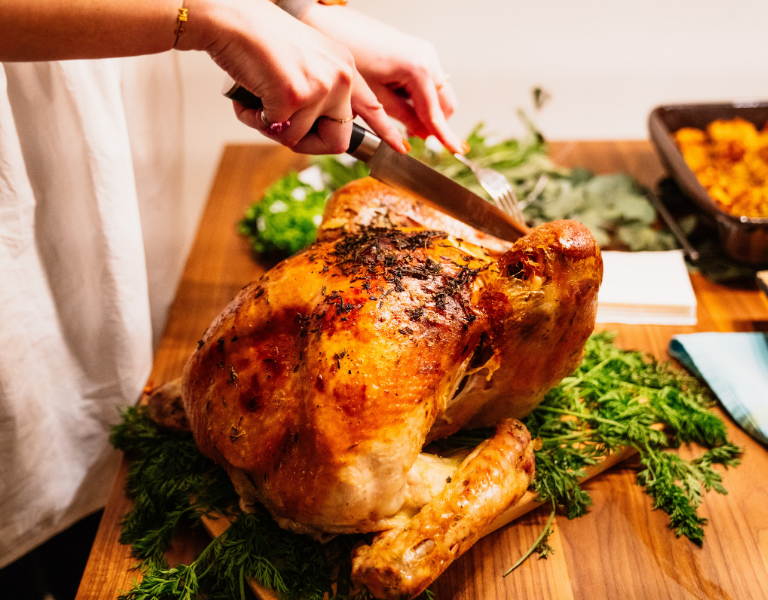 Well, Halloween has come and gone. And you know what that means: it's time to start planning for Thanksgiving!
Here on the Grand Strand, we have a lot to be thankful for: abundant natural beauty, a pleasant year-round climate, 60-pristine-miles of wide, sun-kissed beach, over 100 championship golf courses, the list goes on! As such, Thanksgiving on the Grand Strand is always a grand affair.
If you and your family are looking to bring a little coastal magic to this year's Thanksgiving Dinner, then check out these five Grand Strand restaurants offering a Thanksgiving feast!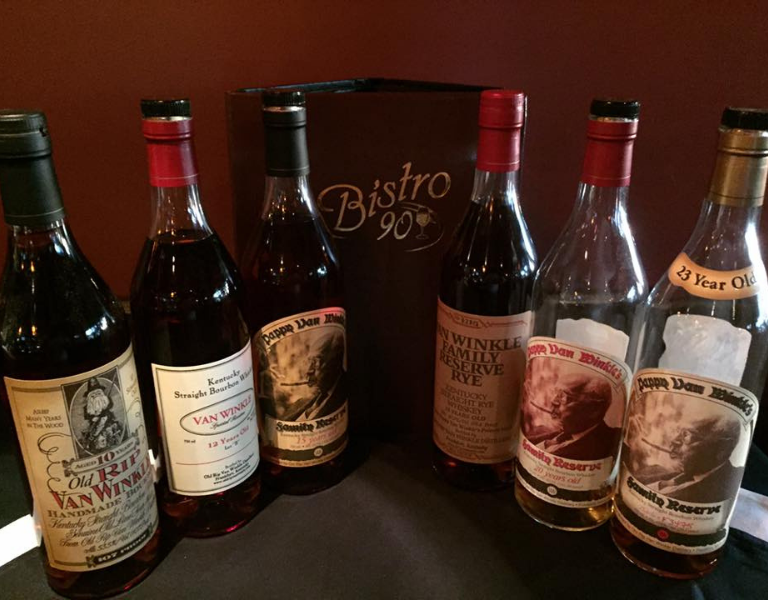 Bistro 90
Bring a touch of class to your Thanksgiving dinner at Bistro 90.
Situated just a short drive away in Longs, SC, Bistro 90 has been the local's 'Go-To' fine dining restaurant for over a decade. Each steak is hand-cut, aged in house U.S.D.A. prime beef. Their extensive seafood offering features only the freshest of seasonal fare, including wild-caught salmon, Chilean Sea-Bass, and fresh Maine Lobster. Their equally extensive selection of Italian cuisine is all made from scratch in house using only the highest standard of ingredients.
Every Thanksgiving, Bistro 90 also prepares a special one day only menu, featuring traditional Thanksgiving favorites—including roast turkey, glazed Virginia ham, sage stuffing, green bean casserole, cranberry sauce, sweet potatoes, glazed carrots, and a selection of fresh-baked pies. However, no worries if traditional thanksgiving food isn't really your thing—Bistro 90's full menu will also be available.
To reserve your place at Bistro 90's Thanksgiving Dinner, call them today at 843-390-5151.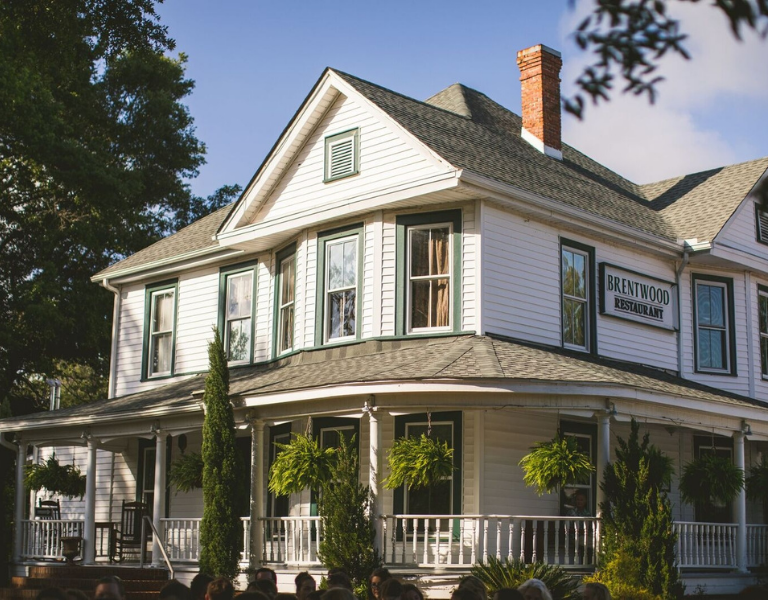 The Brentwood Restaurant and Wine Bistro
Looking for something a little "homier"? Then check out The Brentwood Restaurant and Wine Bistro.
Built on the site of a 100-year-old Victorian home, The Brentwood Restaurant and Wine Bistro offers guests tantalizing French cuisine in a cozy, fine-dining atmosphere. From the moment you step through the door, you will feel as comfortable in this Grand Strand gem as you do in your own home.
Thanksgiving Dinner at the Brentwood is served family-style and includes fresh salad, oven-roasted turkey, hickory-smoked ham, southern cornbread stuffing, mashed potatoes, sweet potatoes, sautéed vegetables, cranberry sauce, turkey gravy, and a selection of either apple tart or pumpkin pie. Of course, if you would prefer to enjoy this sumptuous fare in the comfort of your own vacation rental, The Brentwood also offers a convenient takeout option from 11-1 on Thanksgiving Day. However, please be advised that all take out orders must be pre-ordered and placed by Monday, November 23rd.
To reserve your place at The Brentwood Restaurant and Wine Bistro's Thanksgiving Dinner or place your take-out order, call them today at 843-390-5151.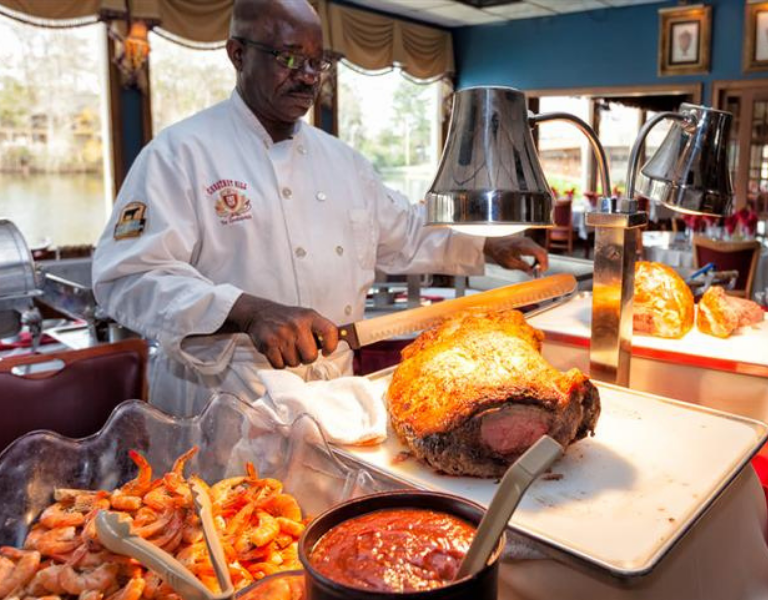 Chestnut Hill
Next up on our Thanksgiving Day round-up is the ever-popular Chestnut Hill.
Situated in the scenic Shore Drive section of Myrtle Beach, Chestnut Hill has been a local favorite for over 30 years. Specializing in fresh-caught local seafood and the finest Mid-Western corn-fed beef, Chestnut Hill prides itself on serving the freshest, homemade foods found anywhere on the Strand.
Nowhere is this commitment more apparent than in their annual Thanksgiving Day Buffet! Southern-fried turkey, fresh shrimp, carving-station meats, smoked oysters, and quail grilled over an open flame are just a few of the options you and your family can enjoy! There is also a wide selection of garden-fresh veggies, sweet potato soufflé, homemade Waldorf salad, and Southern cornbread gravy. Thanksgiving does not get any better than this!
To reserve your spot at Chestnut Hill's Thanksgiving Buffet, give them a call at 843-449-3984.
Hurricanes Colinz Seafood Grill
Looking to enjoy a Thanksgiving dinner just a stone's throw away from the beach? Then check out Hurricane Colinz Seafood Grill!
Sitting just across the street from the sugar-white sand and azure surf of Cherry Grove Beach, Hurricane Colinz Seafood Grill offers guests tantalizing comfort food in a laid-back coastal atmosphere. Steak, seafood, Italian, Hurricane Colinz has a little something for everyone! Along with great drink specials and a spectacular view of the nearby Atlantic, Hurricane Colinz will keep you coming back again and again.
They will be posting their Thanksgiving menu to Facebook soon, but spots are already filling up for their Thanksgiving Day Dinner! To reserve your Thanksgiving Dinner at Hurricane Colinz, give them a call today at 843-491-3575.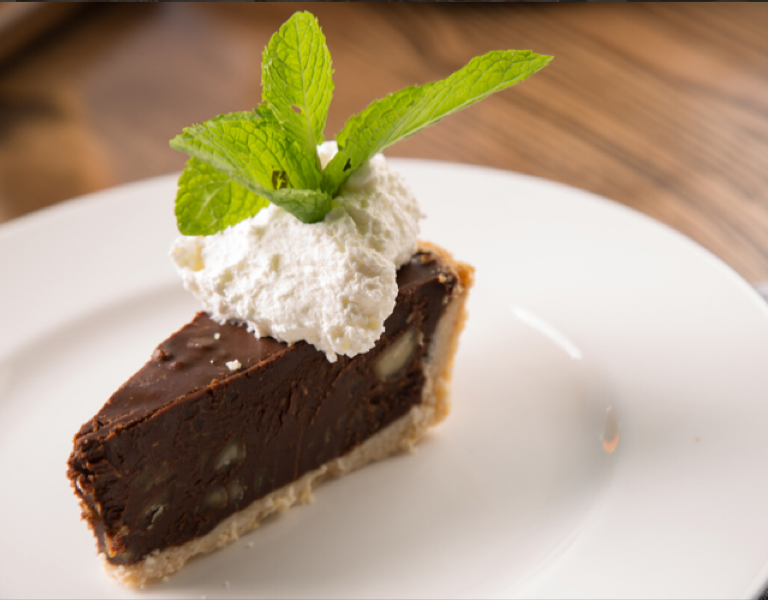 Oyster Rock Waterfront Seafood Restaurant
Last up on our Thanksgiving list is the enchanting Oyster Rock Waterfront Seafood Restaurant.
Sitting just across the state line in the seafood capital of the world, Calabash, NC, The Oyster Rock Waterfront Restaurant has earned the reputation of serving the freshest seafood the Grand Strand has to offer. Overlooking the tranquil banks of the Calabash River, patrons literally watch as the fisherman offload that days catch as they unwind in an inviting, family-friendly atmosphere.

The Oyster Rock Waterfront Seafood Thanksgiving Day buffet menu includes a Chilled Station with a variety of seafood on ice, including shrimp, oysters, and crawfish; Carving Station with roast turkey and garlic-rosemary roasted pork loin; and Hot Selections, including braised brussels sprouts with sauteed onions and bacon, Southern-style green bean casserole, classic stuffing, sweet potato casserole and more. The dessert table includes miniature desserts like pumpkin cheesecake, pecan diamonds, lemon bars, and chocolate mousse with raspberries.
To make your reservation for Oyster Rock waterfront Seafood Restaurant's Thanksgiving Buffet, call them today at 910-579-6875.
Be Thankful for More this Year with Elliott Realty!
Want to make this Thanksgiving one to remember? Then book your stay in an opulent oceanfront condo or a breathtaking beach home with Elliott Beach Rentals today!
For over 60 years, Elliott Beach Rentals has proudly provided impeccable accommodations for countless visitors to the Grand Strand. With 1200+ rental properties–each boasting an endless array of comfortable accommodations and amenities to meet all needs—we guarantee that we have the perfect rental for you and your vacation crew. Give us a call at 888-669-7853 or visit our website today!
We'll Sea You Soon!