Black Friday is just one more week away! This year give the gift of a Grand Strand getaway with an exciting vacation package from Elliott Realty.
Each of our five unique vacation packages includes exquisite accommodations in an opulent rental property as well as admission tickets to some of the Grand Strand's most popular attractions. No matter who you're shopping for this holiday season, a vacation package from Elliott Realty is guaranteed to be a gift that everyone will love.
This week, we will be unpacking the perpetually popular Captain Package!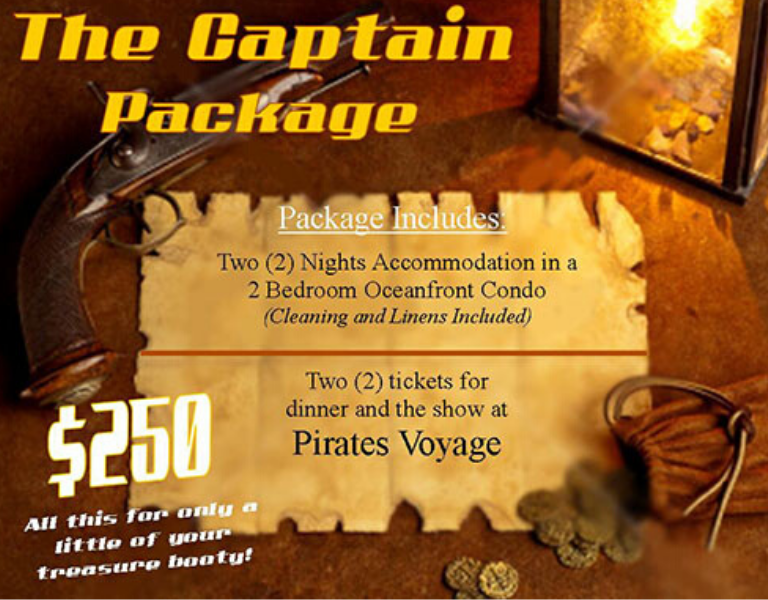 Package Details
Spend five minutes anywhere in Myrtle Beach and you will probably see or hear something about the legendary Pirates Voyage Dinner Theater. With high flying acrobatics, swashbuckling swordplay, thrilling pyrotechnics, and delectable four-course feast, Pirates Voyage is a can't miss show for any Grand Strand visitor.
To make it easier for our guests to experience this showstopping spectacle, Elliott Realty created the Captain Package. For just $250, guests will receive a two-night stay in an opulent two-bedroom oceanfront condo, complimentary cleaning and linen service, and two-tickets for Pirates Voyage Dinner and Show.
With Christmas right around the corner—and Pirates Voyage's Christmas spectacular already in full swing—the Captain's Package is the perfect gift for anyone.
Book Your Package Today!
Looking to make this holiday season one to remember? Then book the Captain Package today with Elliott Realty. For over five decades, Elliott Realty has proudly provided impeccable accommodations for visitors to the Grand Strand. With hundreds of rental properties— each boasting an endless array of comfortable accommodations and amenities to meet a variety of needs—we feel confident that we have the perfect unit for you and your family. For more information about the Captain Package, call us today at 888-669-7853. Our friendly staff of highly trained vacation specialists is ready and waiting to help you with all your vacation needs!
We'll sea you soon!