Break out the forks and put the dentist on standby: October 14th is National Dessert Day! On this most decadent of days, we pay tribute to the best part of every meal as we indulge our collective sweet tooths with tantalizing sugary treats.
With Halloween only 17 days away, we decided to celebrate National Dessert Day by cobbling together a few of our favorite Halloween inspired dessert recipes. Each of these five terrifying treats is guaranteed to slake the sweet tooth of even the most ardent of dessert lovers while also putting your entire family into that Halloween spirit.
So, without further ado, let's get started.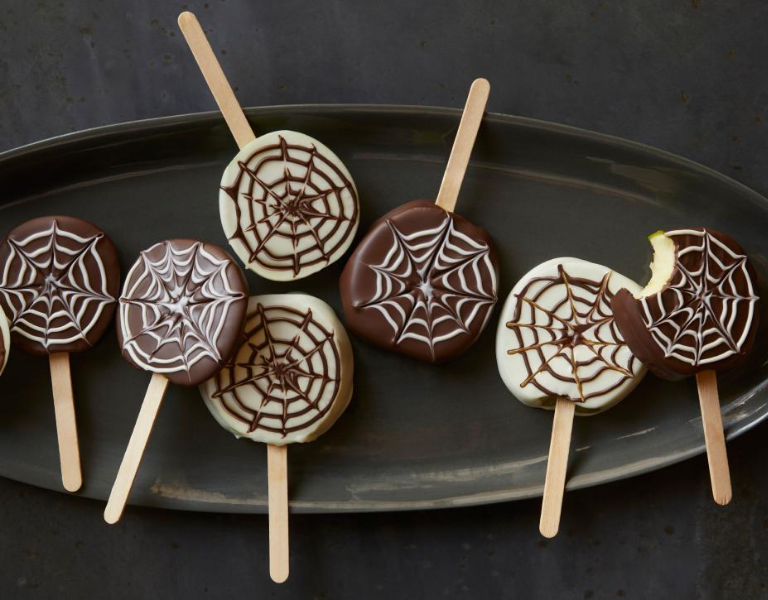 Apple Spider Web Pops
Ingredients
2 large apples, stemmed
4 ounces chopped bittersweet chocolate
2 teaspoons coconut oil
4 ounces chopped white chocolate
First, line a baking sheet with parchment paper or a silicone baking mat.
Next, cut your apples lengthwise into four thick slices. Remove any visible seeds and keep the core intact. Cut a thin piece off of your end slices so that they lay flat. Poke a small hole in each slice's bottom with a wooden ice-pop stick and push halfway into the apple.
Combine the bittersweet chocolate and a teaspoon of coconut oil in a medium microwave-safe bowl and microwave for 30-second increments, stirring in between, until the mixture is melted and smooth. Add your white chocolate and remaining teaspoon of coconut oil to another medium microwave-safe bowl and microwave for 30-second increments, until melted and smooth.
Dip half of the apple slices completely in the bittersweet chocolate, letting the excess drip back into the bowl, and place on the prepared baking sheet. Dip the remaining apple slices in the white chocolate. Let sit at room temperature for about 10 to 15 minutes, or until the chocolate thickens.
Transfer your leftover dark and white chocolate mixtures to two separate small resealable plastic bags and snip a small corner off each bag. Then, pipe three to four dark chocolate concentric circles on the white chocolate-dipped apples and visa-versa. Drag a toothpick through the circles, starting the center and working your way out to create a spider web design. Refrigerate your apples for 15-20 minutes, or until the chocolate has completely hardened.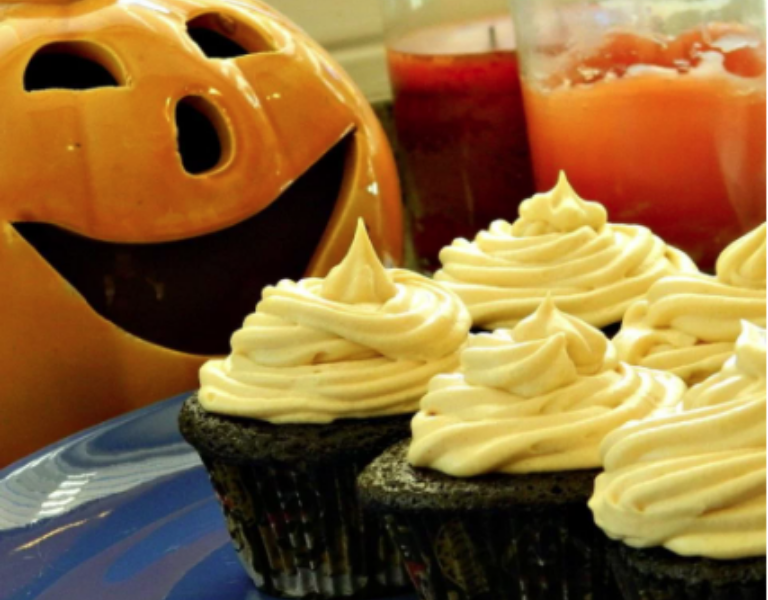 Black Magic Cupcakes
Ingredients
1 ¾ cups all-purpose flour
2 cups white sugar
¾ cup unsweetened cocoa powder
2 teaspoons baking soda
1 teaspoon baking powder
1 teaspoon salt
2 large eggs
1 cup strong brewed coffee
1 cup buttermilk
½ cup of vegetable oil
1 teaspoon vanilla extract
First, preheat your oven to 350 °F. As your oven heats up, grease and flour a 9×13 inch cupcake pan before placing a paper baking cup into each cupcake well.
Next, combine flour, sugar, cocoa, baking soda, baking powder, and salt in a large mixing bowl. Make a well in the center of the dry mixture, then add eggs, coffee, buttermilk, oil, and vanilla. Beat the wet and dryer mixtures together for two minutes on medium speed. Pour the thin cake batter into your prepared cupcake pan, filling up each well until half full.
Bake your cupcakes for 30 to 35 minutes, or until a toothpick can be inserted into the center of each cupcake and come out cleanly. Let your cupcakes cool for approximately 10 minutes, then remove from your pan and allowing them to finish cooling on a wire rack. Once your cupcakes have cooled, then frost and decorate as desired.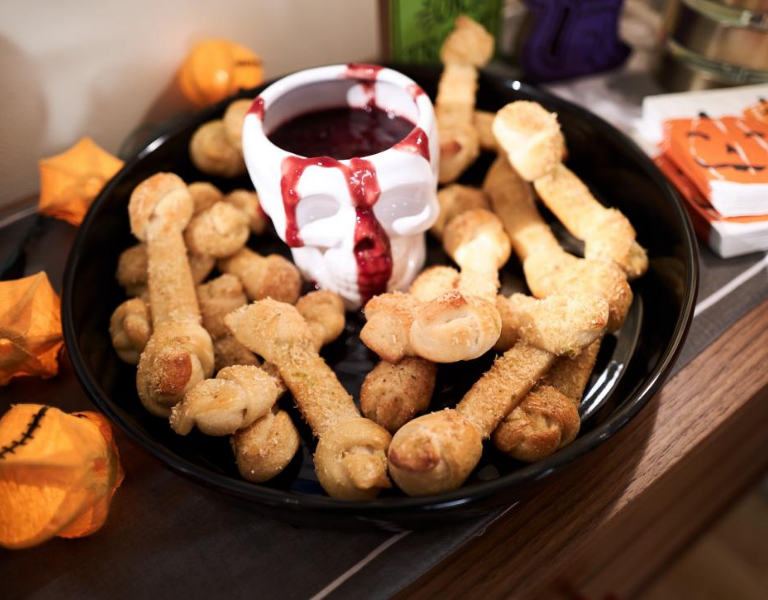 Coconut Bones
Ingredients
1/4 cup unsweetened coconut flakes
1 tablespoon sugar
1 teaspoon lime zest plus 1 tablespoon lime juice (1 large lime)
1/8 teaspoon ground cinnamon
Pinch salt
1/2 cup seedless raspberry jam
One 13.8-ounce can refrigerate pizza dough.
1 egg, beaten
First, preheat your oven to 400°F. As your oven heats up, spray a straight-sided baking sheet with nonstick cooking spray and then set it aside.
Next, combine your coconut, sugar, lime zest, cinnamon, and salt, into a small mixing bowl. Once combine, set this mixture aside. In a second small bowl, whisk together your jam and your lime juice. Refrigerate this mixture until you are ready to serve.
Unroll the pizza dough and, using a rolling pin, roll into a 10×12 inch rectangle. Using a pizza cutter, cut your dough into twelve 1-inch strips. Carefully tie a knot at both ends of the strips and transfer to the prepared baking sheet. Brush each of your "bones" with egg wash and then sprinkle with your dry coconut mixture.
Bake your bones until golden brown and puffed around 13-16 minutes. Remove from the baking sheet and serve hot with the raspberry-lime "blood" dipping sauce.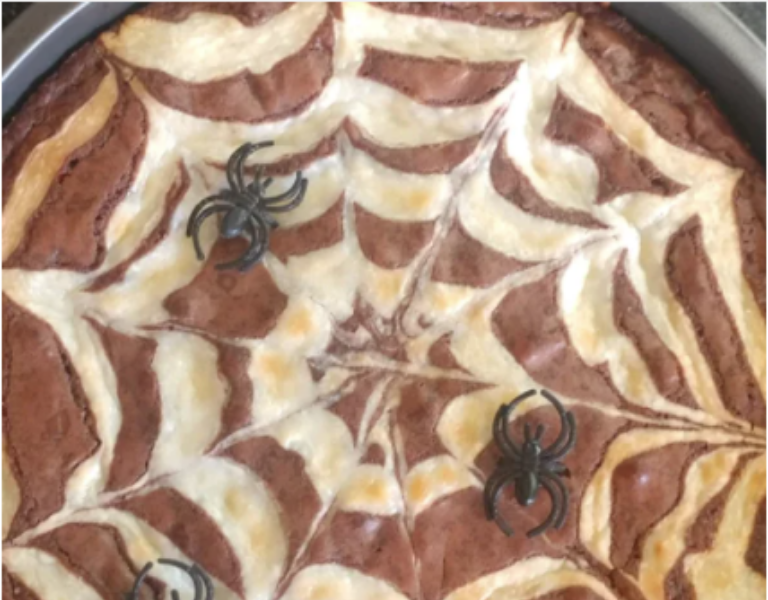 Spiderweb Brownies
Ingredients
1 (18.25 ounce) package chocolate brownie mix
2 (2.1 ounce) bars Nestle® Butterfinger® Original, chopped
1 (3 ounces) package cream cheese, at room temperature
¼ cup granulated sugar
2 tablespoons milk
First, preheat your oven to 350°F. As your oven heats up, grease a 9-10-inch round baking pan.
Prepare brownie batter according to package directions, and then stir in your chopped Butterfinger®. Spoon your brownie mixture into your prepared baking pan.
Next, in a small mixing bowl, beat together cream cheese, sugar, and milk until smooth, then pipe your cream cheese mixture into concentric circles over your brownie batter. Using a wooden pick or the tip of a knife, pull tip through cream cheese from the center to the last circle to create a spiderweb effect.
Bake your brownies for 40 minutes or until a wooden toothpick inserted near the center comes out almost clean. Let your brownies cool completely in a pan on a wire rack before cutting them into wedges.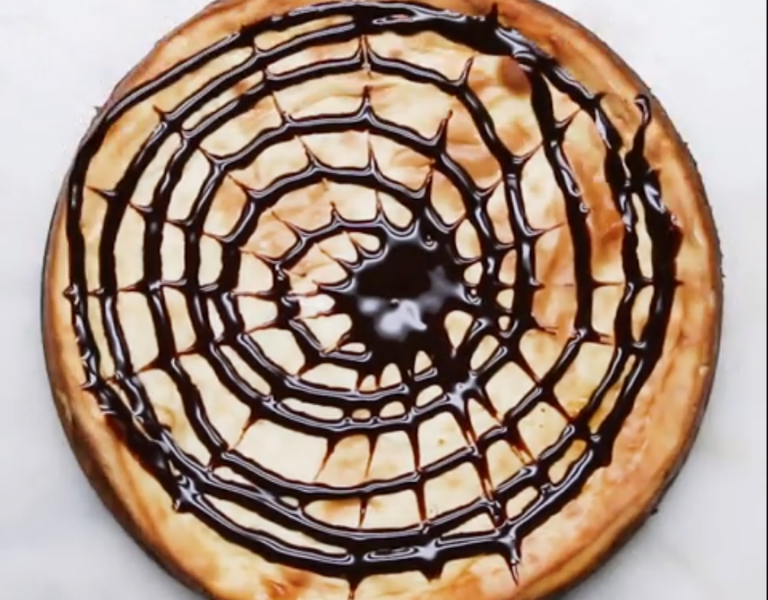 Trick or Treat Cheesecake
Ingredients
For Crust

1 ¾ cups assorted chocolate candy

½ cup unsalted butter, softened

1 teaspoon vanilla extract

CHEESECAKE FILLING

½ tablespoon vanilla extract
First, preheat your oven to 350˚F and then grease a 9-inch springform pan with cooking spray.
To make your cookie crust:
Start by chopping your candy into bite-size pieces, then transfer to a medium bowl and set aside. Then, in a large mixing bowl, whisk together your brown sugar and granulated sugar. Next, using an electric hand mixer, combine butter and cream into your sugar mixture and beat until fluffy. Add your egg, vanilla, salt, and baking soda and mix with a rubber spatula to combine.
Fold in your flour until the mixture is smooth, and then add the candy pieces and fold to incorporate. Transfer your dough to the prepared springform pan and pat down in an even layer. Refrigerate crust until ready to bake.
To make the cheesecake filling:
Start by combining cream cheese and sugar in a large mixing bowl. Beat with an electric hand mixer until smooth. Add the salt, vanilla, and eggs and beat to combine. Pour the filling over the chilled base and smooth the top.
Bake your cheesecake for approximately 35-40 minutes, or until the sides are golden, but the center still jiggles slightly. Let it cool to room temperature, then drizzle chocolate syrup in a spiral pattern over the cheesecake. Using a toothpick, draw lines outward from the center to create a spiderweb pattern.
Un-mold your cheesecake, and then slice and serve.
Start Cooking in an Elliott Realty Property Today
Are you interested in trying any of these hair-raising Halloween treats for yourself? Then you are going to need a full-size kitchen, complete with appliances and ample pantry space. Find the perfect rental to meet all your culinary needs with Elliott Realty!
For over 50 years, Elliott Realty has been proudly providing impeccable accommodations for countless visitors to the Grand Strand. With hundreds of rental properties–each boasting an endless array of comfortable accommodations and amenities to meet all needs—we feel confident that we have the perfect unit for you. Give us a call or visit our website today!
For other great recipes, visit our beach-worthy recipes Pinterest board or check out a few of our other recipe blogs.
Bon Appétit and We'll Sea you Soon!