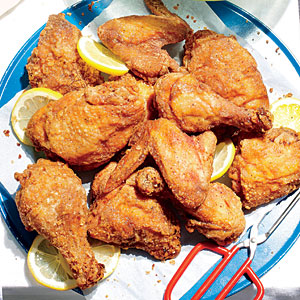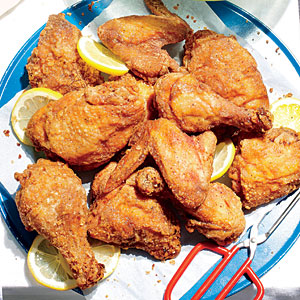 It's National Fried Chicken Day and we are sharing our favorite fried chicken recipes! Whether your favorite recipe is a spin on traditional fried chicken or you prefer your chicken like grandma made it, we have 3 mouthwatering recipes you just have to try.
1. Sweet Tea-Brined Fried Chicken from Southern Living – This tasty recipe pairs two southern classics: brown sugar sweet tea and salty, juicy chicken. According to Southern Living the tannins in the tea act as a natural tenderizer too!
2. Fried Chicken with Ancho Honey – Chef Bobby Flay's take on fried chicken pairs Mexican Ancho chili peppers with a sweet honey drizzle. Spicy and sweet with a salty crunch that makes it the perfect comfort food.
3. Garlic- Ginger Fried Chicken from Rustic Canyon – This spicy, tangy version of fried chicken combines ginger, garlic, and Japanese sweet wine with a vinegary bite. This version is light on the breading to let the flavors shine through!
What's your secret to the perfect fried chicken. Let us know in the comments below.
Can't make your own fried chicken? Visit Hoskin's Restaurant on Main Street in North Myrtle Beach for fried chicken like your grandma made it! Give us a call if you need a place to stay.
—–
Want to save money on food during your beach vacation? Check out our tips here!