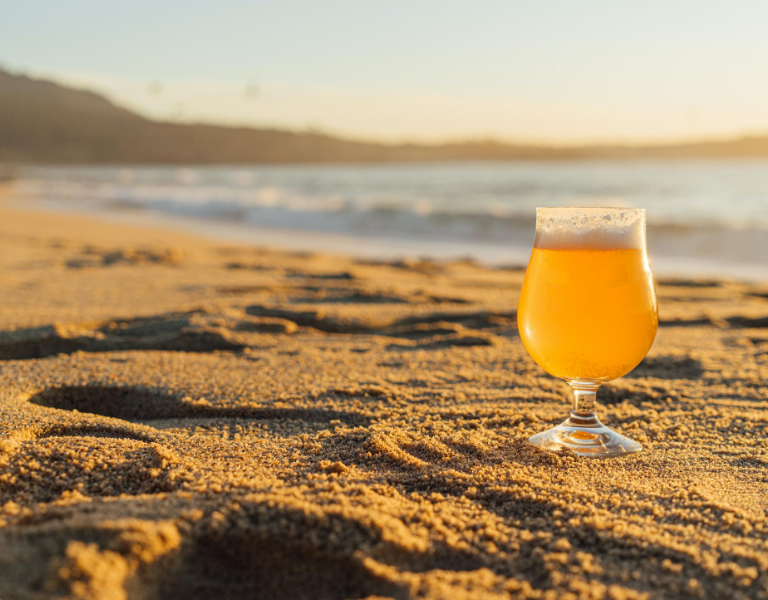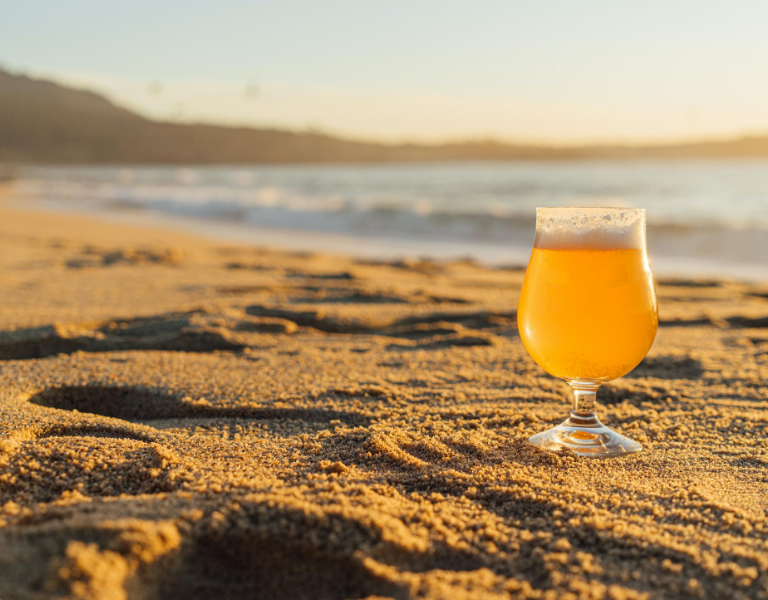 It's always a good day to be on the Grand Strand: especially when that day is a Friday, and even more especially when that Friday is International Beer Day!
Yes, that's right ladies and gentlemen, today is International Beer Day! On this most special of holidays, we tip our hats to that most beloved of brewed beverages. Whether you're a lover of lager or you're all-in for ale, we guarantee that a good time will be had by all at any of these five North Myrtle Beach beer joints.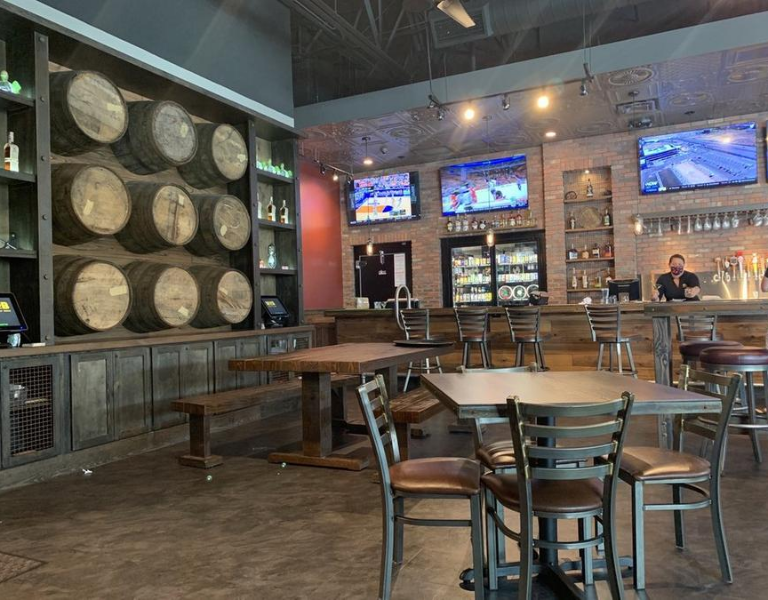 The first stop on our tour North Myrtle Beach beer spots is the World of Beer. Opened July 1st, The World of Beer is the most recent addition to the Grand Strand beer scene.
This phenomenal gastropub lives up to its name by offering over 300 unique flavors of beer from more than 40 different countries. No matter what kind of beer you are craving, we guarantee the world of beer will have it on tap. Their daily "Drink It In" Happy Hour runs from 4-7:00 pm, Monday through Friday, and includes $4 drafts of select beers, $5 spirits that include select liquor drinks, $5 shareable food specials, and $6 wine offerings.
In addition to drinks, the World of Beer also offers a tantalizing beer-inspired food menu—which includes cheese bites with sriracha lime aioli, a soft-baked German pretzel served with beer cheese, and homemade macaroni and cheese.
This place is a must-stop for any true beer enthusiast!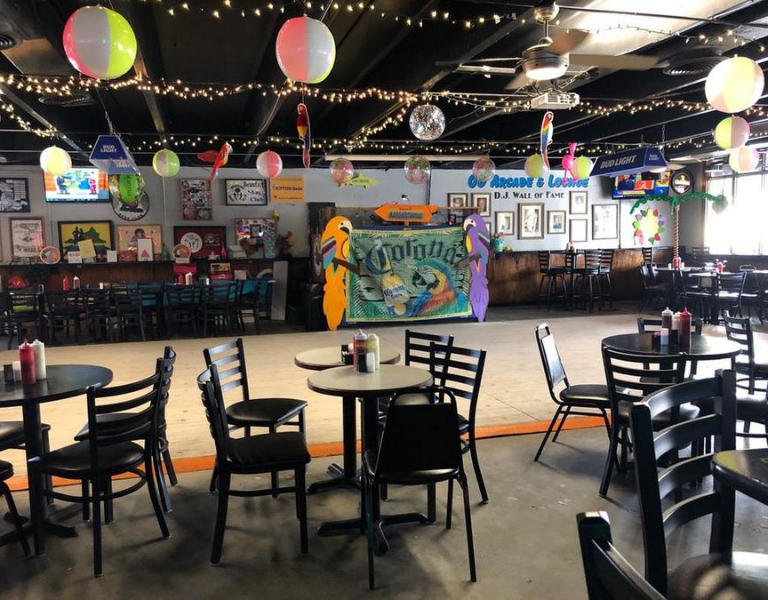 The next stop on our virtual pub crawl is the legendary OD Arcade and Lounge. Situated across the street from the Grand Strand's 60-mile stretch of beach, OD Arcade and Lounge has been a favorite nightlife spot for visitors and locals alike for generations. OD Arcade offers a diverse array of domestic, import, and craft beers, as well as a mouthwatering menu containing some of your favorite bar foods.
However, the thing that has kept people coming back to the OD Arcade and Lounge, generation after generation, is the shagging!
 For those of you unfamiliar with the state-dance of South Carolina, the Carolina Shag is a fast-paced variant of the jitterbug that originated right here in North Myrtle Beach during the 1940s. Every night, the enormous dance floor at OD Arcade and Lounge comes alive as dancers of all ages and skill levels strut their stuff and show off their best shag moves.
True to the arcade name, OD Arcade and Lounge also features a variety of entertainment options–including state of the art video games, billiards tables, and regular karaoke. 
If you are looking to let loose and have some fun, then OD Arcade and Lounge is the place for you.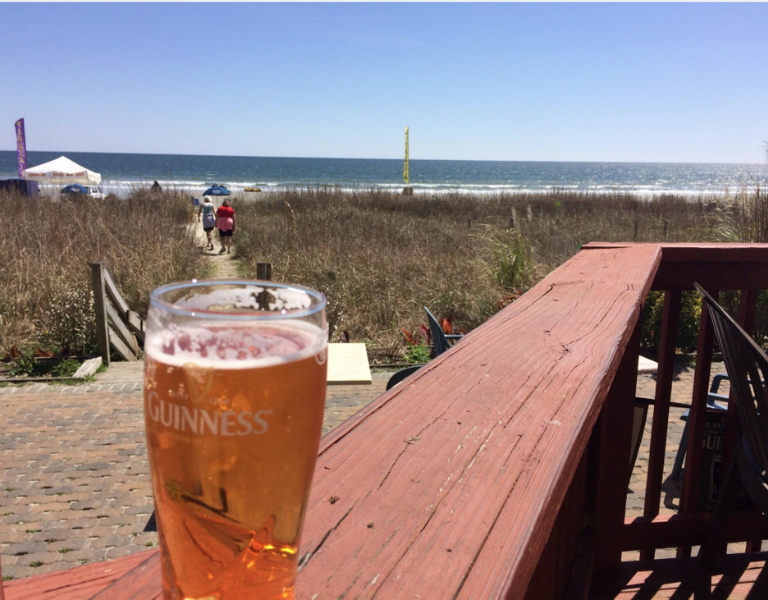 Are you looking for a taste of the Emerald Isle during your Grand Strand getaway?! Then look no further than Molly Darcy's Irish Pub.
Sitting along the sun-kissed sand of Crescent Beach, Molly Darcy's is the best of two worlds: a festive Irish pub and a laid-back beach bar. From the scenic back deck, patrons can enjoy a few frosty cold brews, while also enjoying the stunning views of the South Carolina Coast.
Their extensive drink menu includes a wide array of spirits, mixed drinks, and over 40 different beers—including such Irish favorites as Guinness Stout, Smithwicks Ale, Harp Lager, and Magner's Cider (photographed above). In addition to great drinks, Molly Darcy's also serves some of the most delectable pub food North Myrtle Beach has to offer—including mouthwatering burgers, hearty fish and chips, and a Rueben sandwich so good that you would make you knock your Granny in a creek just for a bite.  
With regular weekly events—including live music on Friday and Saturday, and line dancing on Tuesday—the fun never stops at Molly Darcy's Irish Pub.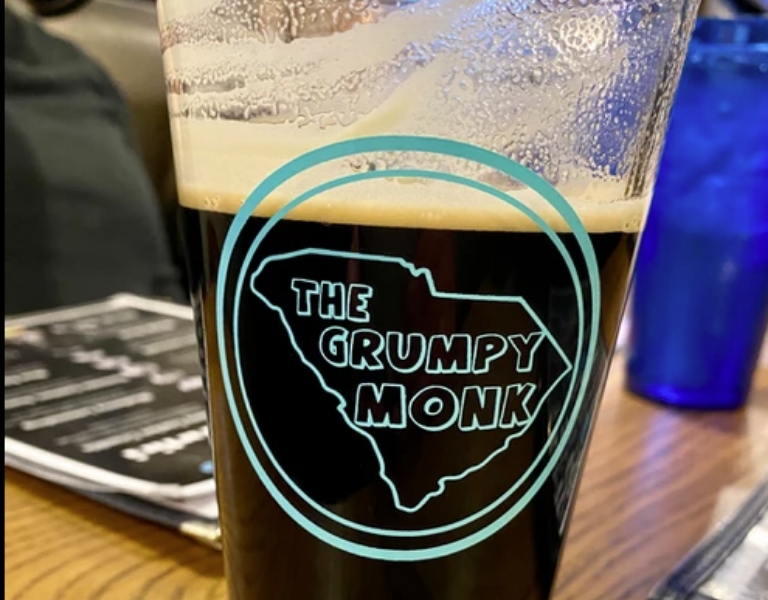 Great food and cold brews are waiting for you at the Grumpy Monk.
Established in 2015, the Grumpy Monk is a locally owned gastropub, specializing in quality, down-home cooking, fresh sushi, and craft beer.
Their extensive drink menu includes a variety of mixed drinks, spirits, and a rotating tap of over 40 different beers. In 2019, The Sun News recognized The Grumpy Monk as having the Best Happy Hour and the Best Craft Beer on the Grand Strand. That same year, they were also runners up for Best Sports Bar and Best Sushi.
With nightly live music and weekly trivia nights, The Grumpy Monk is a must-visit for gourmands and beer aficionados alike.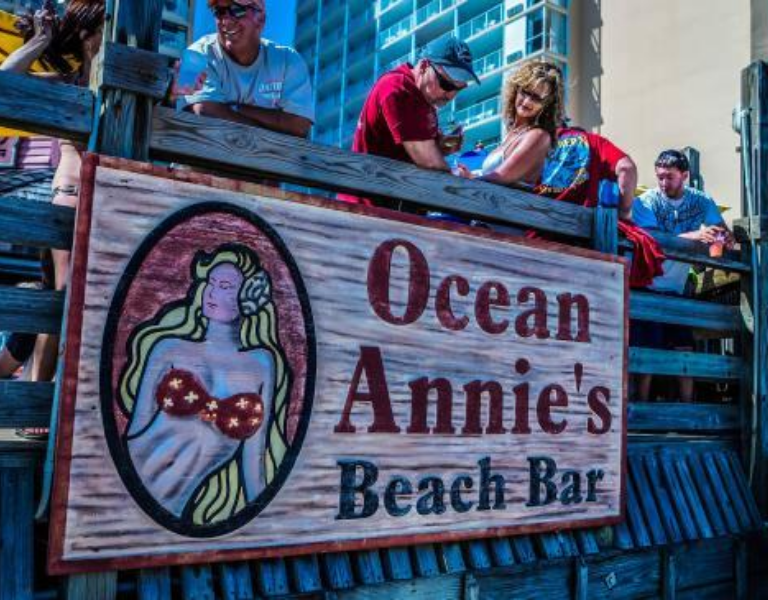 The last stop on our tour of the best places in North Myrtle Beach to grab a beer is the one and only Ocean Annie's Beach Bar.
Situated at the Sands Ocean Club in Shore Drive, Ocean Annie's has been a local favorite for over 32 years. Ocean Annie's Beach Bar features cold drinks and daily live music in a fun, party-like atmosphere. Boasting easy access to the Grand Strand's 60-mile stretch of beach, Ocean Annie's is the perfect spot for cooling off after a day of fun in the South Carolina sun.
A Toast to the Hosts with the Most
Are you ready to wet your whistle at any of these fine establishments? Then pack your bags and book your stay in an opulent oceanfront condo or a breathtaking beach home with Elliott Beach Rentals today!
For over 50 years, Elliott Beach Rentals has been proudly providing impeccable accommodations for countless visitors to the Grand Strand. With hundreds of rental properties–each boasting an endless array of comfortable accommodations and amenities to meet all needs—we guarantee that we have the perfect rental for you and your vacation crew. Give us a call at 888-669-7853 or visit our website today!
Please Drink Responsibly and We'll Sea You Soon!