In our never ending quest to keep you entertained and expand your mind we combed the internet for the best information we could find about Myrtle Beach. Actually we just went to The City of Myrtle Beach's site and used the information that they worked hard to compile. Big thanks to the City of Myrtle Beach for these little nuggets of information about Myrtle Beach and be sure to check out their site for even more factoids about Myrtle Beach.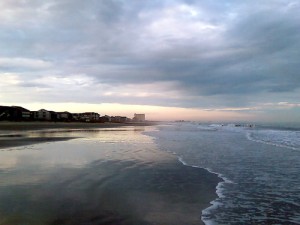 Did you know:
That we have several endangered or threatened animal species along the Grand Strand?  Endangered bird species locally include the Ipswich sparrow, least tern and Wilson's plover.  The loggerhead turtle is considered a threatened species, while the eastern brown pelican and island glass lizard are listed as species of special concern.  All of these animals nest or winter in our sand dunes and beach grasses, which is another reason why it's illegal for anyone to disturb or damage either the dunes or sea grass.
That the northern portion of the new oceanfront boardwalk, from the 14th Avenue Pier to Plyler Park, is named "Gloria's Way," in honor of Gloria Lindsay Sapp, a longtime teacher, hotelier, volunteer, businesswoman and civic leader?  Bronze plaques will be installed at either end of this boardwalk section to recognize Gloria Sapp, an ardent supporter of the boardwalk project, who died in 2010 at age 84.
That a time capsule to be opened December 18, 2054, is buried at Nance Plaza on the southwest corner of Kings Highway and Ninth Avenue North?  A granite monument and brass book mark where the capsule was buried in 2004.  Elementary school students throughout Horry County participated in the project, and their hopes and dreams are contained within the capsule.
That the runway at Myrtle Beach International Airport is 9,503 feet long?  That's nearly 1.8 miles of runway!  MYR is the second-busiest airport in the state, passenger-wise, behind only Charleston.  You can fly direct to 27 destinations from Myrtle Beach International Airport.
If you did know all of these then give yourself a big pat on the back and make sure to tell everyone you know that you rock at your knowledge of Myrtle Beach. We give you permission to be a little extra cocky today.
Don't forget to check out our bargains and specials page for some great rates on your Myrtle Beach spring break vacation.