Take some time to familiarize yourself with the local rules and regulations before you get here. After you reserve your beach house or condo don't forget to visit our Elliott VIP Coupon Page for some really great savings on things to do in Myrtle Beach.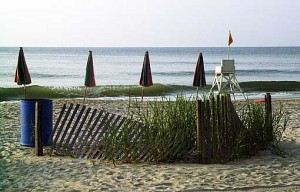 Tent Regulations:
-Maximum size of any shading device: 12feet X 12feet or total 144 square feet.
-No shading device may be higher than 9 feet installed.
-No tents or canopies within 10 feet of a lifeguard stand.
-No shading device can be set up on the beach before 8am daily
-Shading devices must be removed from the beach by 7pm daily.
-Locate tents/canopies landward of City umbrella line or high tide line and 25 feet seaward of dune line.
-Spacing of tents or canopies: At least 10 feet apart from other shading device. Joining or connecting tents or canopies in any manner is prohibited.
-Anchoring lines, if used shall not extend beyond the perimeter of the tent or canopies.
Parking: Park in designated spaces only. Be aware of your surroundings and pay attention to no parking signs. We provide two parking passes at check in for guests staying in condos. Please make sure you display these passes in a visible spot in your car while at your condo. If you do not have a parking pass visible in your car you may be towed at your expense.
Fireworks: Possessing or discharging of fireworks is illegal within the city limits of municipalities along the Grand Strand.
Bonfires: It is illegal to build a fire or use a propane-fired grill or other cooker on the beach.
Sleeping on the beach: Sleeping on the beach or at a beach access is not allowed between 9 p.m. and sunrise.
Alcohol: Possession or consumption of alcohol is prohibited on the beach. Glass containers or bottles are not allowed on the beach.