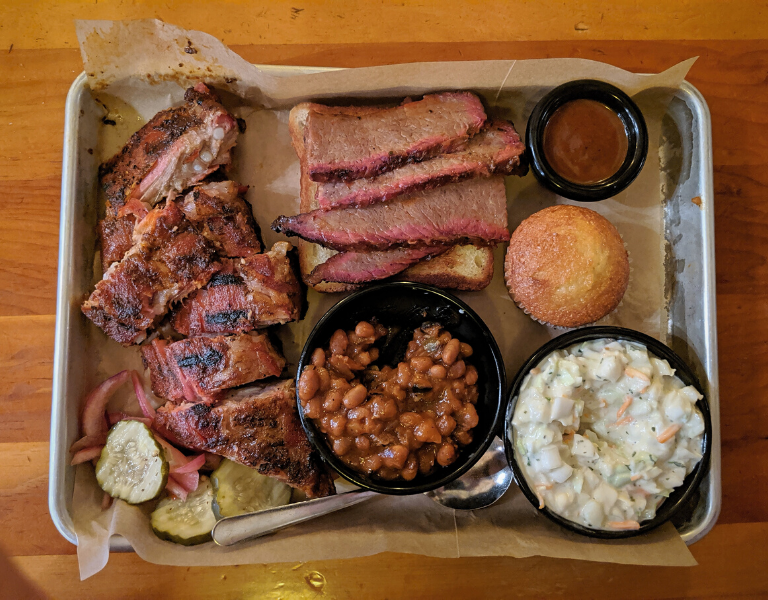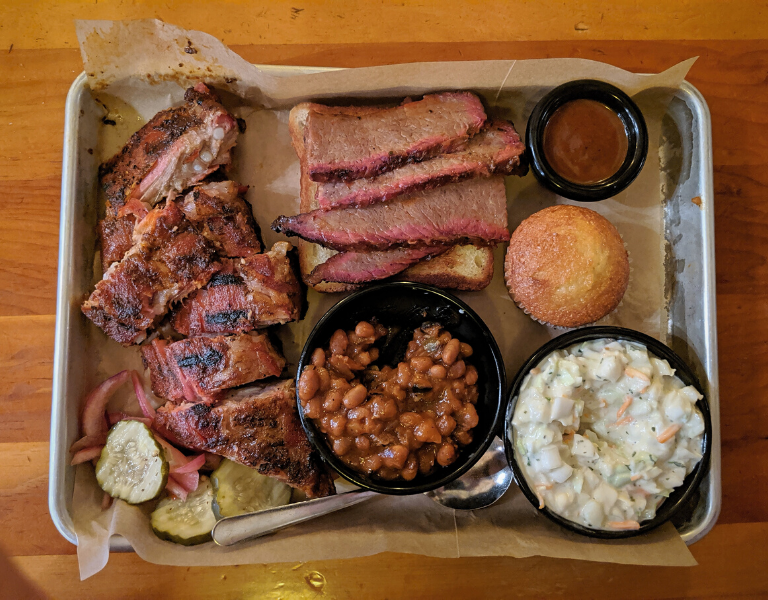 Fire up your smokers and breakout the silverware; it is National Brisket Day! On this most delectable of holidays, we pay homage to that delicious slab of smoked beef that we all know and love as brisket. Now that restaurants across the Grand Strand can again open their doors after a brief hiatus, we could not think of a better way to celebrate than by showing a little love towards a few of our favorite barbecue restaurants.
Be warned—you will be hungry by the end of this blog!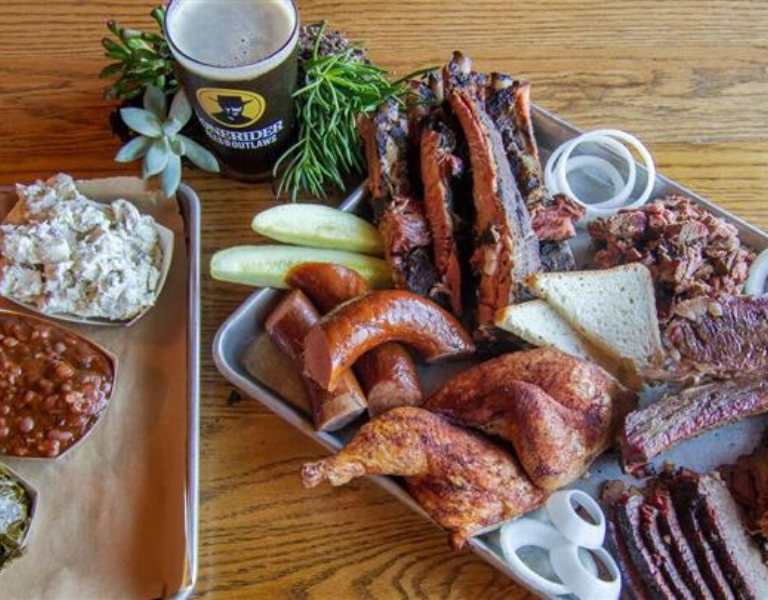 The first stop on our National Brisket Day celebration is the aptly named Brisket. For decades, Brisket has been serving up mouthwatering Texas-style barbecue in a laid-back, western-style saloon. Offering both indoor and outdoor seating, as well as takeout and delivery courtesy of Postmates—Brisket is the perfect option for a cozy night in with the fam or an action-packed night on the town.
The secret to their success lies in their custom-made rotisserie BBQ pit. Weighing over two tons, Brisket's BBQ pit can smoke over 750 pounds of meat. Brisket smokes their brisket and pork butts low and slow at 200°F for 12-14 hours. Chicken, Turkey, and Ribs are smoked at 200°F as well, but only for 3-4 hours. They also offer four different sauces made in-house, as well as a variety of tantalizing appetizers–try the pork rinds and pimento cheese, you will thank us later–desserts, sides, and drink specials.
This is a must-visit for any true barbecue aficionado!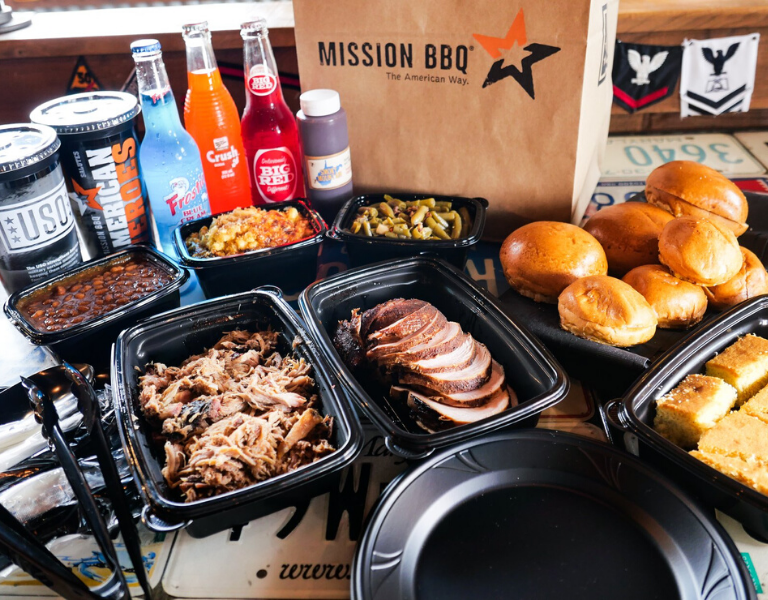 "Serving those who serve" is the motto at Mission BBQ. For nearly ten years, Mission BBQ has been serving up some of the Grand Strand's best barbecue. From Texas-style brisket to Carolina pulled pork and everything in-between, Mission BBQ is serving up a taste of America with every plateful of barbecue they serve. On every table, you will find bottles of homemade sauce that bring a little zing to every bite, including such regional specialties as Alabama White, Georgia Mustard, and Nashville Hot.
However, Mission BBQ is serving up more than spectacular barbecue. Since opening their doors in 2011, Mission BBQ has donated more than $10 million to national and local charitable organizations aimed at supporting veterans, active-duty service members, and first responders. From the military memorabilia that adorn the walls to the smiling staff who greet and serve you, Mission BBQ exemplifies its values of service in everything it does.
If you are looking for a great meal that helps a great cause, Mission BBQ is the place for you.
Named one of South Carolina's top 10 barbecue restaurants, The Bar-B-Que House is serving down-home cooking at its finest in a laid-back, family-friendly environment.
They start by hickory-smoking only the finest quality BBQ, ribs, chicken, and brisket onsite every day. Then, they hand make each of their five barbecue sauces so that every customer can tailor their barbecue experience to their unique tastes.
In addition to being named of South Carolina's best barbecue restaurants, The Bar-B-Que House has also been recognized by many state and local organizations as being one of the Grand Strand's Best Restaurant for Kids, as well as having some of the Grand Strand's best hush puppies, sweet tea, and barbecue sauce.
Experience the legend for yourself and stop by The Bar-B-Que House in North Myrtle Beach today!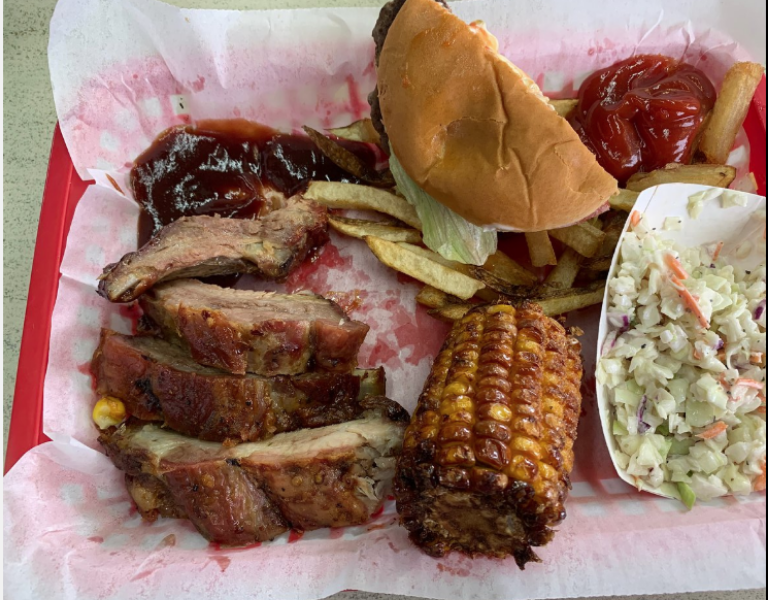 Home to the "Best Butts on the Beach," Old South BBQ has been Cherry Grove's one-stop-shop for all things barbecue for generations. Old South BBQ is no-frills dining at its finest; offering good food, at a reasonable price, in a casual, family-friendly environment.
All Old South BBQ's meat is smoked low and slow every day by their professional pitmaster in their backyard smoker. While they do not have brisket, they do have some of the best ribs found anywhere on the eastern seaboard. In addition to their enormous ribs, Old South BBQ also offers succulent pulled, pork, mouthwatering burgers, chicken wings, homemade sides, and five scratch-made BBQ sauces.
If you are looking for an authentic taste of the Grand Strand, look no farther then Old South BBQ.
Hungry for a Good Time?
So, feeling hungry? Then book your stay in a luxurious beach home or an opulent oceanfront condo from Elliott Realty, and come get a taste of Grand Strand barbecue for yourself. For over 50 years, Elliott Realty has been proudly providing impeccable accommodations for countless visitors to the Grand Strand. With hundreds of rental properties–each boasting an endless array of comfortable accommodations and amenities to meet all needs—we feel confident that we have the perfect unit for you. Give us a call or visit our website today!
Bon Appetite and We'll Sea You Soon!