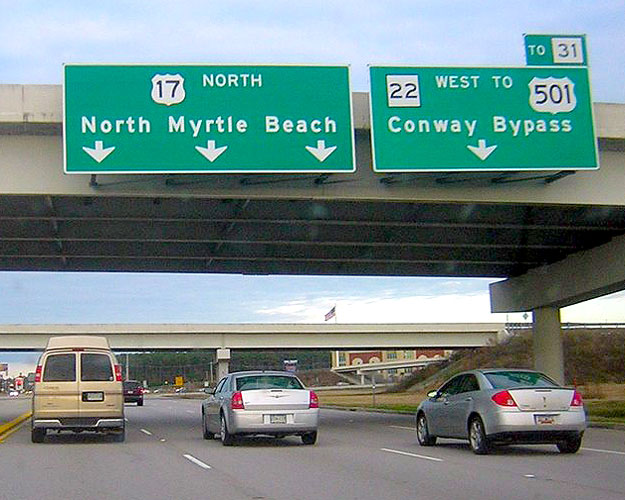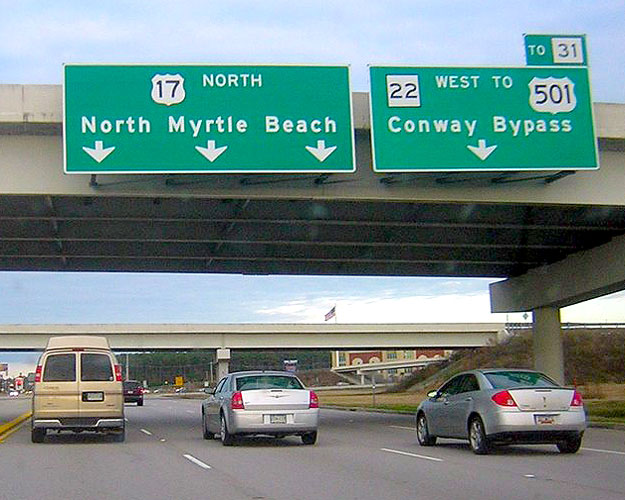 Getting to the Myrtle Beach Area:
By Train
Florence and Dillon are the two closest places Amtrak serves. You'll have to get someone to pick you up or rent a car with advance notice to get to Myrtle Beach.
By Bus
You should be able to get to Myrtle Beach on a Greyhound bus from just about any point in the United States. You'll find it easier during the summer when more buses are scheduled.
By Air
The major area airport is
Myrtle Beach International
(
MYR
). It is served by the following airlines: Allegiant, American, Avelo, Delta, Frontier, Porter, Southwest, Spirit, Sun Country, and United. Direct flights may be difficult to find depending on the season, but flying to a major hub such as Atlanta then taking a short hop to the area should not be a problem.
Grand Strand Regional Airport is the closest airport to North Myrtle Beach, but it serves mostly chartered or private flights.
By Vehicle
From Interstate 95, the easiest way to town would be to take the exit for Hwy. 9 in Dillon, SC and continue south towards Myrtle Beach. Hwy. 9 will then merge with Hwy. 17, so just continue south on Hwy. 17 for the rest of the ride. Highway 31 now directly connects to Main Street North Myrtle Beach via the Robert Edge Parkway.
Getting Around Myrtle Beach & North Myrtle Beach is pretty easy.
Just don't get confused between the two cities. The
street
numbers are exactly the same!!!
Ocean Boulevard and Kings Highway Highway 17 Business run north and south along the Grand Strand parallel to the Atlantic Ocean. We also have Highway 17 Bypass in the Grand
Strand's
westernmost route running parallel to the ocean. The Bypass begins in
Murrells
Inlet and continues northward until it merges with Kings Highway just before the Restaurant Row.
The 28-mile Veterans Highway (S.C. 22), a four-lane road that links U.S. 501 west of Conway and U.S. 17 north of Myrtle Beach.
The Carolina Bays Parkway (S.C. 31) is a six-lane scenic highway from S.C. 9 to US 501 near Myrtle Beach Raceway.
The Robert M.
Grissom
Parkway is a four-lane route from 62
nd
Avenue North in Myrtle Beach to
Harrelson
Boulevard near the Myrtle Beach International Airport.
Don't forget if you are driving and have never been to the area pay attention! I see so many people in serious accidents or fender benders while on vacation. We have a lot of traffic in the summer months so just
keep
your eyes open so you can continue to enjoy your vacation!
To check local traffic on your smart phone or tablet visit
HERE.com
.