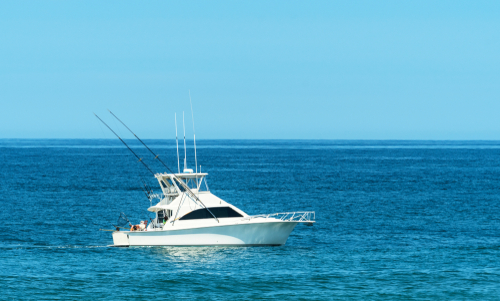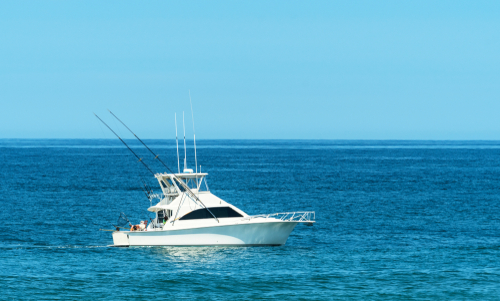 People flock to Myrtle Beach for so many reasons, and one popular reason is to fish. The Grand Strand is unique in that there are different kinds of fishing in one beautiful place. In Myrtle Beach, there is saltwater fishing, inland fishing, and freshwater fishing. There are multiple fishing piers and channels, so you are guaranteed a unique fishing experience every time. Rent a charter boat or spend the day on a pier. There are also dolphin cruises! The choice is yours! Below are multiple places for you to turn your fishing dreams into reality.
Pier Fishing
The Apache Pier: This pier is accessible through the Apache Campground. It was built in 1994 and is the longest wooden fishing pier on the east coast at 1,206 feet. You can simply enjoy a stroll along the pier or visit the full-service bait and tackle shop. They will assist in outfitting you for a full day of fishing! From Memorial Day through Labor Day, there is live music under the big yellow pagoda. The pier also has its own restaurant, Croakers. Come for a day of solo fishing or bring the whole family. Everyone can have fun at the Apache Pier! Apache Pier, Lake Arrowhead Road, Myrtle Beach. Hours are 6 AM. to 12 PM. Fishing passes $9.50 per rod. 843-497-6486
14th Avenue Pier: This location is known for the famous Pier 14 Restaurant. If you are vacationing with the whole family, this pier is the one for you! You can spend an entire day fishing and take in fantastic views of the mighty Atlantic Ocean. The Myrtle Beach Boardwalk begins at 14th Avenue, and you will be close to several family-friendly attractions such as the SkyWheel, Myrtle Beach Convention Center, and Broadway at the Beach. 14 Ave. Pier, 1304 N. Ocean Blvd., Myrtle Beach. Hours are 7 a.m. to 11 p.m. Fishing pass is $7.00. 843-448-4314
2nd Avenue Pier: The 2nd Avenue Pier is located at the beginning of the Myrtle Beach Boardwalk. It was initially built in 1936 and has become a historic staple in Myrtle Beach. It also boasts "The Pier House" restaurant, which is open for breakfast, lunch, and dinner. There is also the Pier View open-air bar, where you can sip on yummy beverages and drink in the breathtaking views. People have reported catching mullet, trout, flounder, mackerel, and barracuda off 2nd Avenue Pier. Second Ave. Pier, 110 N. Ocean Blvd., Myrtle Beach. 7 a.m. to 9 p.m.; may stay open later on weekends. Fishing passes for $9.00. 843-626-8480
Cherry Grove Pier: The Cherry Grove Pier is known for its beautiful views from the only two-story observation deck in the Myrtle Beach area. There is a full-service tackle and gift shop and a restaurant, so you have everything you need for a whole day of uninterrupted fishing. The Boardwalk Beach Café has casual food like burgers, fried fish, hot dogs, and frozen drinks. The shop offers all the supplies you need to fish as well as jewelry, ice cream, and souvenirs. You can catch all kinds of fish from Cherry Grove Pier, including bluefish, mackerel, pompano, red drum, trout, spots, and flounder. Fishing season from the pier is from February 1st to December 1st. Bring the whole family to experience this historic treasure. Cherry Grove Beach Pier, 3500 N. Ocean Blvd., North Myrtle Beach. Open 6 a.m. to midnight daily (subject to change off-season). Fishing passes $2.00 admission with $6.00 per rod. No fishing license is needed with paid admission. 843-249-1625
Charter Boats
Voyager Deep Sea Fishing & Dolphin Cruises: You can take ½ day fishing trips, gulf stream fishing, and dolphin cruises at Voyager Deep Sea Fishing. They also offer large group charters with up to 130 passengers. Take a trip on the Continental Shelf or the Super Voyager III. There is the party and cruise boat, the 75' Voyager. Also offered are private sportfishing boats such as 44' Striker Voyager and 38' Capt Rick. There is a boat to fit any size group. Call (910) 575-0111 or (843) 626-4900 or visit https://www.supervoyagerdeepseafishing.com/ to reserve your trip today!
Little River Fishing Fleet: The Little River Fishing Fleet offers several different experiences, including 4-hour, 6-hour, and 11-hour inshore, offshore, deep sea, and gulf stream fishing adventures. They have both fishing vessels and private charters. The operations manager, Cameron Sebastian, has over 30 years of fishing and scuba diving experience in the Grand Strand. Little River Fishing Fleet also offers scuba diving excursions and dolphin cruises. Scuba excursions include exploring Civil War wrecks, World War II wrecks, and natural reefs. Bring the whole family for a waterway tour and search for dolphins. There is something for everyone! Visit littleriverfleet.com or call (843) 361-3323 for more information.
Hurricane Fleet: The Hurricane Fleet offers fishing charters in both North and South Carolina. You can fish from a luxury air-conditioned Myrtle Beach charter fishing boat or a sports fishing boat. The experience is catered to you. The fleet will provide what you need, including rod, reel, bait, and tackle. The crew works together to find out where the fish are running using coded radio transmissions to keep captains informed. There are two head boats and seven charter vessels, so they drop a line in multiple locations to find the best source of fish every day. Hurricane Fishing Fleet also offers dolphin cruises and was the first to do so along the Grand Strand. There is an onboard naturalist on every dolphin cruise. The naturalist empties a barrel of sea life on deck so everyone can have an immersive experience while learning about the Atlantic Ocean and searching for dolphins. Call (843) 249-3571 or visit hurricanefleet.com for more information.
After a long day enjoying the sun and sea, rest your head on the variety of accommodations Elliot Beach Rentals has to offer. You can find a full list of our houses and condos here. Also, check out our specials going on now and prepare for great savings on your next getaway!