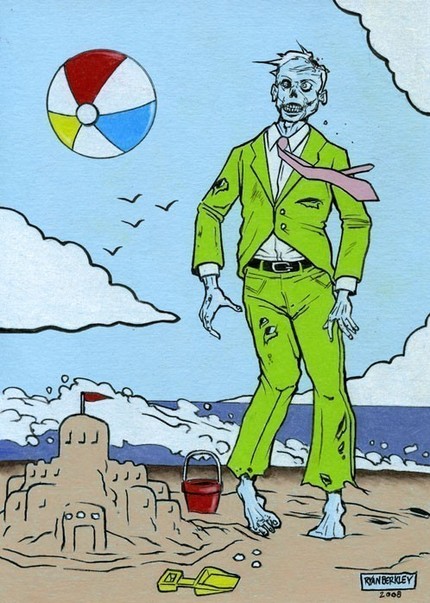 You've saved all year to take your vacation and just your luck there's a zombie apocalypse right in the middle of it.  While unlikely, it could happen and we know how much you trust us with your vacation rentals so we want to pass on a few tips to help you weather a Zombie Apocalypse should it happen on your Myrtle Beach vacation.  The hardest part about the impending Zombie Apocalypse will be pretending you're not secretly a little excited about it.
For now put aside all the fun Myrtle Beach activities you and your family were planning to do; you're going to have to become extremely crafty if you're going to outwit the zombies. Here are a few tips that will help protect your brains:
Assuming we are talking about walkers not runners, avoidance is the best policy. You shouldn't be engaging in direct combat with the Zombies unless absolutely necessary.  Since Zombies are very uncoordinated at climbing stairs you could hid yourself in a high rise condo to buy yourself some time and plan your next move.  We have penthouse units on the 19th floor of Baywatch Resort so one of these would be perfect.  The higher you can get in a building the safer you will be.  Just a word of warning:  Zombies can climb to some extent but they are very clumsy and slow.  They can climb on top of each other until there is a pile of zombies tall enough for one to reach their target so keep that in mind.  Most Zombies can't climb ladders but don't discount a random lucky Zombie.
A luxury vacation home is also a great place to hole up and hide from the Zombies.  Since you knew you were going to have a full kitchen you probably already loaded up on groceries so food shouldn't be a problem.  Many of our homes have large screen tv's and great oceanfront views so while all your friends are in a cramped little hotel room you will be laid back watching movies and enjoying the beautiful view of the ocean.
The main thing to remember is when dealing with Zombies is to always prepare for the unexpected and you will come out fine.
Happy Halloween from Elliott Beach Rentals!!!!!