Post Courtesy of Elliott Beach Rentals Staff Member Morgan Nirenstein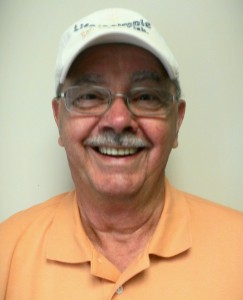 Carl Whitlock, 75, and his wife, Joan, said they think they have vacationed with Elliott Beach Rentals more than any other guests. The Whitlocks began staying with Elliott Beach Rentals in 1976, and have stayed a total of 51 times.
"When you get a good thing, you don't change it," Carl Whitlock said.
Whitlock said his first visit to North Myrtle Beach from his home in St. Albans, W.V., was with his wife and a family friend. The group rented a three bedroom home with air conditioning from Elliott Realty for $75 a week. Whitlock said he has only booked his vacations with Elliott Beach Rentals. He usually stays at condo rentals at The Oceans or Bay Watch Resort and Conference Center, he said. He has vacationed in North Myrtle Beach with his family and friends from West Virginia. He said he even passes out Elliott Beach Rentals brochures to others in his hometown to encourage them to vacation at an Elliott property.
"Give me a job down here and I'll move down here. I love it," Whitlock said.
Whitlock and his wife began visiting North Myrtle Beach twice a week when they retired. Whitlock worked as a utility man for Chemical Leaman Tank Lines for 18.5 years. Whitlock has witnessed many changes to Elliott Realty and other local businesses as time passed, he said. He recalled when Elliott Realty was in a much smaller office space than the current location on Sea Mountain Highway. He spoke very fondly of Rick Elliott, president of Elliott Realty, and his father, Sen. Dick Elliott, founder of Elliott Realty.
"He (Rick Elliott) is a wonderful person. I've seen him grow up. Rick is my adopted son," Whitlock said.
Whitlock said the first thing he does when he arrives in town is bring the Elliott Beach Rentals team some of his wife's homemade peanut butter fudge and visits with staff. Other activities Whitlock said he looks forward to during his North Myrtle Beach vacations are deep sea fishing in Calabash, N.C., and eating at K&W Cafeterias. Whitlock said other than two small car accidents, including one by his son driving with a learner's permit, his vacations with Elliott Beach Rentals were enjoyed without incident. Before Whitlock left the Elliott Realty office on his most recent visit, he stopped by the reservations room and booked his next vacation.
"I have to book my room. I can't leave here without booking another trip," Whitlock said.
Elliott Beach Rentals is searching for our most loyal guest. Have you booked your vacation with Elliott since 1976 or before? Have you booked your vacation with Elliott Beach Rentals more than 51 times?
Let us know! Send your story to [email protected]!
Post Courtesy of Elliott Beach Rentals Staff Member Morgan Nirenstein