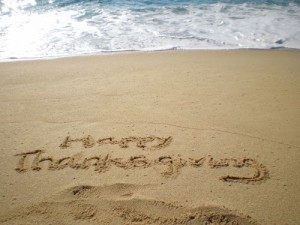 We feel blessed to live in such a beautiful area that attracts millions of visitors each year.  From shopping to restaurants and attractions the Myrtle Beach area has it all.  We're thankful for all of the beautiful vacation rental homes and condos on our rental program and for the homeowners who trust us with their properties.
We're also thankful for the fantastic team of employees that we have here at Elliott Beach Rentals that goes the extra mile to make sure that each and every guest has an awesome experience.  From the reservationists to the front desk employees to the housekeeping department and the employees that are behind the scenes and keep the wheels turning we thank each and every one of you.
But we save our biggest thanks for our wonderful guests.  Everything that we do is for you and we appreciate each and every one of you.   It is our honor to serve your family and we look forward to seeing you return year after year.
Happy Thanksgiving from the entire team at Elliott Beach Rentals!