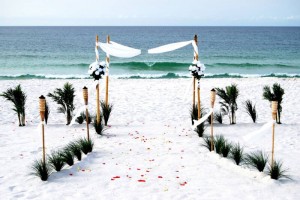 The beach is an ideal spot for many people to get married and while traditionally we see more weddings during the warmer summer months the offseason offers many perks for couples seeking a Myrtle Beach wedding.
The naturally mild winter temperatures and sunny skies still allows opportunities for beach weddings and the offseason rates will allow couples to afford a more luxurious home for their honeymoon than they may have been able to afford during peak summer season.
If you're planning a wedding in Myrtle Beach give us a call and let us help you find a great vacation rental home or condo for your honeymoon. No matter what the season a wedding on the beach will make great memories that will last a lifetime.