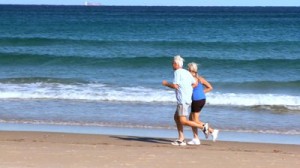 Sometimes it's hard to stay on track and keep up with fitness goals while on vacation. Many of our vacation rental condos offer exercise facilities onsite and we've also put together a list of activities to keep you active and help you maintain your fitness routine while you're here.
Walking on the beach– A brisk walk on the beach is not only energizing but also a great way to burn off some of the calories from all the great food offered at Myrtle Beach restaurants.
Swimming—A few laps in a pool or even a nice swim in the ocean are a perfect way to stay in shape. Many of our vacation rental  homes have private pools or stay at a condo that offers indoor and outdoor pools.
Golf—There's no shortage of places to play golf in Myrtle Beach, we're famous worldwide for all the great courses in the area. Golf is a great way to get some exercise in while having fun. Visit www.myrtle-beachgolf.com to book tee times or get help with planning your next golf trip to Myrtle Beach.