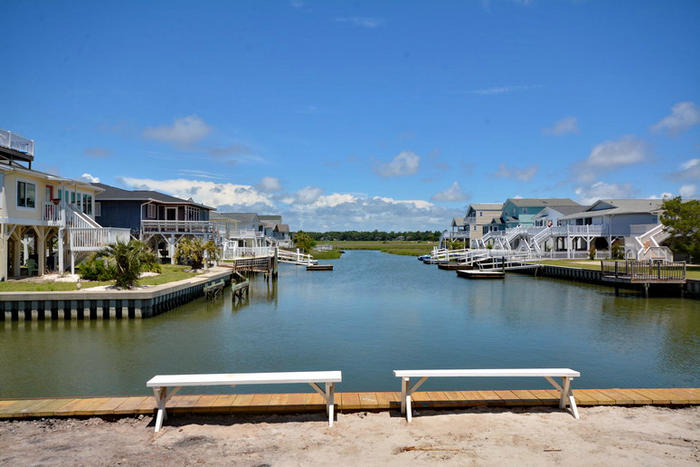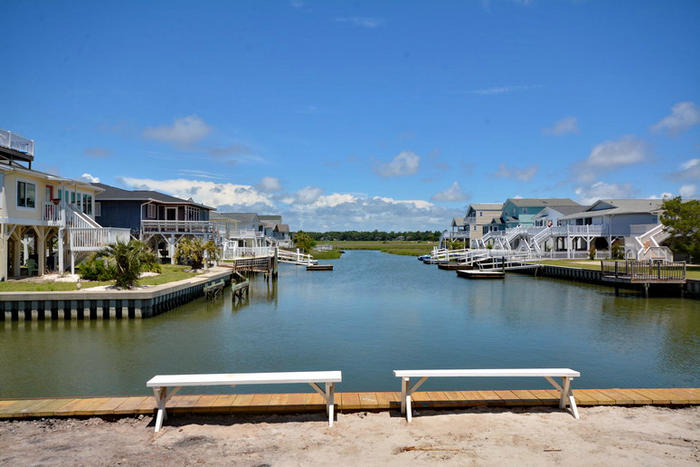 I've put together some of our available, inexpensive beach houses that are under $1500 when you stay a week this June. When it comes to beach vacations we all want one, but often times our budget doesn't match our desires. (Can I get an amen?) Beach vacations don't have to break the bank. We've lowered our prices for beach getaways this June and you can stay at the beach for as low as $. What's even better? When you book online at NorthMyrtleBeachTravel.com you can save even more with our "web-only" exclusive discounts. Or you can call 800-525-0225 and speak with on of our vacation specialists and request your "call-in bonus" for extra savings on our already discounted prices and then let your friends know you've found the best place on the beach for inexpensive beach house vacations!
Odom Cottage $995
This four-bedroom, two-bath beach house features comfortable bedrooms and living room with plenty of seating. Immerse yourself in charm at Odom Cottage. This beach house is located on the inlet along a saltwater channel in beautiful Cherry Grove and is within walking distance of the beach. Coastal furnishings, soothing colors and gorgeous marsh views are just a few of the reasons Odom Cottage is a superlative vacation rental destination. Book this inexpensive beach house for your summer getaway the first week in June for just $995 for the week!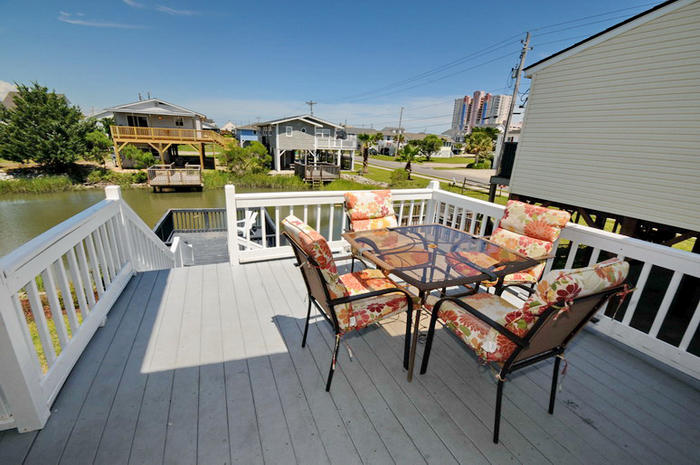 Hook N Slice $855
Located a few blocks from the ocean in the Windy Hill community of North Myrtle Beach Hook N Slice is an inviting oasis for relaxation and retreat. A pretty front porch and large back deck are the first clues your next vacation will be unforgettable. This delightful three bedroom, three bath home overlooks a serene salt marsh. The views are priceless. It's a popular choice among golfers and families looking for an inexpensive beach house. The great room is appointed with comfortable furnishings, and the adjoining dining area opens to the full kitchen. Book the week of June 2nd, June 16th, or June 23rd for as low as $855 for the week!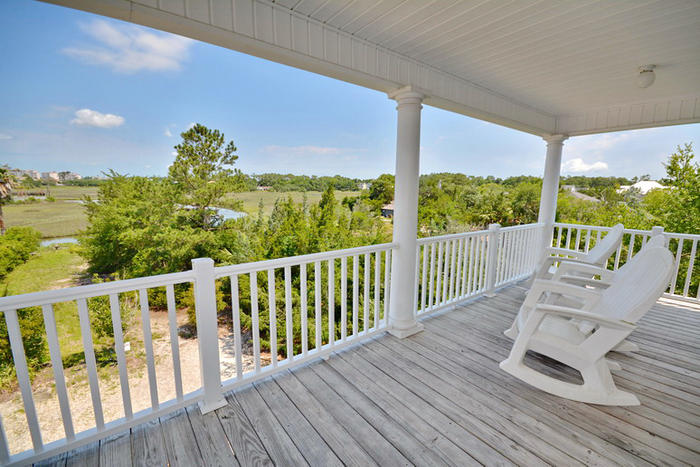 Dancing In the Sand $899
Want to bring your furry friend on vacation too? Dancing in the Sand is the spot for you! Ample room for your family and your best friend to roam will be appreciated when you book Dancing in the Sand for your next beach vacation getaway to sunny North Myrtle Beach. This beach house offers three bedrooms, two baths, making it an ideal option for someone looking for inexpensive beach house. Dancing in the Sand is available the whole month of June so you have your pick of your preferred week with weekly rates as low as $899!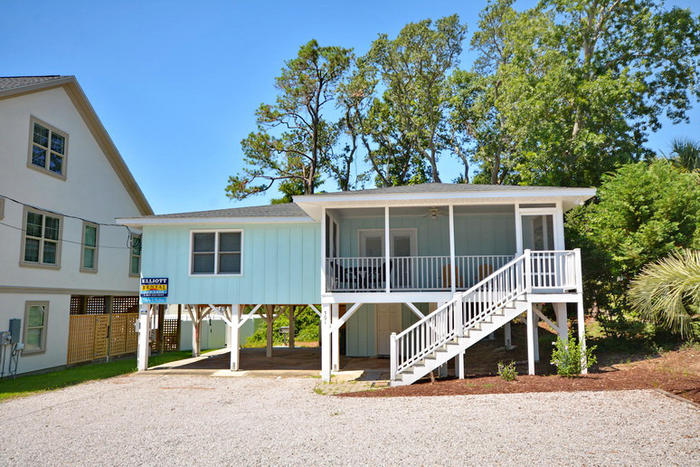 Davis Cottage $998 
Davis Cottage is a beauty of a beach house located less than one block from the beach in the sought after Tilghman Beach area of Ocean Drive. It offers abundant living space with four bedrooms, three baths and one-half bath. Boasting an airy, beach house feel and a handsomely decorated interior, Davis Cottage will keep you lounging comfortably in between trips down to the sand. All without breaking the bank! The first two weeks in June this year are available from $998 at this inexpensive beach house!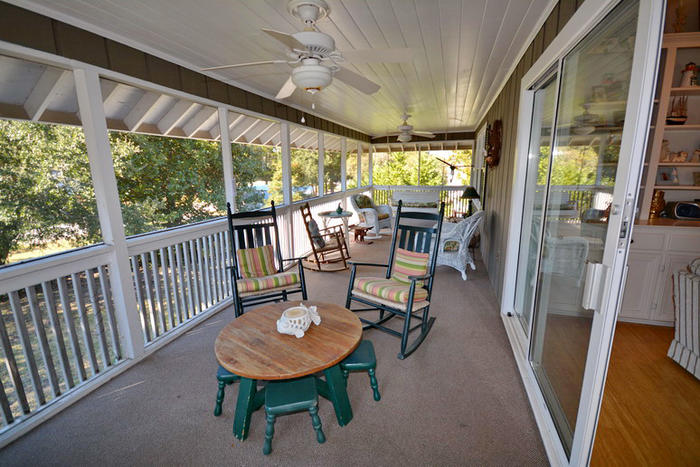 Crescent Surf
With its three bedrooms and three baths Crescent Surf provides guests with the comforts of home plus a location nearby the ocean and beach. Located just off of Main Street in the Crescent Beach area of North Myrtle Beach a few rows from the beachfront, this beach house is just a short distance from the comforting sights and sounds of the ocean. You will find that days of South Carolina sunshine are just what the doctor ordered for rejuvenation and relaxation. Sprawling out under a beach umbrella and reading your favorite novel would put anyone in relaxation mode. Crescent Surf is available for any week this summer! Book your inexpensive beach house vacation for as low as $1025 for the week!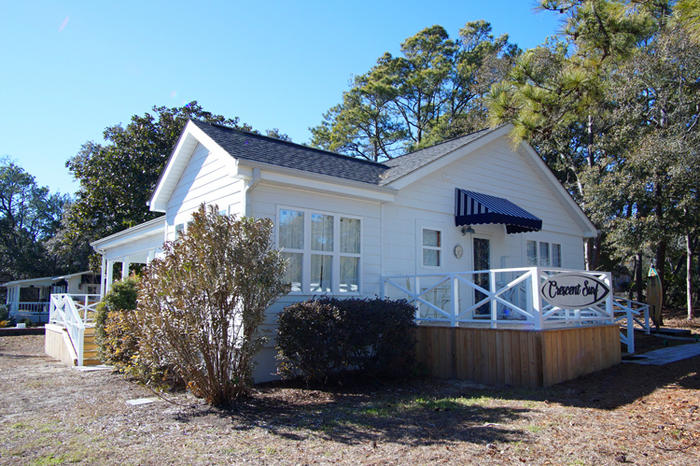 Pirate's Cove $1449
Pirate's Cove has a fantastic view of the salt marsh inlet in Cherry Grove. You and your family will be amazed at the comfortable accommodations and remarkable amenities offered in this spacious house. What's better? You can bring your best furry friend too because Pirate's Cove is pet friendly! The perfect home away from home for a family vacation with four bedrooms, three full bathrooms, and room for up to 10 guests. This luxury rental house comes with a fully equipped kitchen featuring granite counter-tops and stainless steel appliances for the price of an inexpensive beach house. Pirate's Cove is available for the weeks of June 2nd and June 16th for as low as $1449!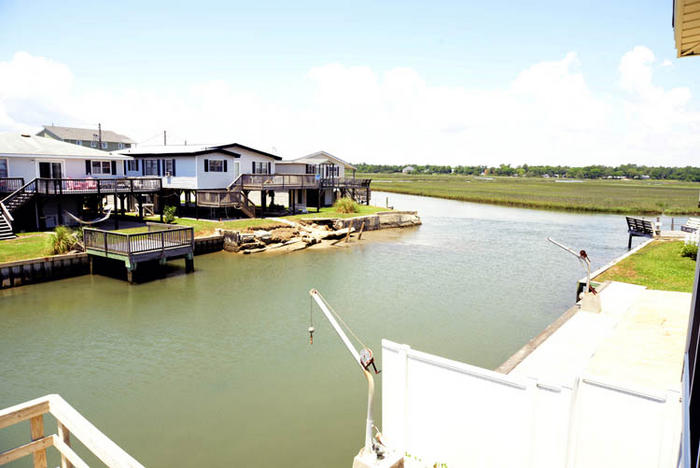 Chief Judge $1323
Have a boat? Bring it on down to stay at Chief Judge. This inexpensive beach house rental is located on one of the deeper channels in the Cherry Grove Inlet so it has its one private boat dock! Enjoy the serenity of this waterfront home while being just a couple blocks away from the hustle and bustle of the oceanfront. Another plus? Its pet friendly too! There are four bedrooms and two baths. With the beach just a couple blocks away it will be easy to spend hours at a time playing in the sand and collecting shells on your long walks. And you will welcome the opportunity to rinse the sand off and head back to this classic beach house. Chief Judge is available for the week of June 2nd and June 23rd for as low as $1323!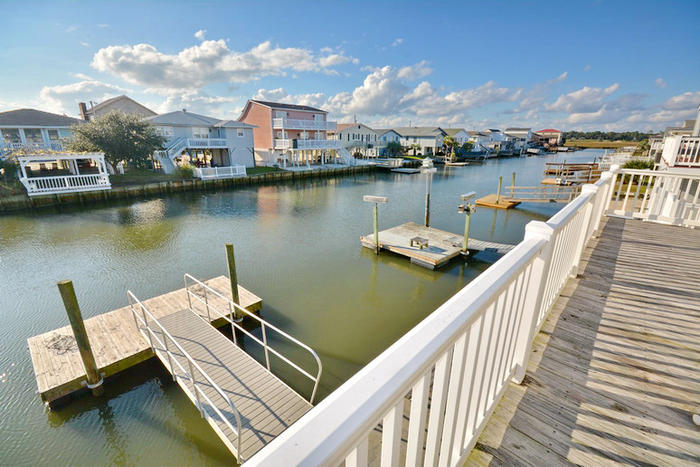 Angel Fish Inn $1095
Plant yourself on the benches by the water at Angel Fish Inn. With a fishing pole in hand you are sure to relax. Charming accommodations and lovely views make Angel Fish Inn the perfect rental for your next vacation. Located in Cherry Grove with a breathtaking view of the channel and a great location near the beach Angel Fish Inn is a popular choice for families and fisherman. You will have four bedrooms and two full bathrooms and the master bedroom has a view of the calm channel. Available weeks this June include June 2nd, 9th, and 23rd for as low as $1095!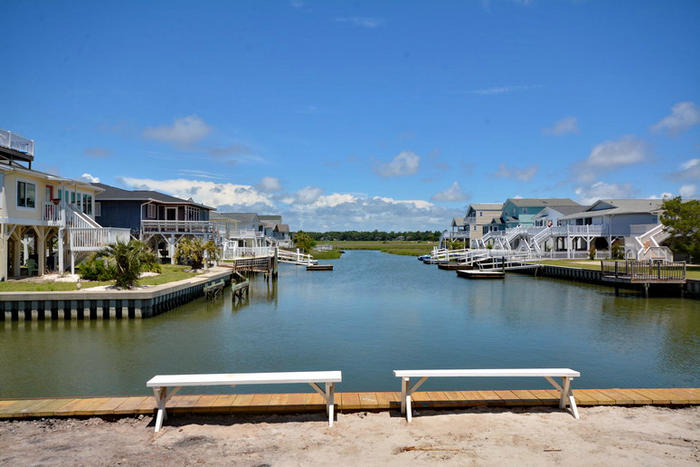 Happy Ours $1285
Happy Ours is just 2 blocks off of the oceanfront. So pack your golf cart or rent one while you are in town and head on down to the beach. This luxury rental is available for an inexpensive beach house vacation this June.  Bring your family, have a couples getaway, or enjoy the beach with your closest friends for a girlfriends! Happy Ours is a terrific place to call home on your beach vacation.  This three bedroom and three full bath vacation home also has two sleeper sofa beds to make sure there is plenty of room for everyone. The master bathroom has a walk-in shower. Happy Ours gives you plenty of space to relax with good food and good company, with the feeling of home. The game room and pool table add extra fun when you are not at the beach. Available weeks this June include 16th and 23rd from $1285 per week!