Are you ready for the Myrtle Beach insider tip of the day? Our new Romantic Giveaway Package is the best ticket in town and will score you some major points with your sweetie this coming Valentine's Day. $199.00 gets you two nights in a two bedroom oceanfront condo (linens and departure cleaning included).
A box of Chocolates is just not going to cut it this Valentine's Day.   If you really want to impress her take our tip and reserve your North Myrtle Beach oceanfront condo today.  Think about all she does day in and day out.  From taking care of you and the kids to juggling work and household duties, now is time to show how much you still love her.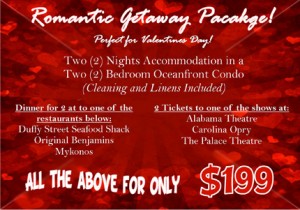 When you visit Myrtle Beach you're going to need somewhere to stay right? And you're going to eat, and you probably plan to take in one of Myrtle Beach's fabulous shows. Why not do it all for less with our Romantic Giveaway Package.
For a little extra fun check out this neat Acme Heart Maker. Use it as a creative way to let your sweetie know that you reserved a romantic valentines retreat for the two of you.