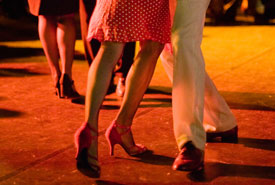 It's getting closer!  S.O.S. Fall Migration officially kicks off on September 14th with a week full of music, dancing and fun. The Ocean Drive section of North Myrtle Beach, South Carolina is where the famous form of dancing called the Shag originated decades ago. It is a unique form of dancing that still goes on at the clubs that line Main Street. All the shaggers meet for the last blast of the season at the S.O.S. Fall Migration.
The S.O.S. lounges are Fat Harold's, Ducks, Duck's II, the OD Arcade. The lounges themselves schedule special parties during the migration and some of the most popular beach music bands show up along Main Street playing crowd favorites.  Shag dance instructors will be on hand to offer classes to anyone wanting to learn or improve their skills.
Elliott Beach Rentals has a wide variety of vacation beach homes & condos available in the Ocean Drive & Tilghman area. A lot of these accommodations are within walking distance to Main Street. Call 1-800-669-7853 or visit www.northmyrtlebeachtravel.com to book your reservation today!