I got to participate in a great event over the weekend called Diva's Half Marathon Series.  Their website says "The Divas Half Marathon Series is the most fun and glam women's half marathon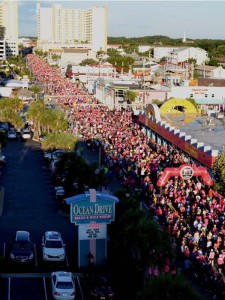 series in the nation.  This series is all about girl power. Get glam at one of our races while enjoying a great run in some of the country's best vacation destinations: Honolulu, HI, Long Island, NY, San Juan, PR, San Francisco Bay, CA and North Myrtle Beach, SC." I just has to try it. Yes we have the Bi Lo Marathon here in Myrtle Beach but it's in February and I refuse to run when it's cold outside! Plus who would not want to get through the finish line with a tiara on?   This event was very well organized and the City of North Myrtle Beach did a wonderful job in being a host. They have already announced the return of 2013 Diva's Half Marathon in North Myrtle Beach.
This was my first race ever! Friday night people asked if I had trained for the event and I of course had to say no. They just looked at me like poor girl she'll never make it. I looked and said, "Do not underestimate me I have a strong will power." My goal was just to complete the 13.1 mile course in less time then the allotted 3.5 hours. For the first 6 miles I did great not slowing down one time. I started getting a little tired and would power walk/run the rest of the way. The last stretch from 20th Ave N down Ocean Boulevard was the hardest part for me. I could feel the blisters forming on my feet. Getting close to the finish line I was handed my feather boa and tiara. I picked up the pace and ran towards the finish line. My tiara came off but I made it!!! My time was 3 hours and 18 minutes. I never thought I could do this but there I was finished and feeling feeling very sick. They tried to hand me champagne to celebrate but I just wanted a trash can. I made it with out getting sick and today I am pretty sore but that is it.
I suggest any woman looking to do a 5K or 1/2 Marathon to try this one (I did see a few men too). Check out the photo I took from a pdf that our wonderful City on North Myrtle Beach posted today. Really puts in perspective what 4,400 women from 47 stated looks like like. With every race you have a winner. Former Olymic track and field star Zola Budd Pieterse of Myrtle Beach won with a crazy time of 1 hour 22 minutes. I have already registered for next year!!! Can't wait and maybe I will train a little this year to get my time down.
If you are coming from out of town Elliott Beach Rentals has the best price and largest selection of condos and vacation homes!
Amanda Griste