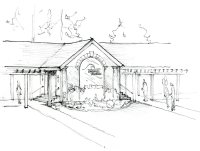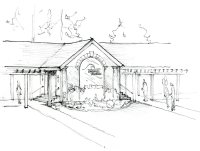 On March 10, 2005, local businessman Dick Hester had a vision. He imagined all the history of the region that could be collected and shared with local residents and with the thousands of visitors who enjoy our area.
Now, the North Myrtle Beach Area Historical Museum project is well underway. The Museum's Board of Directors includes local business leaders, educators, and current and retired city officials who have dedicated their experience and time to achieve the vision. Our History, Our Community Opening on March 10, 2013, the North Myrtle Beach Historical Museum will foster a deeper appreciation for cultural and historical education in the North Myrtle Beach area. Exhibits and programs will focus on stories from the area's first inhabitants to the development of today's tourism industry. The Museum will promote a strong sense of community pride and a true appreciation for our place in the region's rich history. The Museum will share the history of the northeast region of coastal South Carolina—from the SC/NC line, south to Barefoot Resort, and west to Longs. Each community has its history and the Museum is gathering information on the towns, crossroads, and neighborhoods that make this 'area' of South Carolina such a great place to live!
To make this vision a reality, the Museum needs assistance from people like you. Do you have ties to the North Myrtle Beach area? Did you live in, vacation in, or collect a souvenir from one of our communities? If so, Visit the North Myrtle Beach Historical Museum SUPPORT page or call 843.427.7668.