The Myrtle Beach SkyWheel is officially open for business on Friday, May 20 and promises to be another great Myrtle Beach attraction.  With so many fun things to do on your Myrtle Beach vacation you're never going to be bored and luckily for you what activity you'll do next will be the only hard decision you have to make since  Elliott Beach Rentals makes it so easy and affordable to find your perfect vacation rental.
Guests of Elliott Beach Rentals don't forget that you can save some $$$ on on local attractions and businesses with our Exclusive Elliott VIP Coupons.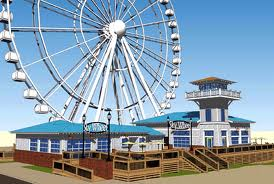 SkyWheel Myrtle Beach is a 187-foot tall observation wheel set along the Oceanfront Boardwalk and Promenade in downtown Myrtle Beach. It is the first observation wheel of its kind in the United States and the largest observation wheel east of the Mississippi River. The wheel consists of 42 Swiss-manufactured, climate-controlled, enclosed gondolas, which will accompany up to six passengers each. The attraction will stay open year-round and offers visitors several flight options to choose from.
The approximate eight to twelve-minute ride on SkyWheel Myrtle Beach will provide guests with a panoramic view, from the Myrtle Beach shoreline to several miles inland, and serve as the perfect vantage point for a variety of different perspectives of the Myrtle Beach area at different parts of the day, creating the area's most unique sightseeing opportunity.
A highlight of the SkyWheel Myrtle Beach will be a state-of-the-art computer-generated lighting system with LED lights, creating an amazing light show each and every evening after sunset. A variety of dynamic light shows will run nightly and also feature holiday-themed shows to display images associated with Christmas, Easter, Valentine's Day and Fourth of July.
The Myrtle Beach SkyWheel is open daily.  A flight averages from 8-12 minutes.
General admission flights are available in advance or on location.
Adult flights (12-54) are $12.00
Children's flights (3-11) are $8.00
Children 2 and under are FREE
Seniors*(55+) receive $4 off full price adult flight
Military* (with valid ID) receive $4.00 off full price adult flight
Jimmy Buffett's LandShark Bar & Grill and LandShark SurfShack will accompany SkyWheel Myrtle Beach and will be the perfect place to purchase souvenirs, enjoy oceanfront views, fantastic food and drinks and some fantastic tunes.