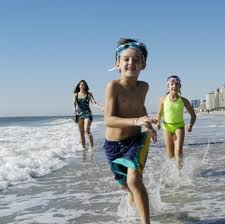 With summer winding down there's still so many kid friendly activities happening throughout the area.  Hands down the beach is one of the best (and free) places to entertain your kids but here are a few other activities we think the kids will enjoy!
SummerFest! At Barefoot Landing
Time: 7:00 PM to 11:00 PM
SummerFest! means fireworks every Monday over the lake at 10:15 pm.  Nightly boardwalk entertainers, the strolling boardwalk parade on Wednesdays at 7:00 pm with a marching band.
8/12: STROLLING DIXIELAND BAND
Place: Myrtle Beach Boardwalk
Time: 07:00 PM – 10:00 PM
8/15: KIDS CARNIVAL
Place: Plyler Park
Time: 07:00 PM – 10:00 PM
08/19: KIDS TRIATHALON
Place:   Pepper Geddings Recreation Center
Time:  Starts at 10:00 AM
Now that you've learned about some of the amazing things there are to do with your kids from hanging out at Barefoot Landing to fun events on the Myrtle Beach Boardwalk.  We really do hope that you come on down to spend your family vacation with us.
Just give us a call – we'll be expecting you!