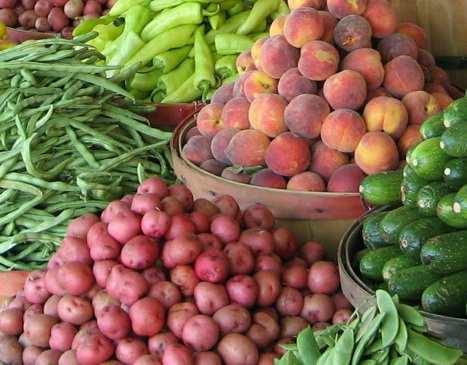 We're celebrating summer and all the goodies that come along with it and nothing says summer better than fresh homegrown fruits and vegetables.  We like to share with you some of our favorite places, things to do while in Myrtle Beach and great people you should meet while you're here.
When most people think of Horry County they think of the beach and all the beach related activities that are offered but Horry County is also a major farming area and farms abound once you get off the main roads and away from some of the more touristy activities.  It's no surprise that our farmers markets are a great option to find the best local fruits and produce all in one place.
In addition to produce, some of the markets offer educational activities, and cooking demonstrations.  For the price of admission (free), we're thinking it sounds like a pretty good option for a great family trip.
The North Myrtle Beach Farmers Market is open Tuesday & Friday from 10am-6pm and is located just off 1st Avenue South between NMB Library and City Hall.
Myrtle's Market is open three days a week and offers an abundance of selections in a spacious location on Mr. Joe White Avenue, near the intersection of Oak Street.  Market hours are 9:00 a.m. to 6:00 p.m. Wednesday, Friday and Saturday.
The Deville Street Farmers Market located at The Market Common will run every Saturday from 8am-12pm and offers a great selection of locally grown produce as well as fresh seafood, cooking demonstrations and educational activities.