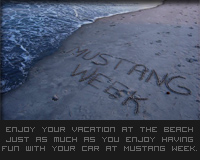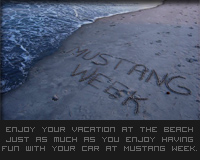 Myrtle Beach's Summer Mustang Week is one of the highlights of the summer.  There are multiple events throughout the week that you don't want to miss like the  Annual Car Show on Friday afternoon, July 19th, and the Wheels of Destruction Thrill Show on Wednesday, July 17th.  You will see everything from classics and pristine show cars to built drag cars and daily driven street cars. Don't miss this event that has really grown into somethings special over the past nine years.
Mustang Week Events:
Tuesday – July 16,2013
Palace Theatre Meet-n-Greet 12PM-4PM

Wednesday – July 17,2013
Myrtle Beach Autocross, Circle Track Fun Runs and SVT Performance Burn-Out Contest
Gates Open: 9:30am
MRT-Direct & Gateway Classic Mustang Autocross: 10:00am – 5:00pm
Stiffler's Speedway Fun Runs: 10:00am – 5:00pm
SVT Performance Burnout Contest: 5:30pm
Wheels of Destruction Thrill Show: 7:15pm
Myrtle Beach Speedway
1-843-236-0500

Thursday – July 18,2013
5.0 Magazine Dyno Challenge at Myrtle Beach Mall
Darlington Drag Night
3:00PM until 11:00PM
Darlington Dragway 
1-843-383-0008

Friday – July 19,2013
8th Annual Car Show at Myrtle Beach Mall
Registration from 9:00AM until 11:00AM
Judging 11:00AM until 4:00PM 
Awards on Saturday the 20th at 3:00PM

Saturday – July 20, 2013
Southeast largest Mustang and SVT Cruise-In at Myrtle Beach Mall
Car Show Awards at 3:00PM
Come out for the festivities and take advantage of last minute vacation deals.
Visit northmyrtlebeachtravel.com or call 800-525-0225 for rates and availability!