Last Minute Vacations
North Myrtle Beach vacations are ideal for spontaneous families. If at the last minute you decide to get away for a weekend or a week, let Elliott Beach Rentals help you put together an incredible beach vacation. Last minute reservations and tee times with little notice are okay with Elliott Beach Rentals in North Myrtle Beach. You don't have to plan a year in advance to enjoy a memorable family vacation at the beach when you come to North Myrtle Beach. Take advantage of unexpected time off, last minute changes in your schedule and the impulsive desire to vacation at the beach. The ocean, the sun and the Myrtle Beach fun are calling!
Check out these awesome links for a great deal!   
Last Minute Vacation Rentals in Myrtle Beach
Daily Deals Special discounted prices on 1 condo and 1 house everyday!
August Savings: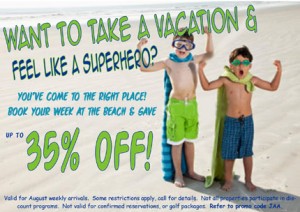 Up to 35% off your Beach Week for weekly rentals in August!
Refer to Promo Code JAA
Get the Elliott Rewards Card – FREE!
September Deals:
Book your September vacation and take advantage of end of summer deals!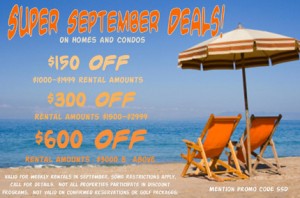 Up to $600 off arrivals in September!
Refer to Promo Code SSD
Get the Elliott Rewards Card – FREE!
Main September Event:
What:   Society of Stranders Fall Migration Dance Fest
Where: Main Street Ocean Drive North Myrtle Beach SC
When:   Friday, September 14 – Sunday, September 23
Enjoy one final dance party before the cold winter months blow into Myrtle Beach at the SOS Fall Migration.  This annual migration brings shag-dancers from all over the country to Myrtle Beach, where the crazy was born more than five decades ago. A unique twist on East Coast Swing dancing, shag is a six-count dance pattern. During the SOS Fall Migration, several clubs and venues will sponsor special events to welcome seasoned shaggers, as well as to introduce newcomers to this thrilling craze. Even if you're just simply not a dancer at all, watching veteran shaggers work their magic on the dance floor can be an awe-inspiring experience. You simply won't be able to stay in your seat as the music and the mood of shag takes over during the SOS Fall Migration in Myrtle Beach!