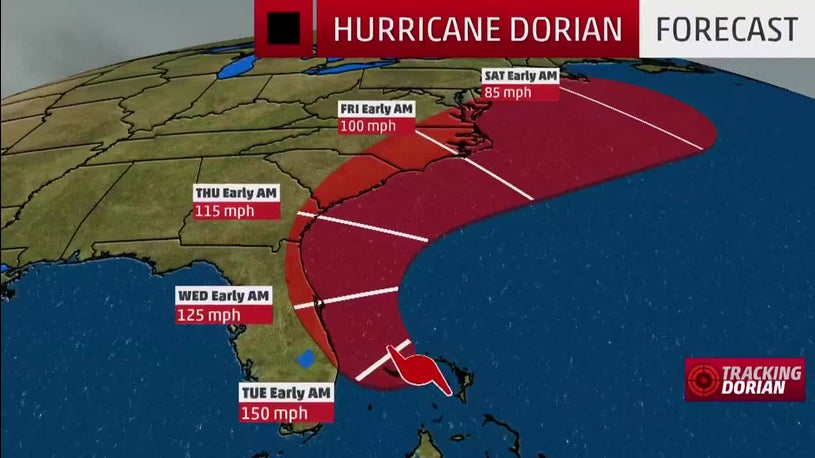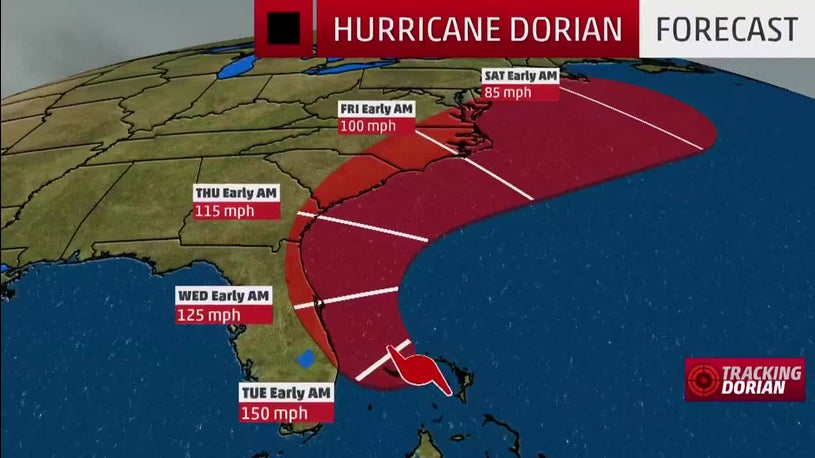 At present, Hurricane Dorian continues its siege of the North-Western Bahamas as the storm slows to a near standstill over the island of Freeport. Sitting about 115 miles east of West Palm Beach, Dorian is moving west at 1 mph. Current projections show the hurricane moving dangerously close to the Florida east coast through Tuesday night, followed by a gradual turn towards the northwest in the next two days.
Based on current forecasts, the first impact of the storm will be felt along the Grand Strand by midday Wednesday with the worst of the storm's impact arriving on Thursday. The severity of the impact is largely dependent upon the track that the storm follows. Hurricane-force winds extend outward up to 45 miles from the eye and tropical-storm-force winds extend outward up to 140 miles.
A track on or as little as 50 miles offshore would deliver hurricane-force wind gusts, storm surge and very heavy rain to coastal sections with tropical storm conditions spreading potentially as far inland as the I-95 corridor in the Pee Dee. However, if Dorian were to pass 100+ miles offshore the impacts would be minimal.
For the latest updates on Dorian's trajectory visit WMBF First Alert Weather.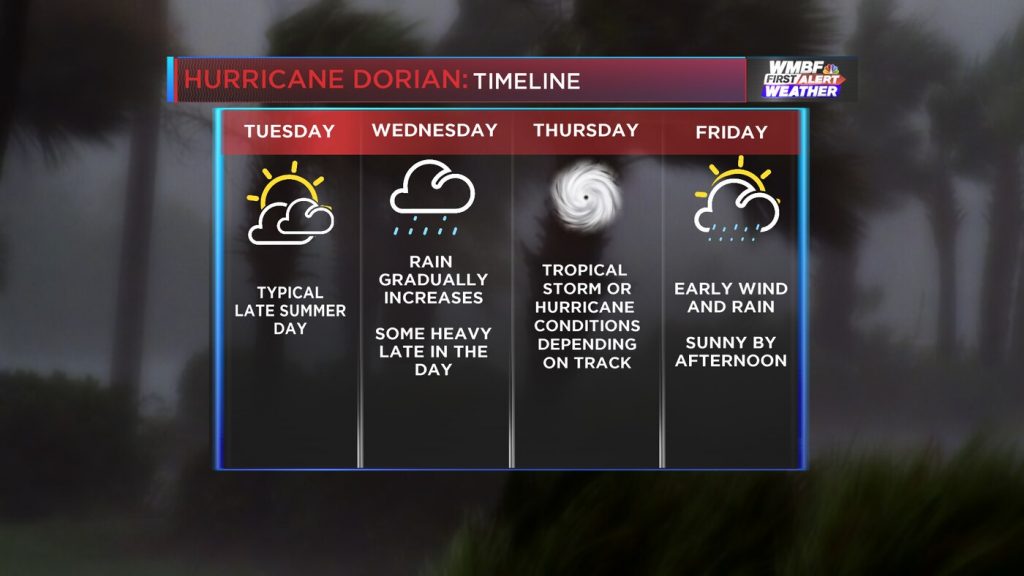 Evacuations
On Sunday, September 1, 2019, Gov. Henry McMaster ordered mandatory evacuations for Horry County, Georgetown Zone A starting at 12:00pm on Monday, September 2, 2019. This area includes:
All areas east of U.S. Business 17 up to the intersection with US 17
All areas east of U.S. 17 to the northern county line
Flood prone areas along the Waccamaw River and the Great and Little Pee Dee Rivers, as well as all mobile home residents within Horry County.
Residents and tourists are encouraged to visit the SCEMD website to find their zone and to determine the evacuation route closest to them. Local officials also encourage you to download the free SCEMD App to stay up to date with the latest news.
For more information please call the South Carolina Emergency Management Department at 803-737-8500.
Flight Information
At present (9/2/19 11 A.M.), the Myrtle Beach International Airport remains open.
It is the individual airlines' decision as to whether flights are delayed or canceled. All inquiries should be directed to the passenger's individual airline, not the airport.
Emergency Shelter
Georgetown County is opening an emergency shelter beginning at 12 p.m. Monday. The shelter will be located at Pleasant Hill Elementary School, at 127 Schoolhouse Drive, Hemingway. Shuttle service will be provided for those in need of a ride.
Hospitals
Tidelands Health posted on its Facebook page that its facilities are expected to remain open and serving the community throughout Dorian, as their hospitals are located outside of Zone A and are not included in the mandatory medical evaluation.
Elliott Beach Rentals
To all our guests here now please be safe in your travels home. If you have a reservation any time during the evacuation period, please understand you will not be allowed into the evacuation zones. Please stay safe and pray for everyone in the path of Hurricane Dorian.
We will be working with limited staff during the evacuation, so please bear with us.
Please call 800-525-0225 to discuss refunds and rescheduling.